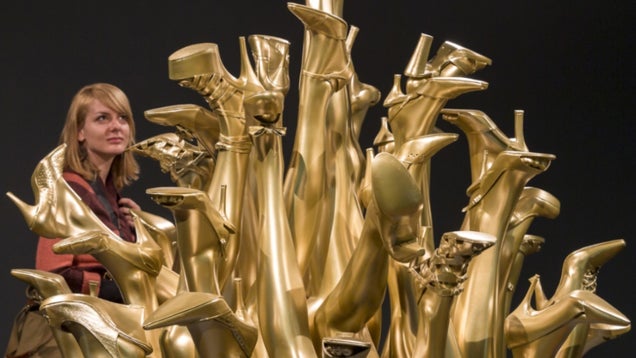 S
A cool exhibition on display right now at the Grassi Museum in Leipzig, Germany features over 200 shoes, many of them one-off exclusives that are works of art — a few designed for celebrities and most meant to "challenge traditional notions of shoe design." According to a press release:
The special relationship which exists between people and shoes – and in particular women and shoes – is a popular source of fascination. The mystical attraction they exert is felt not only by the female of the species, but also to an increasing extent by designers and artists who are thinking 'outside the shoebox' and falling head over heels for footwear.
The work above is "Medusas Shoes" by John Breed. But it looks like a prop from Austin Powers in Goldmember.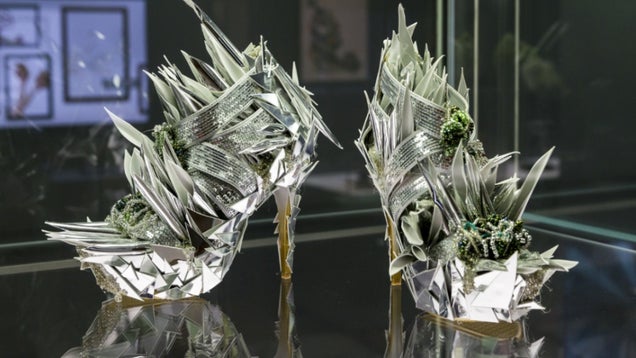 S
Ouch. These shoes by Svenja Ritter are un-fuck-with-able.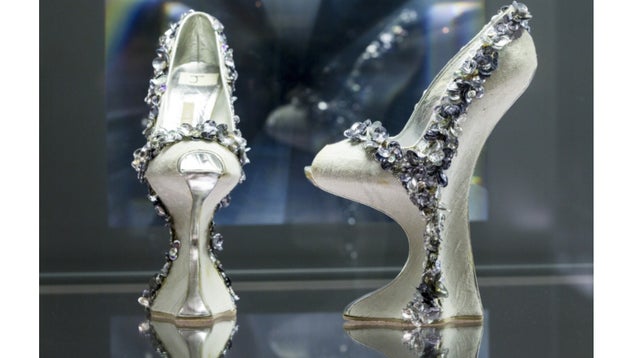 S
According to the notes, these "Irradiance" shoes were designed for Beyoncé by Jantaminau. Imagine the weird small footprints these leave behind!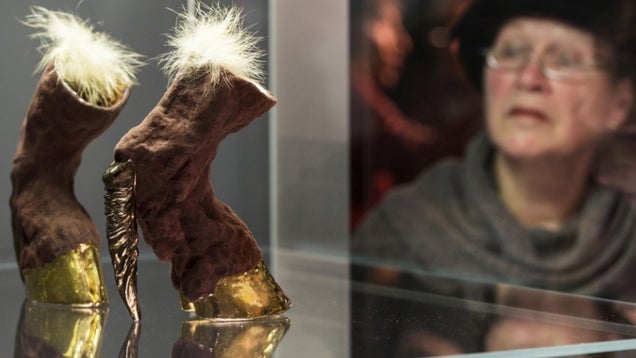 S
Gorgeous, animalistic "Hoof Heels" designed by Roxanne Jackson. Would love to see these paired with an evening gown on a fierce supermodel — Naomi, Coco Rocha?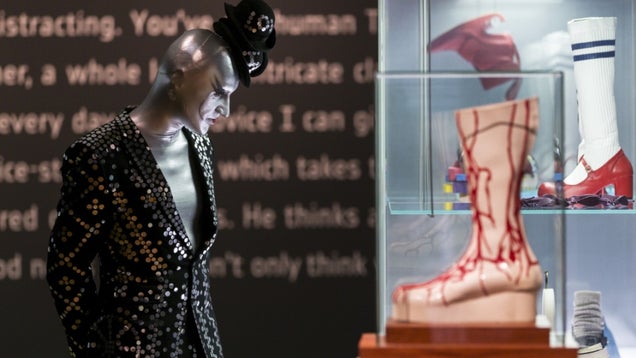 S
Uh, is something bleeding?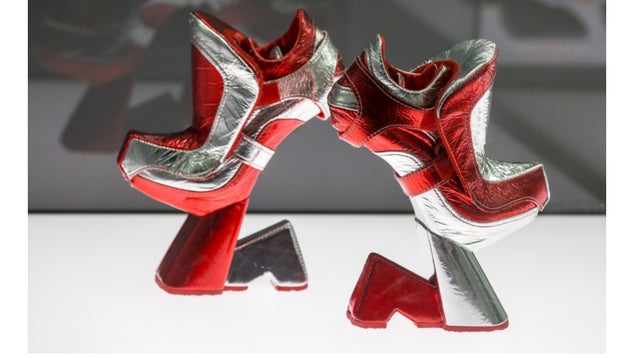 S
These futuristic gravity-defying sneaker-inspired heels are called "Flashes" and designed by Jochen Kronier.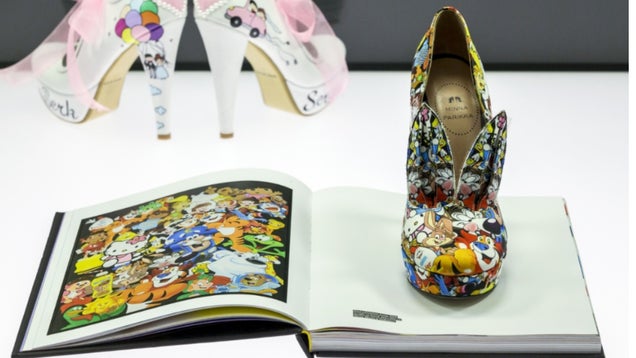 S
In the background are "Just Married" heels designed by Sanemiko (Sanem Sevgen). In the foregrond: A shoe named "Angora," designed for Madonna by Minna Parikka and Jani Leinonen. Bunny ears!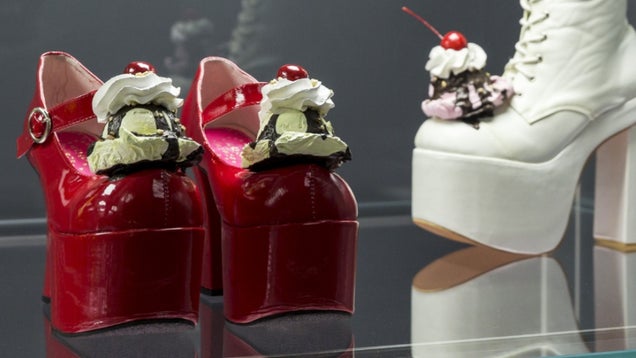 S
At left, a delicious pair of mary janes titled "Happy Happy Joy Joy." Just want to lick them up. On the right, a shoe with the name 'Passionate for Pink Cream.' Both designed by Rhonda Voo.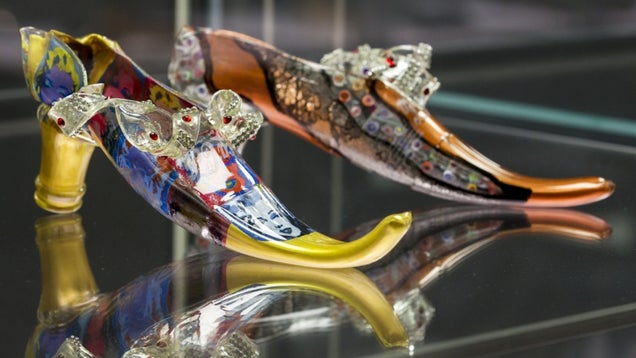 S
These delicate slippers look as though they've escaped from a fairy tale. "Ohne Titel" and "Marylin and Murrine" designed by Luigi Bona.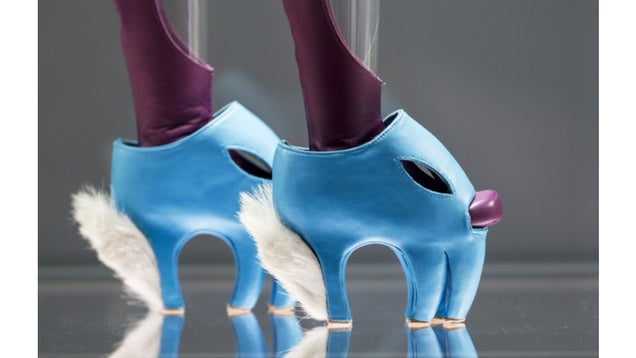 S
Cuddly pets? Strange alien life forms? Burglar bunnies? "Tongari Atama" shoes, designed by Gert van Gastel.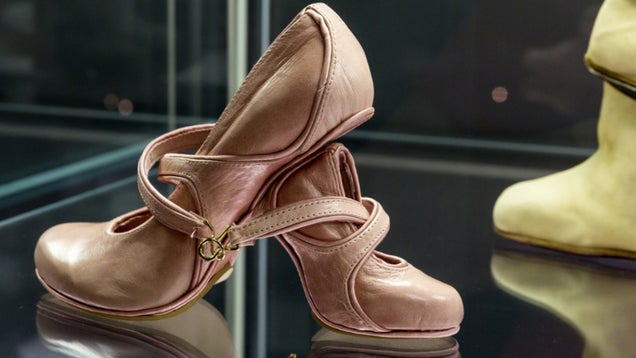 S
It seems that this is not a pair, but one shoe, with a heel that looks like another, smaller shoe. The name? "Mother and Daughter." Designed by Kobi Levi.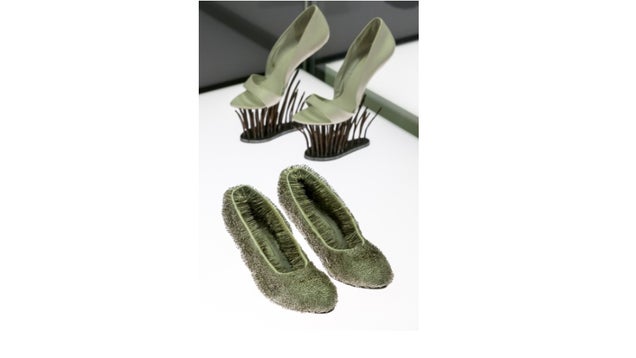 S
There's something very iron maiden abou the "Pinned Shoes" designed by Erwina Ziomskowska. In the back? "Nails" designed by Emmi Malmstroem and Jesse Sipola.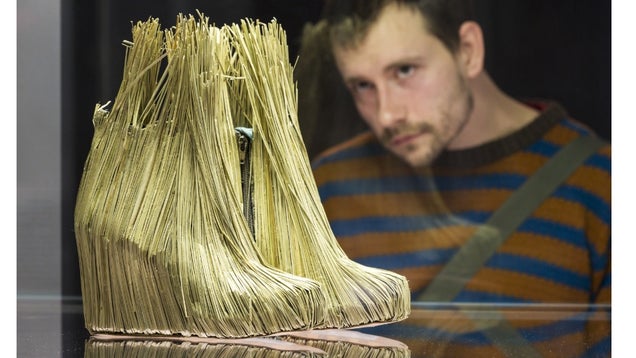 S
The "Straw Shoes" designed by Tabitha Gwyn Osler have a creeptastic Signs vibe.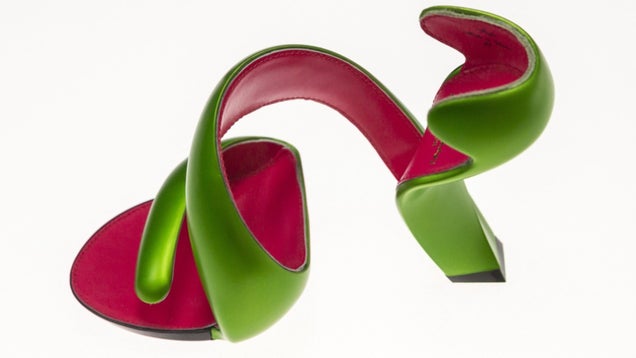 S
A shoe with the name "Mojito" designed by Julian Hakes has a barely-there sole. Love the way it twists like a lime peel.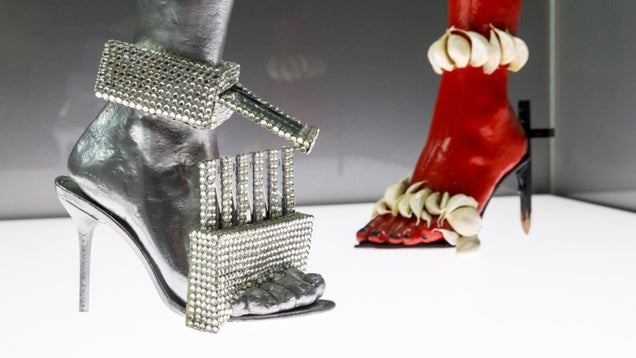 S
It appears that the "Marie Antoinette" shoe has a hidden mirror, the better to admire yourself with. The "Mina Harker" — named for the protagonist of Dracula — consists of garlic cloves and a stake-like heel. Wasn't there an episode of Buffy in which Faith stabbed a vamp with her shoe?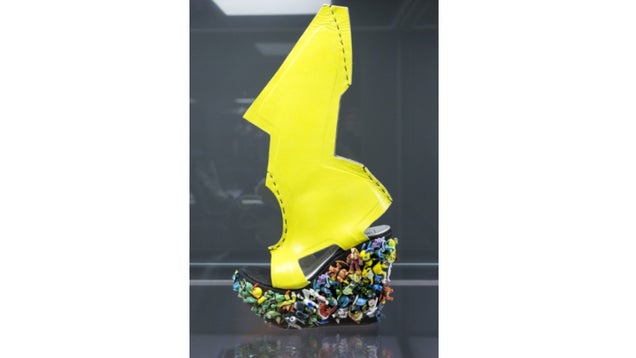 S
This "Lady Gaga Shoe" was designed for Lady Gaga by Ben Naaem. Tiny toys!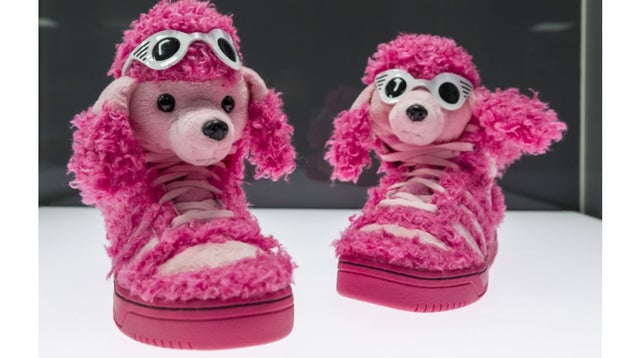 S
Pretty sure Nicki Minaj has a pair of the "Pink Poodle" sneakers by Jeremy Scott and Adidas. She's a fan.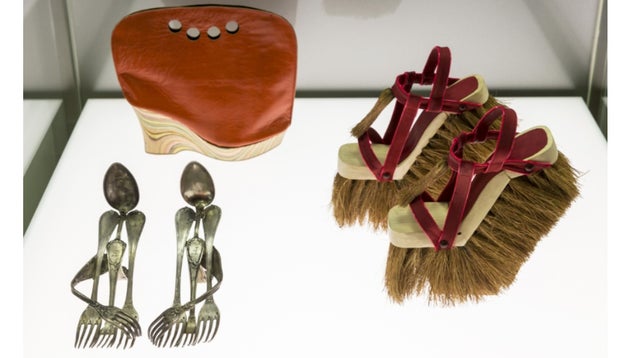 S
Not sure how to put on the "Cutlery" shoes designed by Lauren Johnstone. The fork goes over your foot and the spoon cups the heel, I think. The "Shoebag" designed by Astrid Jansen does double-duty. And if you live in a bar littered with peanut shells, you need the "Brooms" shoe designed by Sol Alonso.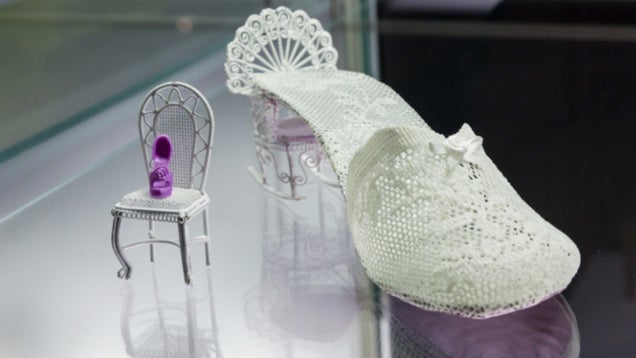 S
The darling shoe named "Loulou" designed by Pinelopi Loizidou appears to be crafted from dollhouse furniture.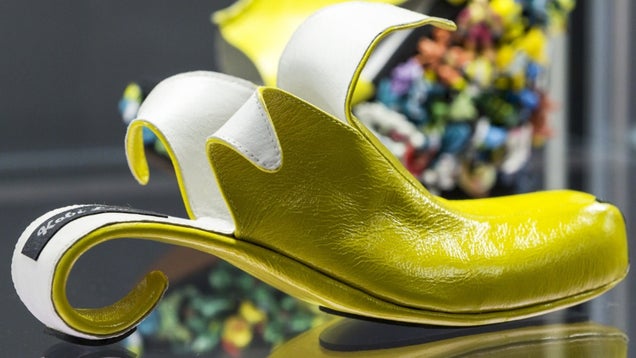 S
Of course a "Banana" shoe would be worn by a comedian. Kobi Levi designed it for Whoopi Goldberg.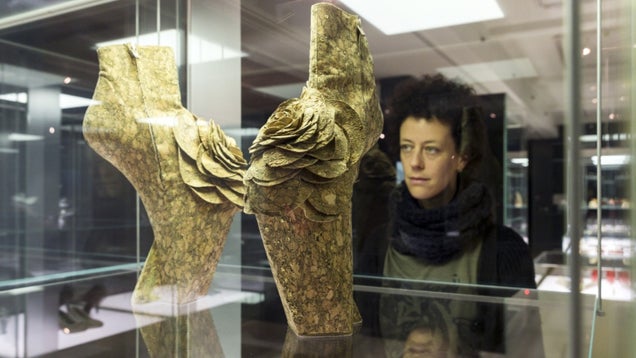 S
These breathtaking (ankle-threatening?) "Nature Extends" shoes were designed for Lady Gaga by Jantaminiau.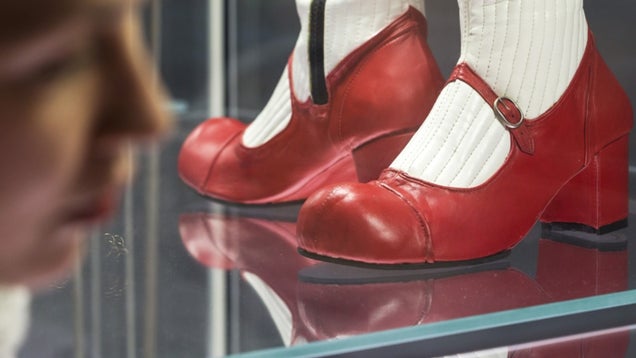 S
You know in The Wiz when the sweatshop folks unzipped their bodies? That's what the "Stockings" boot designed by Shani Bar reminds me of.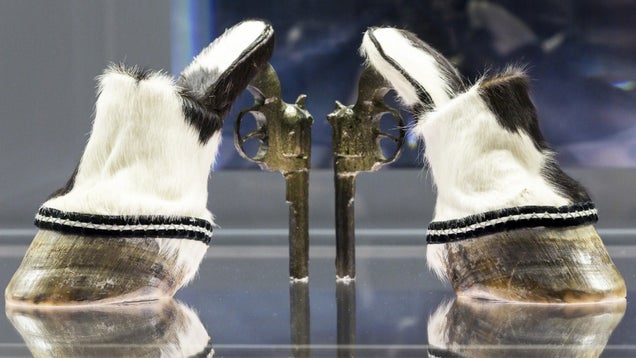 S
Would love to see the "Cow Girl" shoes by Iris Schieferstein in a country music video.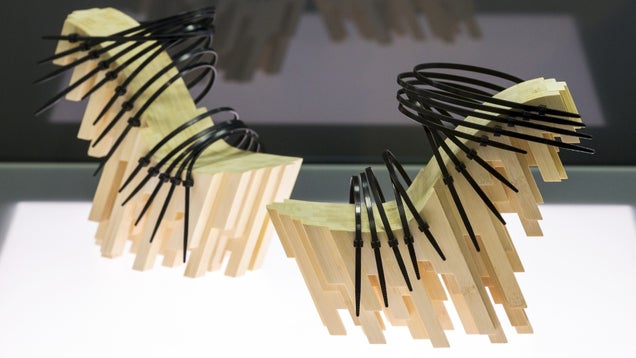 S
Are those zip ties on the architectural "Mourning Cloak" shoes designed by Winde Rienstra?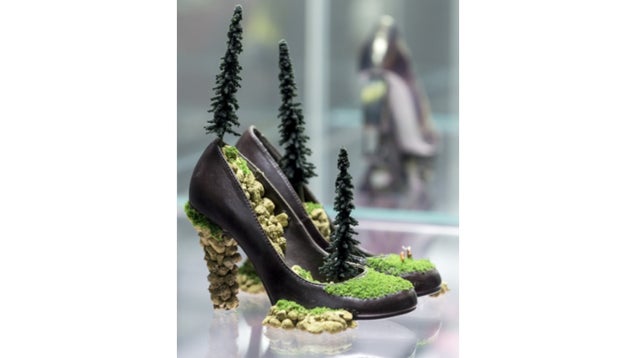 S
You're always walking in the woods when you wear the "Landscape Shoes" by Jared Steffensen.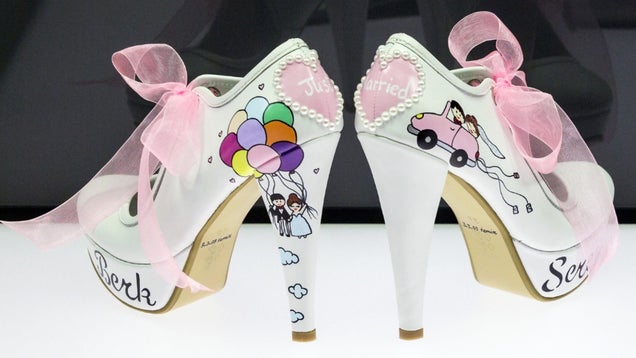 S
A closer look at the "Just Married" heels by Sanemiko (Sanem Sevgen).
Images via Getty.