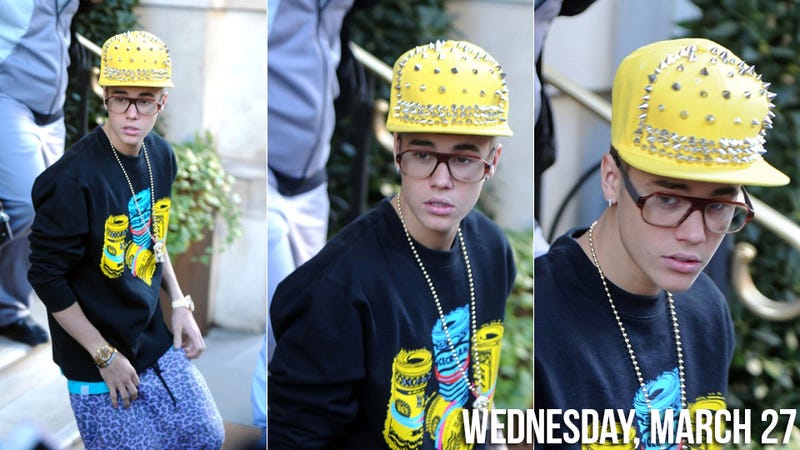 Justin Bieber and the stache he is (jokingly?) attempting to "grow out" has been accused of battery after a confrontation with one of his Calabasas neighbors (let's just call him Mr. Wilson) yesterday. Early Tuesday morning, Bieber had a new Ferrari delivered and spent the wee hours tooling (loudly) around his hood in it. This happens regularly.
Justin Bieber is a menace on wheels, driving at speeds approaching 100 mph in his quiet neighborhood and endangering children and dogs ... this according to multiple residents.
Mr. Wilson, already steamed up by the raucous parties thrown in Casa del Beebs while Justin was in Europe, marched over there and they screamed at each other. He's now alleging that Bieber made physical contact with him — maybe charged and head-butted him with that spiky-ass hat? — and threatened him. However, Bieber's team is saying that he only told Mr. Wilson to get off his property. [TMZ, TMZ]
Also, on his way home, El Beebo took his shirt off in a Polish airport, like humans do. I ALWAYS show one of my tits to the Auntie Anne's pretzel lady at JFK as like a pre-flying "good luck" thing. [NYDN]
---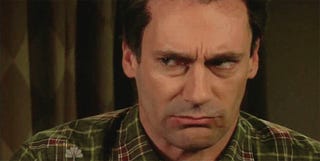 A song of ice and fire and Jon Hamm's penis.
Jon Hamm was indignant in Rolling Stone about its ever-growing popularity on the Internet (for which we are part of the problem).