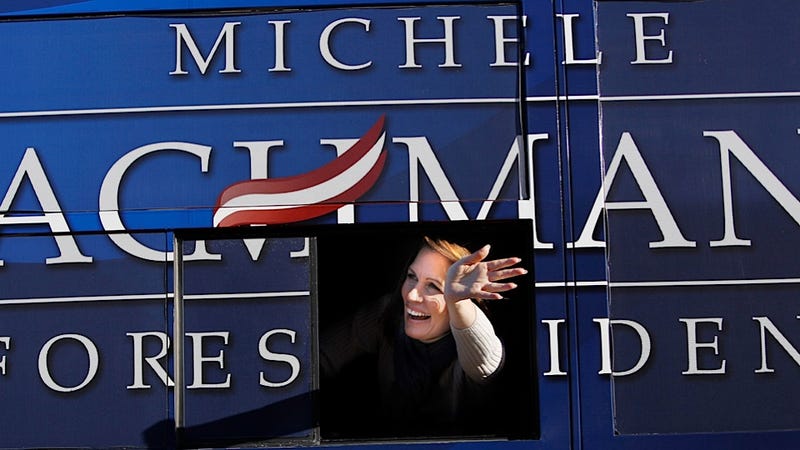 If Michele Bachmann's congressional career were a House of Cards-style political drama, it would probably last for about six, one-hour episodes, Bachmann would be played by a tyrannical muppet, and every scene that didn't include her would feature real actors engaged in some variation of the following conversation:
Actor A: I can't believe people are actually supporting Michele. Don't they realize she's a muppet?
(Actor B shakes head, pours whiskey, sighs, drains glass.)
After that storyline had run its course, and with ratings in the toilet, network execs would demand a premature, splashy finale, and the show's writers would oblige: the Bachmann muppet would be torn apart by rabid wolves during an ill-advised hike through wolf country, Marcus Bachmann would move to Arizona to breed Australian cattle dogs with a young, brooding campaign staffer named Edmund, and a penultimate montage to the tune of "Hard Candy Christmas" would feature disillusioned campaign staffers trying to pick up the pieces of their lives, apply for new jobs, get paid for their work on the Bachmann presidential campaign, and slowly drink themselves into sweet, cynical oblivion
Michele Bachmann's political career, according to the Daily Beast's extensive litany of all her pending legal woes and rhetorical missteps, is like a mountain of dry tissue paper that someone has set fire to.
Things are fucked in Bachlandia — the former Republican presidential frontrunner (think about that for a moment) is mired in so many legal proceedings related to her failed presidential bid that just reading through them will make your eyes water. To top it all off, the Office of Congressional Ethics is following up with allegations from former Bachmann campaign staffers of intentional campaign finance violations. If investigators working for the OCE determine that there's enough dirt on Bachmann to warrant an official probe, the OCE will refer her case to the House Ethics Committee, much in the same way it did in the cases of New York Democrat Charlie Rangel and Georgia Republican Nathan Deal.