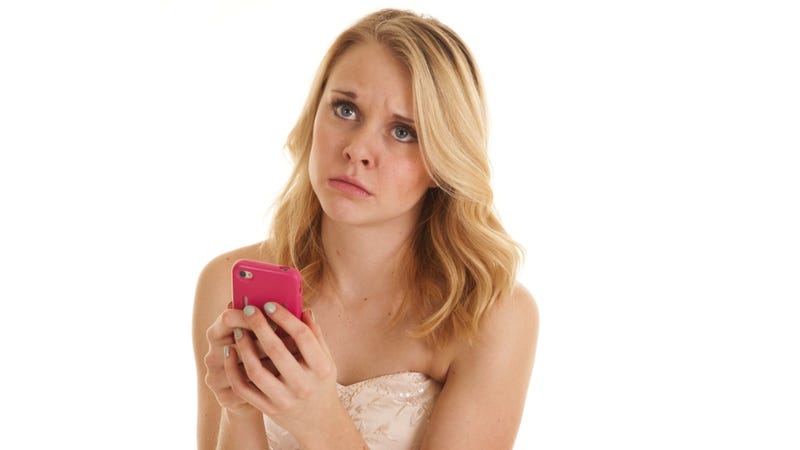 Everybody sexts. Or, to be more precise, men and women sext, gay and straight people sext, trans and gender-queer folks sext, people of all races, sizes, and (almost all) ages sext. As new research unveiled this week reveals, this impressive diversity, however is almost entirely hidden by the way print media represents sexting across the English-speaking world. As far as newspapers and magazines are concerned, it seems sexting has only one face: that of a pretty, white, teenage girl. The coverage resembles the worst impulses of high school sex-ed, journalist and scholar Nina Funnell says: "girls are reduced to victims or sluts, boys are assumed to be aggressors, and same-sex couples get ignored all together."
In a paper given this past week at the World Conference on Family Law and Children's Rights in Sydney, Funnell reported on her study of 734 newspaper and magazine articles about sexting from across the English-speaking world. Funnell, who has written widely about sexting and whose book on the subject is due out next year, found that not a single one of the articles even mentioned same-sex sexting. (Hello, Grindr?) Few mentioned the images that men produce for women, even though studies have consistently shown that at least among the young, boys and girls send sexual images at almost exactly the same rate. (Since photos and videos of young women are much more likely to be shared without the sender's permission, it's easy to get the false impression that girls are much more likely to sext in the first place.)
Very few of the articles Funnell analyzed mentioned race, despite the considerable research that indicates that sexting behavior varies noticeably by ethnicity. Rather, these hundreds and hundreds of stories repeated the same old theme: pretty young white girls are making horrible, life-altering mistakes by sending naked pictures to boys and men.
In an email, Funnell pointed out that reporting on sexting broke along predictable gender lines. The impact of sexting on boys, she found, was invariably framed in terms of legal consequences: possible prosecution for child pornography, sex-offender registration, or the loss of college and job opportunities. For girls, however, the coverage focused almost exclusively on more intimate negative outcomes: shame, humiliation, loss of reputation, vulnerability to bullying, and life-long regret. "Girls are worried about in terms of their purity, and boys in terms of their prospects," Funnell told me.
In other words, the worries about boys constrict around the impact of sexting on their public lives; the hand-wringing about girls revolves around concern for their private moral reputations. The idea that boys might struggle with shame -– or that we should also be worried about girls' legal standing as citizens -– is absent from what is now a global conversation about online sexual activity. Tellingly, this same framing showed up in the now-notorious CNN response to the Steubenville verdict, which focused all-too-sympathetically on the consequences for the convicted rapists' public futures.