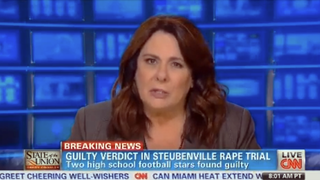 CNN's unconscionable coverage of the Steubenville Rape Case verdict is pissing everyone off. Newscaster Candy Crowley, general correspondent Poppy Harlow, and legal expert Paul Callan all did their very best to focus solely on the guilty verdict's repercussions on the two rapists. There's next to no coverage of the girl who was brutally raped; instead, they talk almost exclusively of the rapists— the two teenagers who had such bright futures, and now their lives are completely ruined from this one little indiscretion. Isn't it a shame how they suffer?
Let's not forget that these boys committed truly despicable acts and to all appearances showed no remorse or regret until they were faced with real-world consequences. But still, wasn't it so sad when they broke down crying upon learning they'll spend a few years in juvie? It was so sad that CNN forgot to talk about the sixteen-year-old girl whose life will be spent dealing with the ramifications of rape. After all, she left the house with a vagina; she KNEW the consequences.
Here's what actually happened on CNN:
When Crowley said she couldn't imagine how emotional it was in the courtroom, Harlow — who was there and had been inside the courtroom — responds:
I've never experienced anything like it, Candy. It was incredibly emotional, incredibly difficult, even for an outsider like me, to watch what happened as these two young men that had such promising futures — star football players, very good students — literally watched as they believed their lives fell apart...when that sentence came down, [Ma'lik] collapsed in the arms of his attorney...He said to him, 'My life is over. No one is going to want me now.' Very serious crime here, both found guilty of raping the sixteen-year-old girl at a series of parties back in August. Alcohol fueled parties; alcohol is a huge part of this.
Then, after the verdict is read, we watch Trent Mays and Ma'lik Richmond speak.
Mays says "I would truly like to apologize to [the girl], her family, my family, and community. Those pictures shouldn't have been sent around, let alone taken."
"I had no intentions of doing anything like that, and I'm sorry I put you guys through it. I'm sorry," said Richmond. He was held and comforted; his back was pat.
On top of all that, Harlow makes a big deal out of Ma'lik Richmond's lawyer — this guy — telling her that today was the first day Ma'lik's dad told him he loved him — doesn't your heart just bleed for him? Because without a father's love, a boy just has to rape.