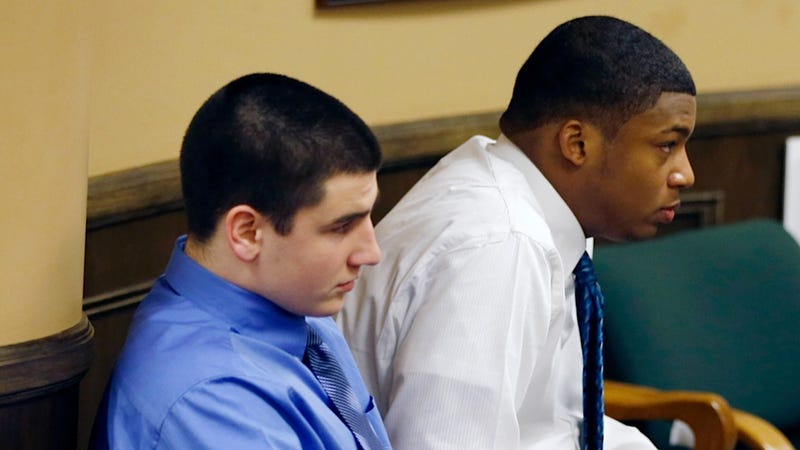 A judge found Trent Mays and Ma'lik Richmond, two Steubenville high school football players, guilty on Sunday of raping a 16-year-old girl after a party in August 2012.
According to CNN, Judge Thomas Lipps announced his decision in the non-jury trial after four days of testimony. Mays, 17, and Richmond, 16, have been found delinquent (the juvenile equivalent of a guilty verdict) on all three counts as charged, and face the possibility of being jailed until they turn 21.
On the fourth day of testimony in the Steubenville rape trial, the 16-year-old girl who says she was raped by two high school football players testified that she could not recall what happened the night of the sexual assault, but remembers waking up naked in a strange house after drinking at a party.
Defense attorneys for accused football players Trent Mays and Ma'lik Richmond, meanwhile, tried to discredit the girl's credibility by calling two witnesses (former friends of the girl), who testified that the accuser had a history of heavy drinking and was known to lie about things. The AP reported that Saturday morning's testimony focused primarily on the accuser's character, since defense attorneys had thus far tried to portray her as intoxicated but still in control of her actions the night of the party.
Texts centering on the night of the party reviewed Thursday in the non-jury trial revealed that the girl had only learned of her sexual assault second-hand. On Friday, three key teenage witnesses (granted immunity for their testimony) were reported to have heavily damaged the defense by testifying that the girl was digitally penetrated on two separate occasions the night of the party: once in the backseat of a car, and again in the basement of a house of one of the witnesses, Mark Cole.