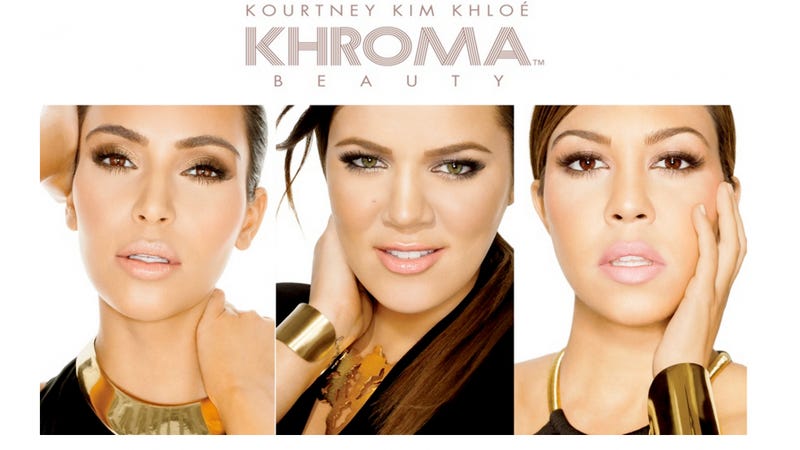 The Kardashians have been blocked from continuing to distribute their new cosmetics products. A company called Kroma Makeup is suing the Kardashians' licensing partner for stealing its name — the Kardashian products are called Khroma Beauty — and the judge in the case issued a preliminary injunction against the Kardashians pending the outcome of the dispute. Khroma Beauty just launched, and a rollout to over 5,000 stores in the U.S. was planned for this month. The judge noted that issuing the injunction might cost the Kardashians' licensing partner millions of dollars in lost sales, but that not issuing it would likely destroy Kroma Makeup's entire business, built over the past ten years. Khloe, Kourtney, and Kim Kardashian have already been paid a $1 million advance for lending their names to the beauty line. They are also guaranteed minimum royalties of $4.7 million to $5.2 million per the terms of the contract they signed. [WWD]
---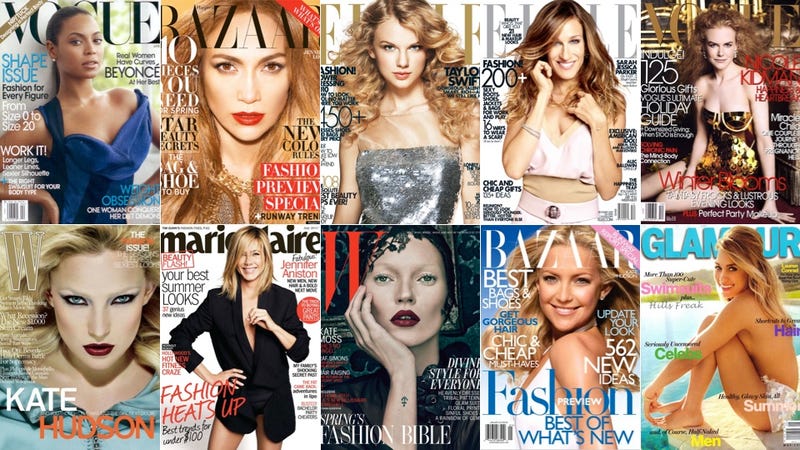 If you've ever wondered why
fashion magazines just put the same five actresses on the cover all the damn time
, Fashionista crunched the past five years' worth of circulation numbers for the major ladymags to find the stars with the most best- and worst-selling issues of the year under their belts.
Beyoncé, Taylor Swift, and Nicole Kidman
all fronted several issues that were the worst-selling of the year.
Sarah Jessica Parker, Jennifer Aniston, Lauren Conrad, Kate Moss, and Jennifer Lopez
all had several best-sellers.
Kate Hudson
, oddly enough, had both a preponderance of worst-selling issues and of best-selling issues. [
Fashionista
]
---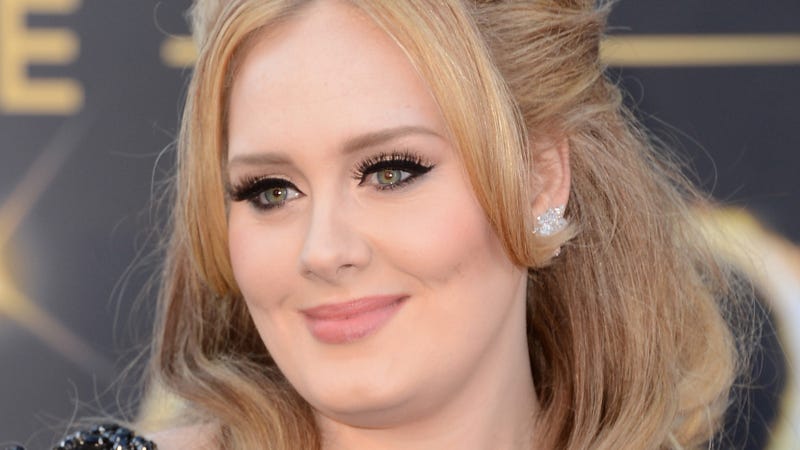 According to the
Sun
— so, you know, grain of salt and all —
Adele
is the subject of a kind of bidding war between cosmetics giants
L'Oréal, Estée Lauder, and Christian Dior
, each of which wants the singer as its face. [
Sun
]
L'Oréal
, meanwhile, has been fined
$155,000
for continuing to run ads that had already been ruled misleading in Sweden. A Swedish court already ruled in 2010 that L'Oréal's ads for Revitalift, AgePerfect, and Vichy Liftactive CxP and Liftactiv Retinol HA contained scientific claims that were not adequately supported by evidence, but L'Oréal continued to make those claims on its Web site. The company intends to appeal. [
WWD
]
---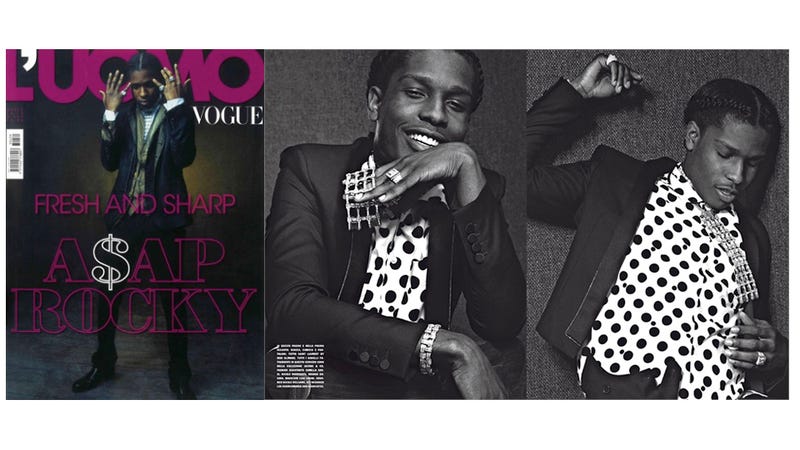 A$AP Rocky
is on the cover of
L'Uomo Vogue
. [
HighSnobiety
]
---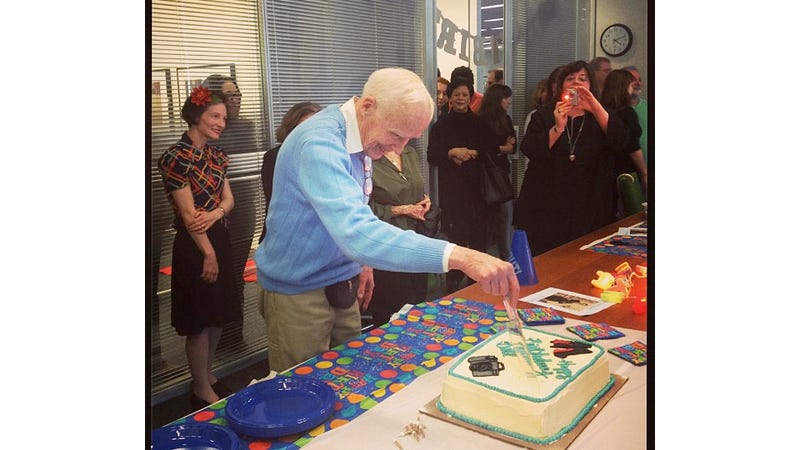 Bill Cunningham
celebrated his 84th birthday with a cake at the
New York Times
. [@
Nytimesfashion
]
---
"He steps out of his shoes and reaches down to take them off. Each of his socks. Never taking his eyes off me. I am rendered speechless by the look of hunger in his eyes. Wow! To be wanted by this Greek god..."
Kate Moss
read a couple paragraphs from
50 Shades of Gray
for charity. [
YouTube
]
---
$60 million worth of assets owned by Bulgari and its executives have been seized by the Italian government over tax irregularities. These assets include real estate, life insurance policies, and investments. Bulgari is accused of $4 billion in tax evasion over the past seven years. [WWD]
Dita Von Teese says she does her own hair and makeup for events, because it's not rocket science.

"You can learn how to do anything, if you just zero in on that one thing you want to be great at — whether you want to have a great cat eye or want to be able to do a certain hairstyle you admire, you just got to practice it and you can be as good at it as anybody else."

Of her skincare routine, she says, "No smoking, sunscreen, keep moisturized. I use a little bit of retinol at night sometimes." And, you know, great genes. [Fashionista]

John Galliano's wrongful termination suit against Christian Dior is moving to the Court of Appeal in Paris. Dior had tried to argue that its longtime creative director was an independent contractor, but the court didn't buy it. Galliano is believed to be seeking around $7 million in compensation for his firing from Dior in 2010, following his arrest for hurling a string of racist and anti-Semitic abuse at a couple in a café. Also, details on what he was paid when he was there:

Galliano earned a fixed gross annual salary of 1 million euros, or $1.3 million at current exchange, at Christian Dior Couture, plus variable compensation of up to 700,000 euros, or $906,400, and a percentage linked to the firm's annual sales rise. In addition, Galliano earned a fixed gross salary of 2 million euros, or $2.6 million, as artistic director of his own brand, and a percentage linked to the decrease in annual losses at the perennially unprofitable house.

[WWD]

Karl Lagerfeld says if he were invisible for a day, he'd probably do "some robbery." [Fashionista]
The Council of Fashion Designers of America announced the nominees for its annual awards. And they are...the same people who are always nominated. Marc Jacobs, Proenza Schouler, Alexander Wang, Thom Browne, Phillip Lim, Alexander Wang again, Proenza Schouler again, etc. Also, they're not giving out the "Icon" award to a celebrity this year. [The Cut]
Marc Jacobs says his bit part in the upcoming film Disconnect does not herald any attempt to make himself over as an actor. He did the movie because his friend was the director.

"Being out in Yonkers in the freezing cold like from 4pm to 9am in the morning, repeating the same lines over and over again... I would not wanna be an actor. I told him, 'This is the first, and last film, ever.' It's not that there aren't tedious moments in the life of a fashion designer but I wouldn't trade them for the tedious moments for the life of an actor, that's for sure."

Tali Lennox, the model/it-girl daughter of Annie Lennox, is going to Ibiza to do Ayahuasca with her dad. "I'm the only one in my family who hasn't done it yet!" she says. [The Cut]
And now, a moment with Harry Brant: