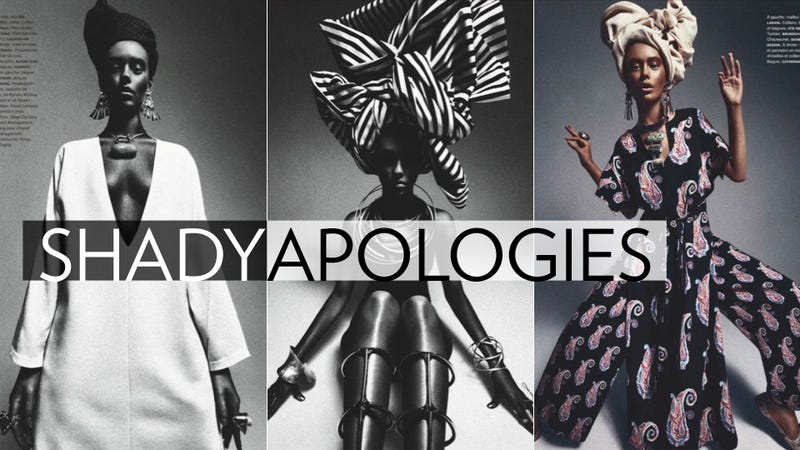 Numéro magazine has issued an apology of sorts for the African Queen editorial in the March 2013 issue, in which Ondria Hardin, a 16-year-old, blond-haired, blue-eyed model, was shot with her skin darkened. But the magazine's message — and a message from the photographer himself — only further complicate the issue.
The Huffington Post received the following email from the publication:
Some people have declared that they have been offended by the publication in Numéro magazine n°141 of March 2013, of an editorial realized by the photographer Sebastian Kim called "African Queen", featuring the American model Ondria Hardin posing as an "African queen", her skin painted in black.
The artistic statement of the photographer Sebastian Kim, author of this editorial, is in line with his previous photographic creations, which insist on the melting pot and the mix of cultures, the exact opposite of any skin color based discrimination. Numéro has always supported the artistic freedom of the talented photographers who work with the magazine to illustrate its pages, and has not took part in the creation process of this editorial.

For its part, Numéro Magazine, which has the utmost respect for this photographer's creative work, firmly excludes that the latest may have had, at any moment, the intention to hurt readers' sensitivity, whatever their origin.

Numéro Magazine considers that it has regularly demonstrated its deep attachment to the promotion of different skin-colored models. For instance, the next issue of Numéro for Man on sale on 15th march has the black model Fernando Cabral on the cover page, and the current Russian edition's cover of our magazine features the black model Naomi Campbell on its cover. This demonstrates the completely inappropriate nature of the accusations made against our magazine, deeply committed to the respect for differences, tolerance and more generally to non-discrimination.

Considering the turmoil caused by this publication, the Management of Numéro Magazine would like to apologize to anyone who may have been offended by this editorial.
HuffPo's Julee Wilson points out: "While Numéro does apologize it doesn't seem to regret the offense." Nope! Let's not forget, Numéro also printed photographs of a white model in an afro wig taking care of a black baby. In addition, Fashionista points out that when it comes to diversity, Numéro's track record sucks: