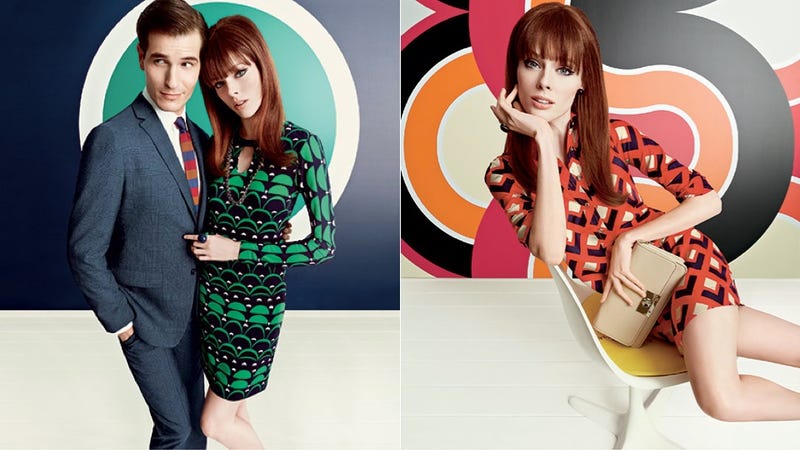 Coco Rocha stars in the new ad campaign for Banana Republic's Mad Men clothing collection — and critics are saying she's too skinny to convincingly model vintage-style clothing. (Little-known fact: there were no skinny people in the world until 1972, when scientists invented them. Thanks, science.) A sampling of less-than-thrilled comments from the brand's Facebook page:
That woman is too skinny to accurately portray the time in which "Mad Men" takes place.

Not loving the bony girl! Have you people watched mad men? Nobody looks like that . Thanks preppy brand for once again reminding regular girls that they just are not skinny enough. Cute print though

I don't understand how you never show Christina Hendricks model likes, so we can see how a dress would look on a female with breasts!
There are only three sizes a woman can be in the tabloid media/average Internet comment section: "anorexic," "fat," and "is she pregnant?" The desire on the part of consumers to see greater bodily diversity among models in ads and editorials is understandable, and even noble. The endless, public picking apart of women's bodies to keep them in their place is not.
As befits the narrative arc of the show, this collection — unlike some of costume designer Janie Bryant's previous efforts, which reflected a more early-60s, hourglass silhouette — is full-on late-60s mod. Casting a model like Rocha seems of a piece with that aesthetic. And as she explains, the slightly bobble-headed look of the final ads is the result of deliberate choices on the part of the photographer and the brand, who wanted the ads to look slightly distorted, like iconic images of Twiggy (who was kind of a big deal back then):
"It was fascinating because we also shot in a style that was heavily used in '60s photos, and I've never shot in that kind of framing before. It's a Twiggy sort of style where the [models' faces are angled] forward, and their bodies look smaller. I think we really got the essence of a '60s campaign."
---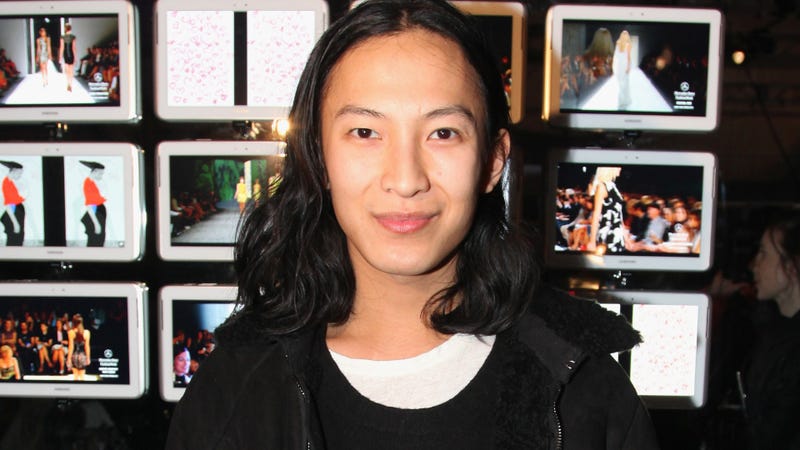 Alexander Wang's first collection for Balenciaga walked last night in Paris. Critics mostly liked the collection, which was recognizably based on the house's archives and largely black and white. "He drew a shade more literally from the Balenciaga archives than Ghesquiere tended to, but nobody could fault him for this, since Cristobal Balenciaga is one of the greatest designers to have ever grasped a pair of scissors," wrote the
Times of London
. Vanessa Friedman at the
Financial Times
said this collection "will probably be gratifying from a consumer perspective: not too challenging, but elegant enough, the clothes suggested the past without confronting it." Cathy Horyn of the
Times
, not known for being a Wang fangirl, called it "an impressive collection on Thursday that should silence his critics for a while." [
ToL
,
FT
,
On The Runway
]
Meanwhile, Racked took 25 recent articles about Alexander Wang and tabulated the most common descriptors used by each. Fashion writers and their editors, it turns out, think Wang is "youthful," "downtown," "streetwise," and "edgy." [
Racked
]
---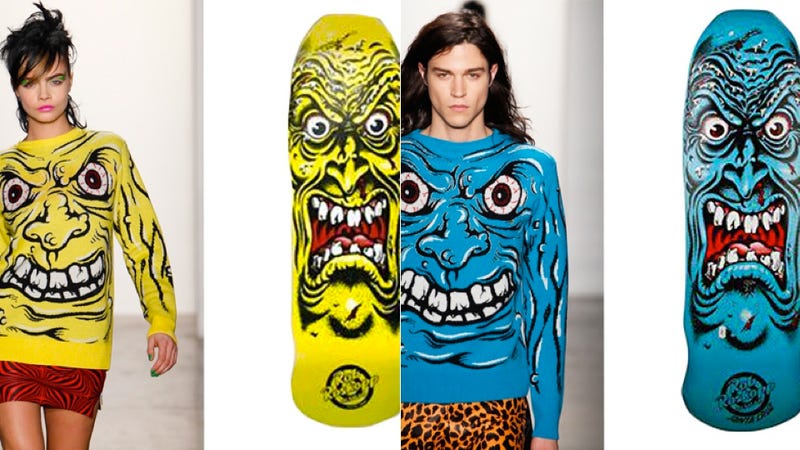 Remember how Jeremy Scott's fall collection was all "inspired" by 80s and 90s skateboarding culture and the gross-out cartoon imagery that used to grace skate decks and hoodies of the period? Well, turns out it was actually kind of
stolen
from a company called Santa Cruz Skateboards and the work of its longtime illustrator Jimbo Phillips. Some of the Scott prints are so close to the reference images that they practically could have been traced. The designer has yet to comment. [
Refinery29
,
MTV Style
]
---
Suno's spring campaign video is just perfect. Can the weather hurry up and get warm, already? [
Vimeo
]
---