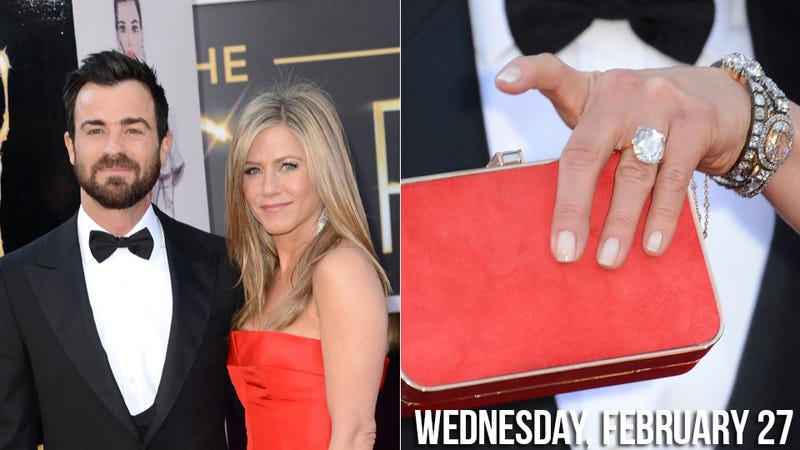 The noted tabloid duality of Jennifer Aniston—beautiful, charismatic millionaire actress or SAD CRONE FISHWIFE FROM THE LAND OF THE UNLOVED WOMEN?!!!—finally comes to an end soon because she's planning her wedding to Justin Theroux. Yes, folks, the dude who was on one episode of Sex and The City as a premature ejaculator gets to Define Jennifer Aniston's Womanity.
Apparently the wedding will take place soon after she completes her current film in Connecticut, The Untitled Elmore Leonard Project, and:
...she has already checked off some major tasks on her to-do list, including choosing wedding bands, setting a date and narrowing down dresses.
Haha, guys, the ring, though! Does anybody actually want that kind of schmaltzy mall-quarter-machine shit or are engagement rings basically just the carat version of a big dick competition? At least now we know what kind of Hollywood extra work the iceberg from Titanic is doing these days. [People]
---
Holy fuck, Carrie Fisher:
Video footage surfaced of the performance — which took place last week on board the Holland America Eurodam in the Caribbean — showing Carrie slurring a couple off-key songs. Her dog even POOPS AND PEES on the stage while she's singing. It's pretty nuts.

There were reports Carrie — who was featured on the cruise as a "surprise" celebrity guest — was wasted at the time of the show ... but her rep says the on-stage breakdown was caused by Fisher's bipolar disorder.

The rep says, "There was a medical incident related to Carrie Fisher's bipolar disorder. She went to the hospital briefly to adjust her medication and is feeling much better now."
Christ, I am a huge Postcards From The Edge fan, so I have nothing to say about this but try not to drink on your meds? ._. [TMZ]
---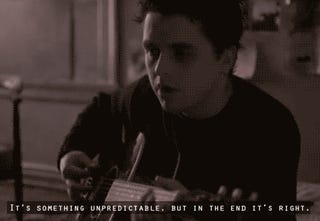 A newly clean Billie Joe Armstrong talks about his decision to enter rehab after his disastrous "I'm not Justin Bieber, motherfuckers" tirade at the IHeartRadio festival: