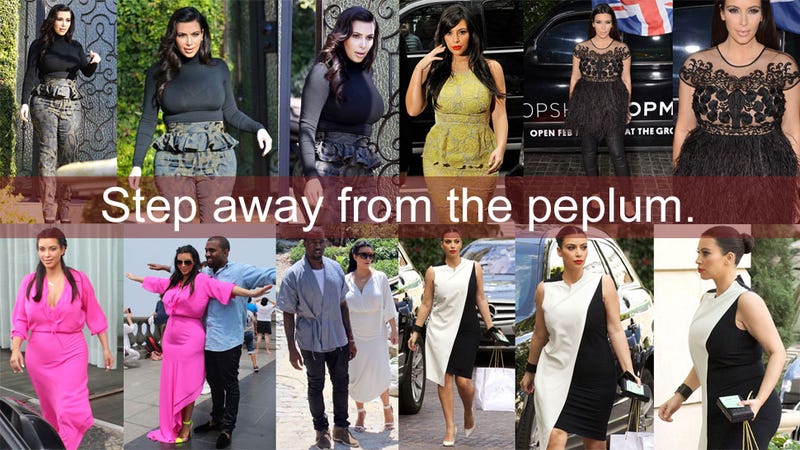 Look, we get it. We know. It fucking sucks getting dressed in the beginning of your second trimester. Because you don't look pregnant yet—you just look thick in the middle. You've outgrown some of your regular wardrobe, but you're not big enough for maternity clothes (most of which aren't cute anyway). It makes getting dressed really difficult and stressful. And the hormones don't make you feel any better, emotionally speaking. So we feel for Kim Kardashian. Really, we do. But isn't she supposed to be a fashion-y person, a "designer" or former stylist or something? And rich? And living for the cameras? She should be showing us how it's done, frankly. Instead, it's like watching a person who doesn't know how to swim desperately flailing in three feet of water, trying not to drown. You feel a little bad for her, but it's also really funny.
This look is almost comical, like she's trying to make us laugh. Maybe it comes across that way because she's wearing clown pants—but, you know, a sad clown.
Kim went to Elton John's Oscars party on Sunday night and while she didn't look necessarily bad, it was clear that she's uncomfortable with giving up her sex symbol status, even during her pregnancy. It's like, we saw the tape. And you're pregnant for Christ's sake. We know you're fuckable. Give it a rest for the duration of your gestation.
Another problem is that Kim was used to dressing to accentuate her small waist, and usually did it really well. Now that that's gone, she seems lost and confused and making misguided attempts to camouflage her "problem areas" by drawing more attention to them. "Oh, I know, I'll wear all these feathers. A plume of something is always flattering."
This one seems like it was Kanye's fault.