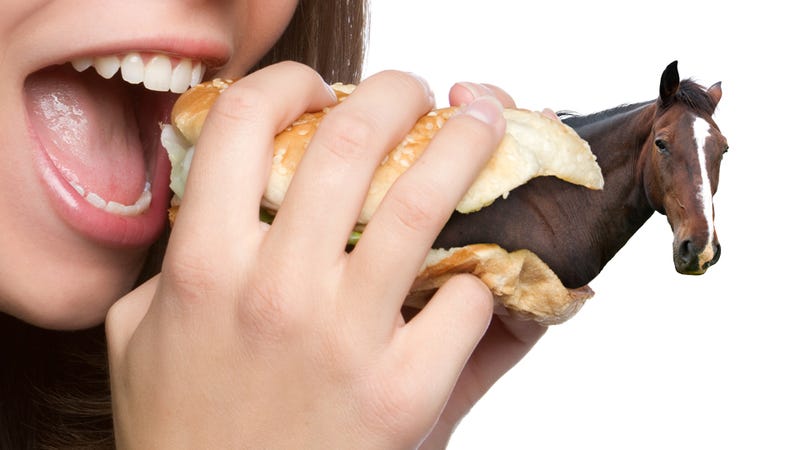 Oh, POOH POOH, y'all. Pooh pooh. So we all ate a little bit of horse meat. So what. I mean, of course I'm all for proper, transparent food-labelage, and I'm certainly not PRO-non-consensual-mass-horse-meat-consumption. (This is not an article about whatever fucked-up mechanisms of food production got the horse meat into the beef meat in the first place—because that shit needs to get handled.) If I'm going to eat horse meat, I want to know I'm eating horse meat, and in the future I would like to exclusively eat horse meat on my terms. But what I'm saying is that I would. Eat it, I mean. On my terms. Because WTF who cares.
Now, it's not like I'm dying for a BIG BLOODY HORSE T-BONE WITH HOOF SAUCE or anything. I'm not going to seek it out, and if someone plopped one on the table at a dinner party I might have to take some centering breaths in the foyer real quick. But that's just cultural conditioning. I've eaten an IKEA horseball. I've eaten garbage ravioli. So that means I've definitely eaten secret horse meat—we've officially crossed that hurdle and everything's fine. Despite the knowledge that I've munched a horse, you don't see me cry-barfing all over the place right now, because what the fuck is the difference between a horse and a cow?
That is a rhetorical question and if anyone sends me any Wikipedia links I'm shutting the internet down.
Do I like horses? Definitely. I have Artax feelings! The first half of the Black Stallion is my absolute jam (thanks no thanks, Mickey Rooney)! I cried at that Budweiser commercial where the guy and the baby horse are best fwiends! Do I want to murder that baby with my bare hands and eat it? NO. But what if that Budweiser commercial had starred this li'l buddy instead? What if it was about a wee highland coo!? I will posit that I still would have cried. So cuteness is not the issue.