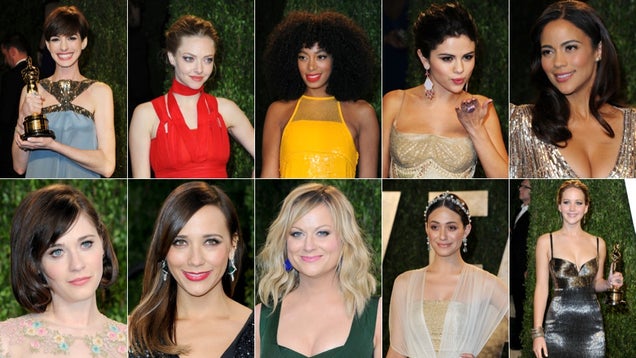 S
In the immortal words of R. Kelly, after the show it's the after party. Last night, Oscar-nominated A-list celebs flocked to the Vanity Fair bash, where they mingled with TV stars and luminaries of the music world. The dress code was half pretty, half sexy. It was a night of many beautiful mammaries. Some ladies let the girls out, so to speak.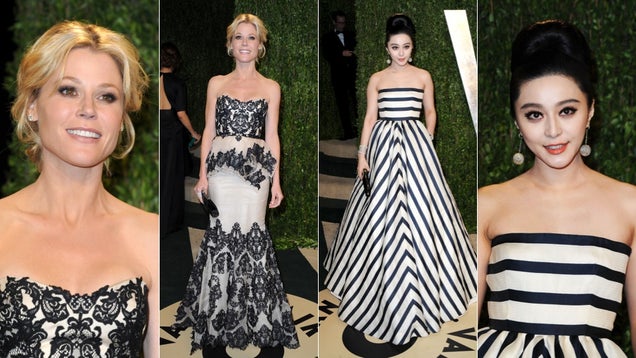 S
Demure ebony and ivory: Julie Bowen, Fan Bingbing.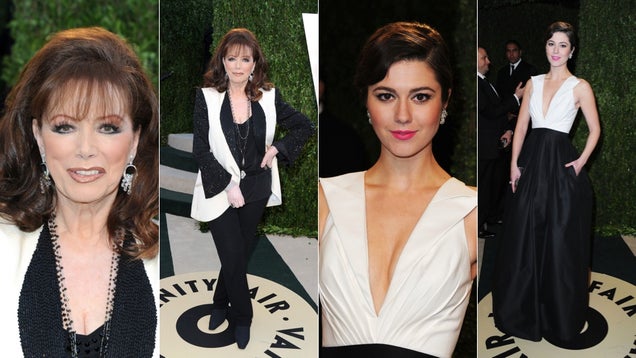 S
Jackie Collins and Mary Elizabeth Winstead also rock black and white.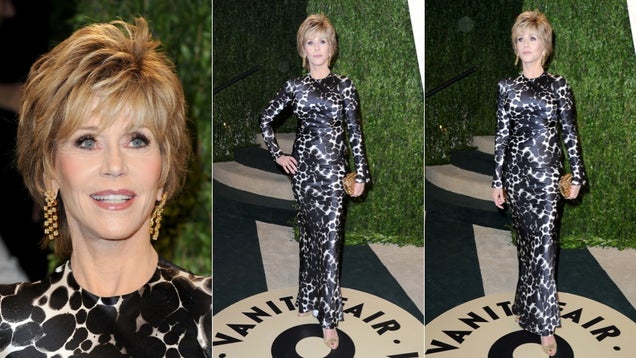 S
Jane Fonda looks hot in a splotchy pattern, although it might be too tight to dance/aerobicise in.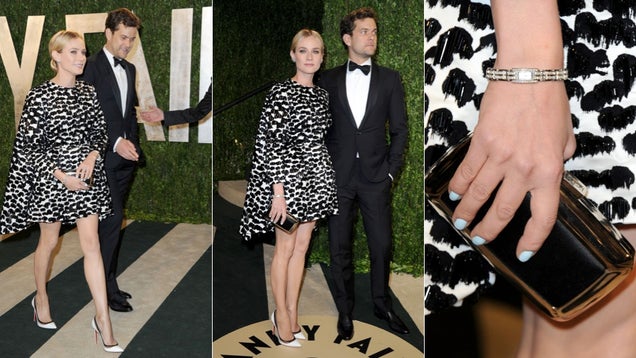 S
Diane Kruger wears whimsical black and white, accessorizes with blue nails and Josh Jackson.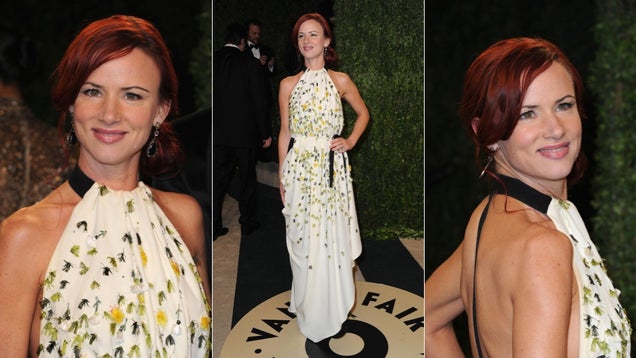 S
Juliette Lewis's dress was attacked by insects.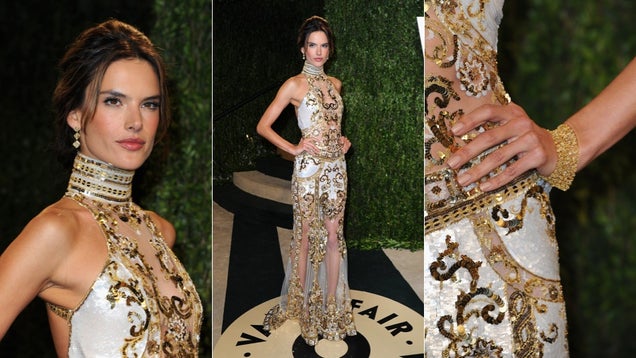 S
Sequins aren't enough for Alessandra Ambrosio, she also needs see-through fabric.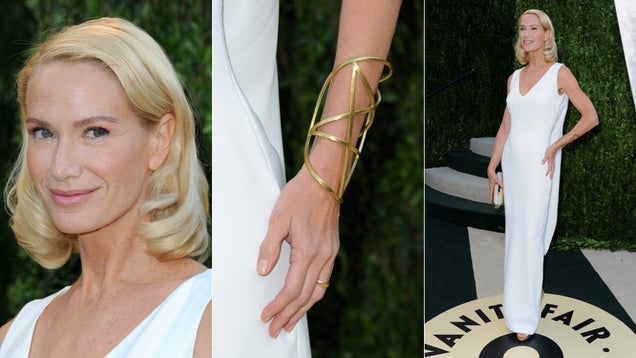 S
Some more white/pale colors: Kelly Lynch's gold star arm cuff is badass. (Closer look!)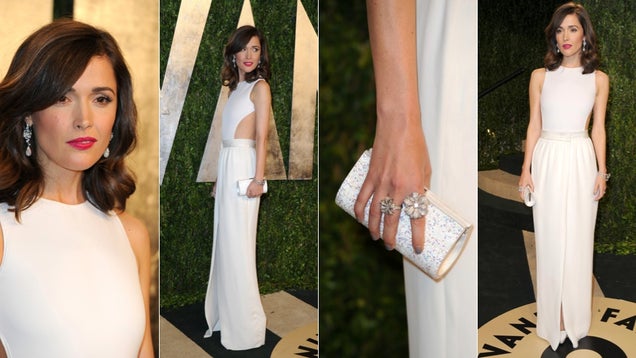 S
Rose Byrne, absolutely smashing in ivory.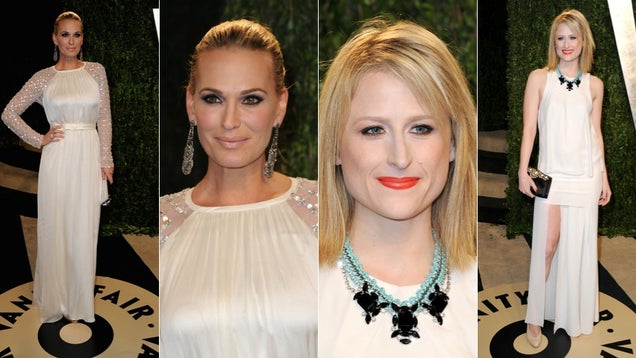 S
White, but not quite right: Molly Sims, Mamie Gummer.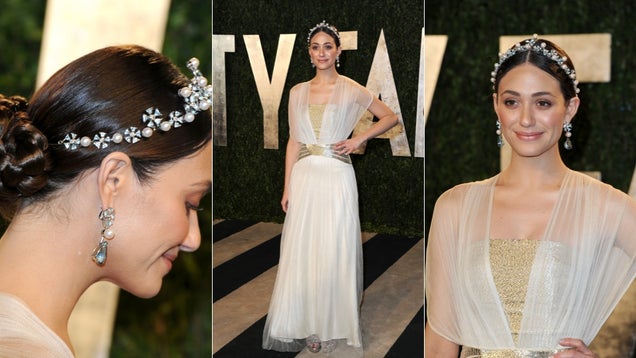 S
Emmy Rossum does ethereal Greco-Roman goddess, complete with awe-inspiring headpiece. Love!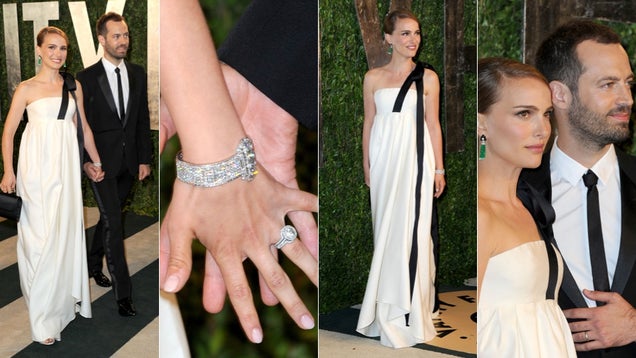 S
Natalie Portman and Benjamin Millepied are formal but not stiff.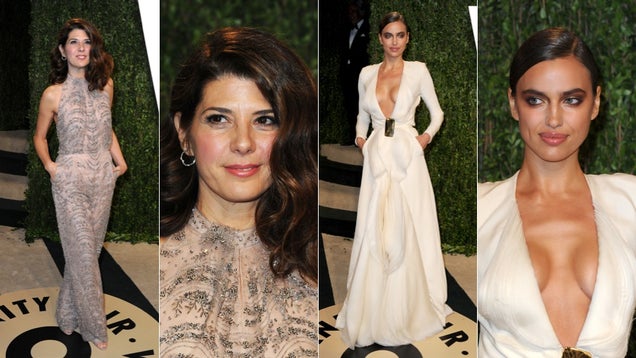 S
Marisa Tomei's encrusted evening jumpsuit looks comfortable and fun. Irina Shayk is covered up by a lot of fabric, except where she isn't.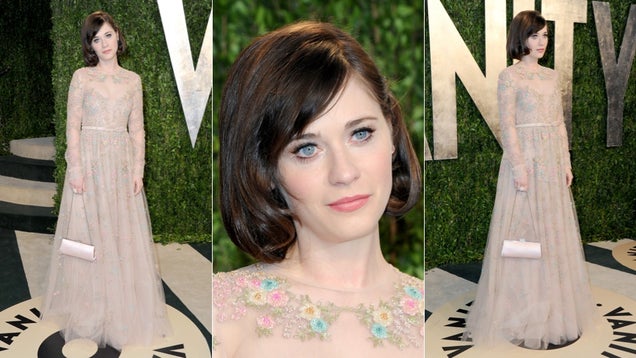 S
This is obviously a very pretty gown on Zooey Deschanel, but it just looks washed-out, monochromatic and blah. Snooze girl.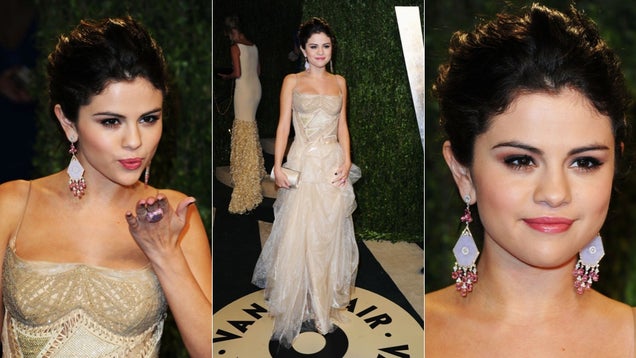 S
A better, more exciting version of a tan/beige dress: Selena Gomez.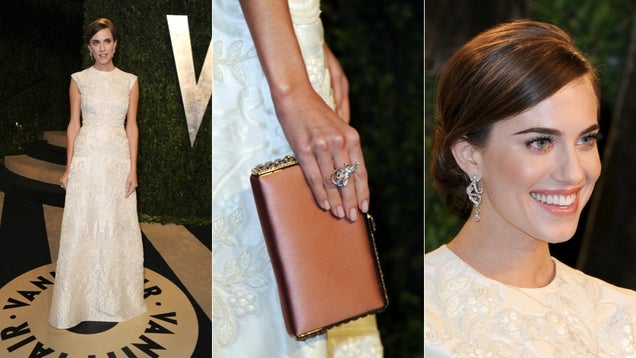 S
Allison Williams does her best Upper East Side charity socialite.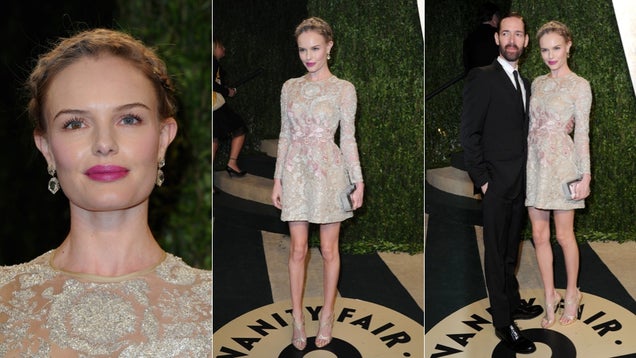 S
Kate Bosworth shows off her gams in one of the few short dresses.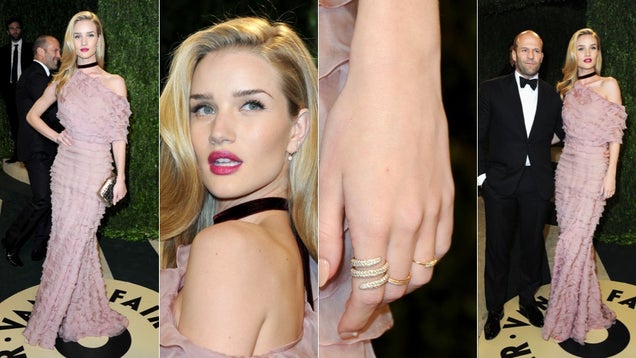 S
Pale lilac ruffles on Rosie Huntington-Whitely, who is so pretty I want to barf. And she gets to sleep with Jason Statham. Arg.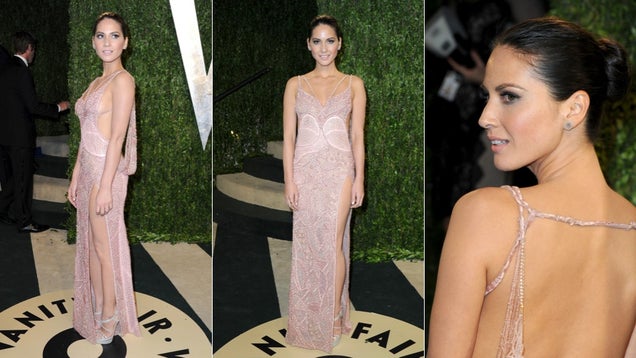 S
Olivia Munn wants to know why you are looking at curve of her breast. Do you mind? Don't look at her thigh, either. How do we feel about his very revealing dress that is literally hanging together by threads?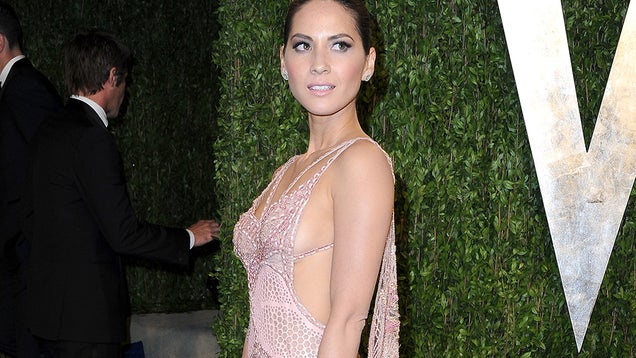 S
YES PEOPLE ARE LOOKING AT YOU CALM DOWN.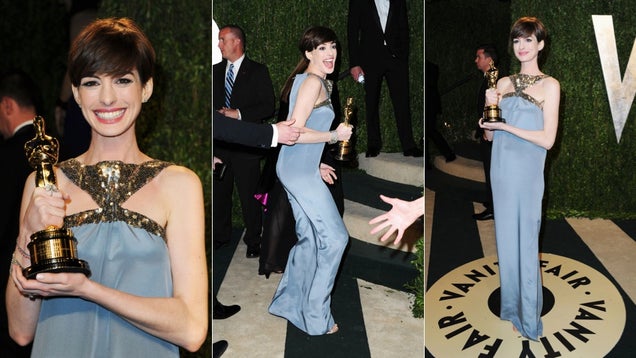 S
This icy blue dress Anne Hathaway picked isn't much better than what she wore to the awards. Boring.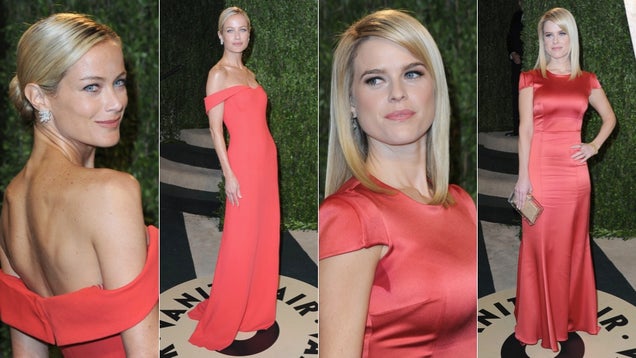 S
On to some brighter colors: Carolyn Murphy and Alice Eve look fab in coral-y red.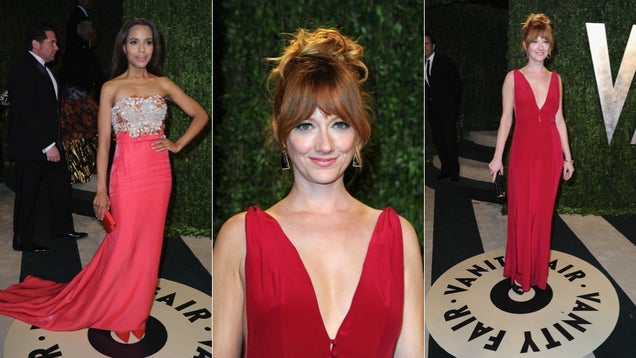 S
Kerry Washington's dress is better here than on the Oscars carpet, where the sun and camera flashes washed out the color. Hot red is a great hue for Judy Greer.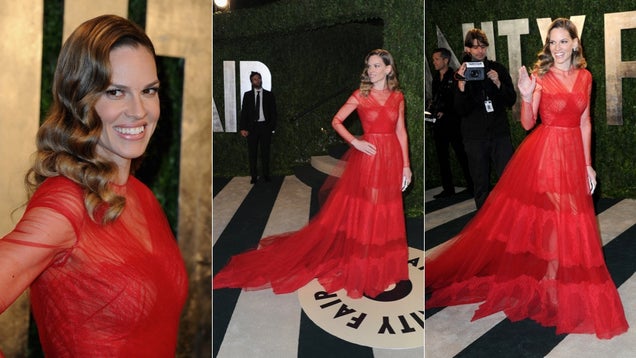 S
Hilary Swank's red ball gown is very similar to Sally Field's, except for the part where you can see right through it. It's like she's wearing a short nightgown with a sheer peignoir over it. No likey.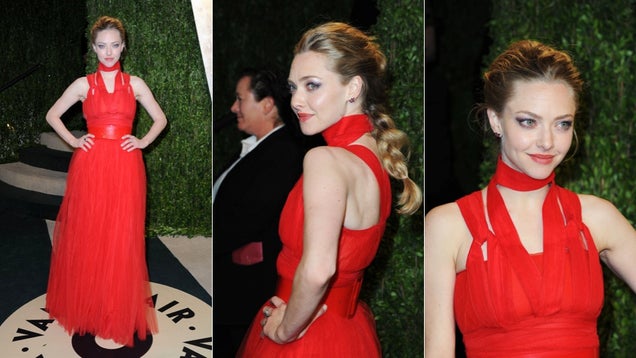 S
Ooh, Amanda Seyfried. Wow. Like this even better than what she wore to the awards ceremony.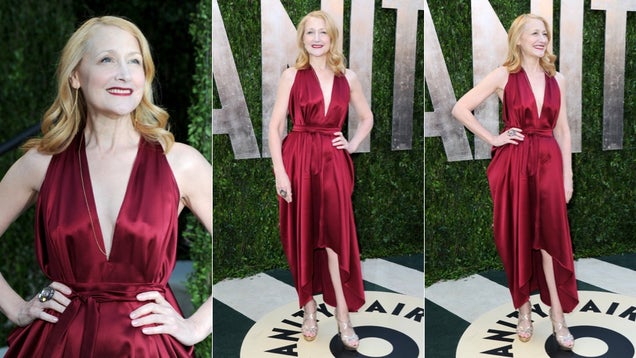 S
Patricia Clarkson gleefully embraces the plunging neckline trend.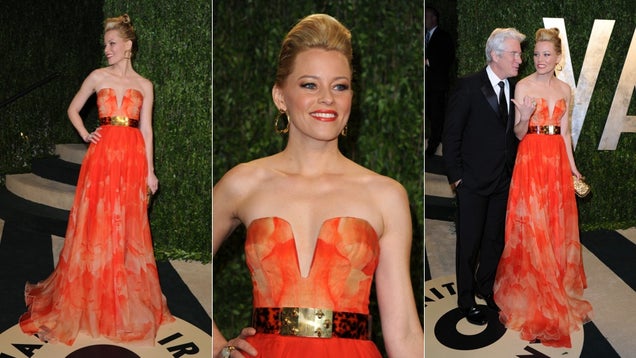 S
Soft, lovely pattern on Elizabeth Banks.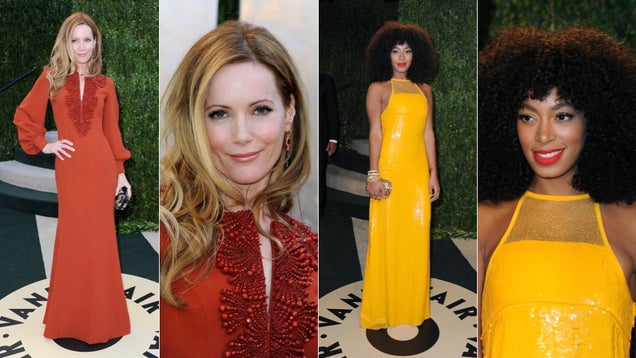 S
Leslie Mann has a '70s thing going on; Solange is a luminous ray of sunshine.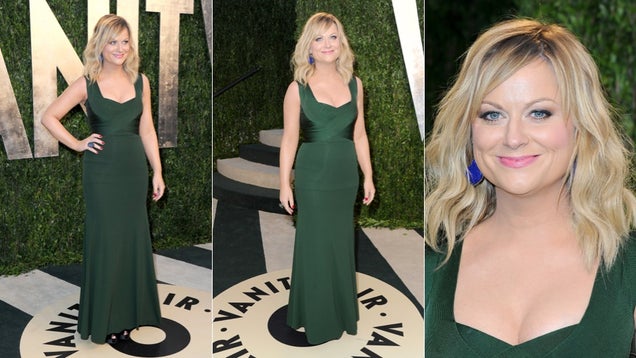 S
Green is good: Amy Poehler.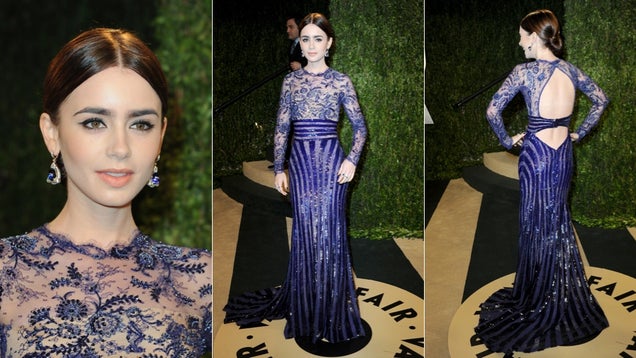 S
Nude/sheer/illusion/see-through fabric and indigo beading on Lily Collins. The back is better than the front.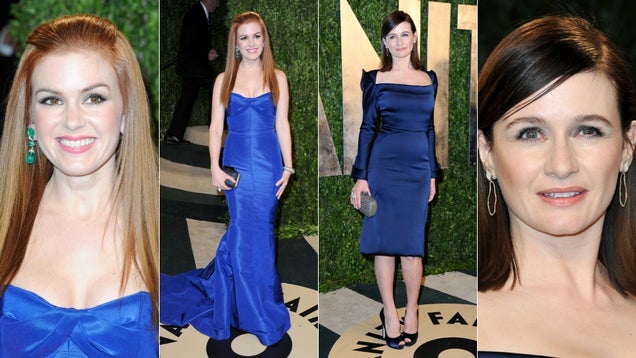 S
More blues: Isla Fisher and Emily Mortimer.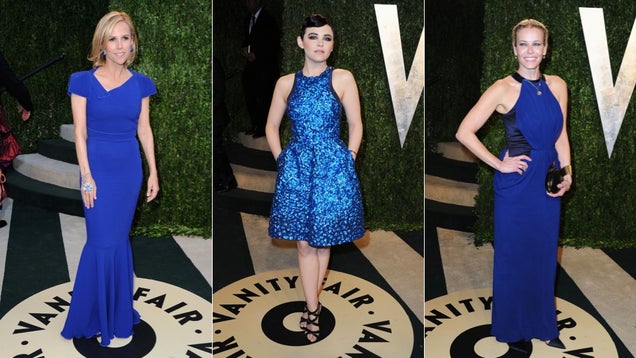 S
Ginnifer Goodwin's shimmery blue is the best in this bunch, but Tory Burch and Chelsea Handler both look great.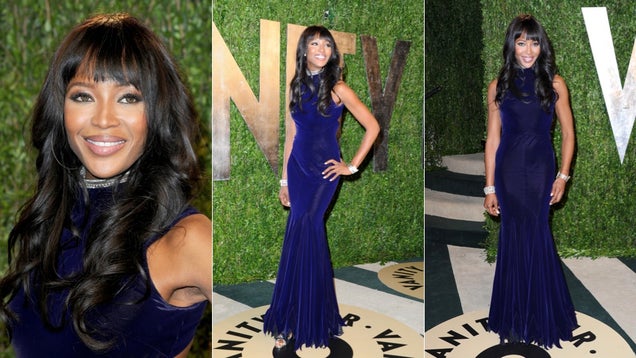 S
Naomi Campbell has me singing blue velvet and that little boy's smile/blue velvet with that slow southern style/a new religion that'll bring ya to your knees/blue velvet if you please.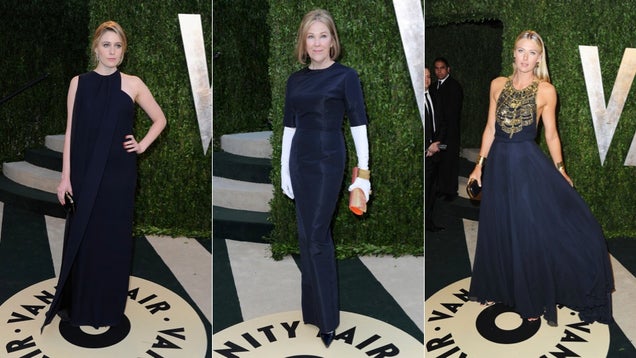 S
In the navy: Greta Gerwig, Catherine O'Hara, Maria Sharapova.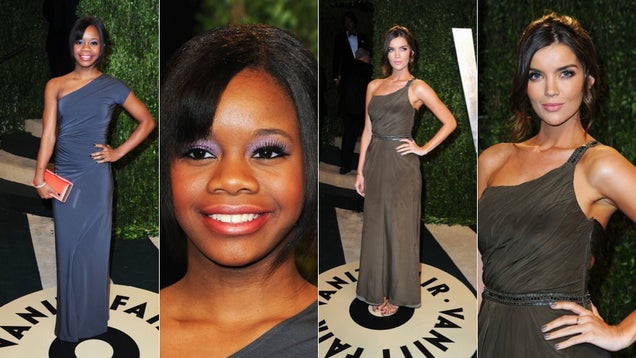 S
One shoulder/draping for Gabrielle Douglas and Natasha Barnard.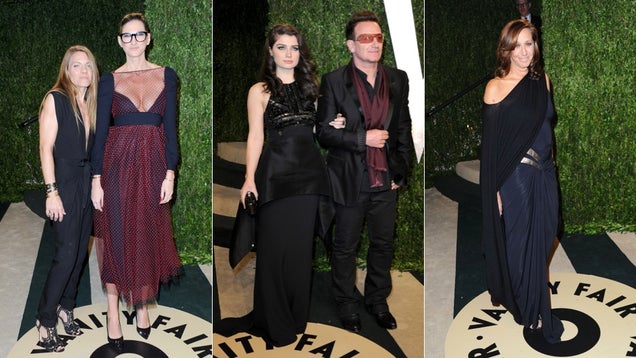 S
Going into the darkness: Courtney Crangi and Jenna Lyons; Eve Hewson and Bono; Donna Karan.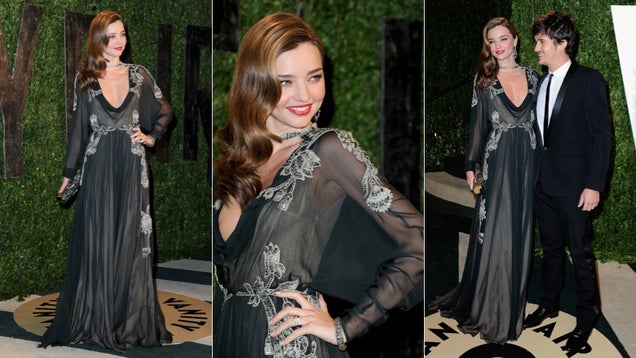 S
Plunging neckline and sheer fabric: Miranda Kerr.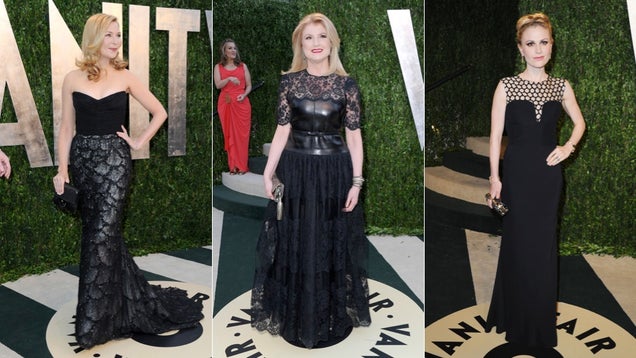 S
Back to black: Jennifer Westfeldt, Arianna Huffington, Anna Paquin.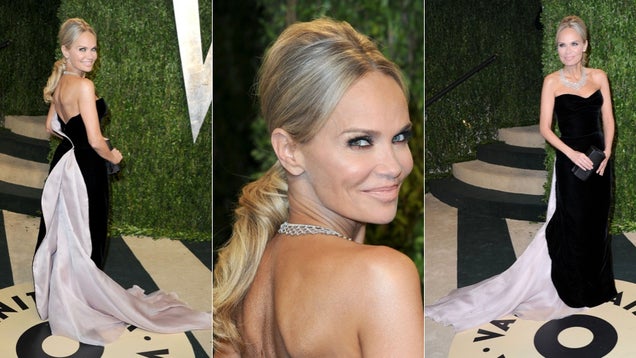 S
Kristin Chenoweth changed into a different black dress; this one is less pageant.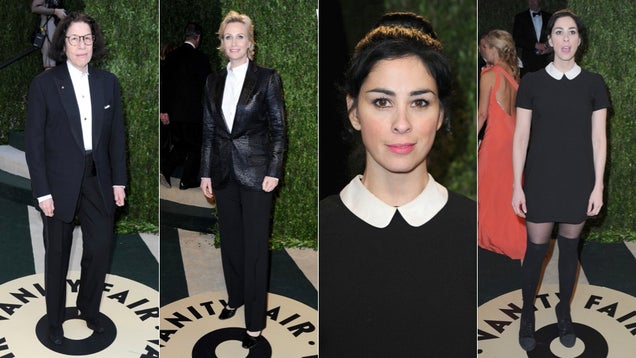 S
Collars and comfort: Fran Lebowitz , Jane Lynch, Sarah Silverman.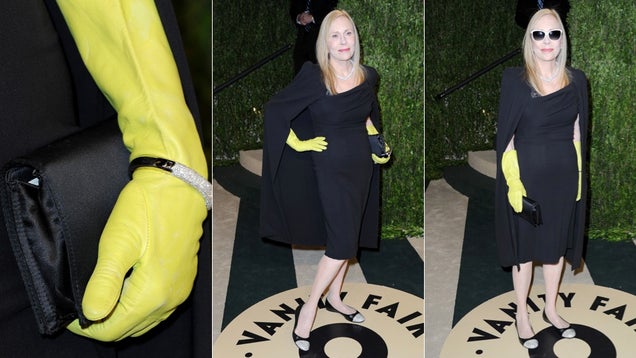 S
Holy shit! The legendary Faye Dunaway. GLOVES.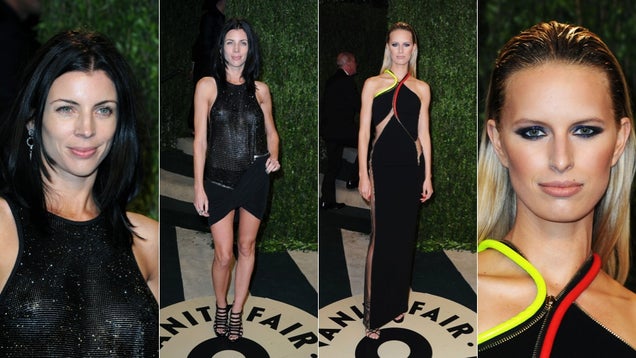 S
More see-through fabric! Liberty Ross shows off; Karolina Kurkova attempts to make weird sheer panels look good.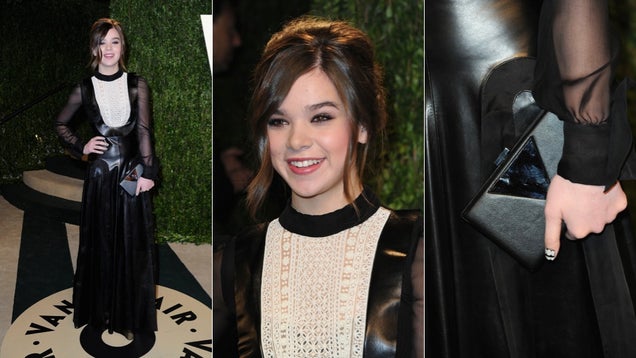 S
What in the world? See-through sleeves, leather, eyelet… Hailee Steinfeld's dress is confuzzling.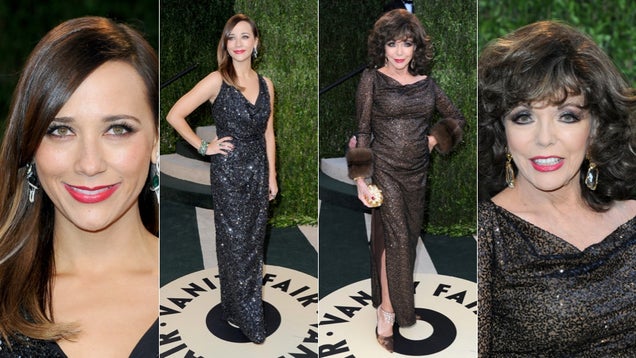 S
Foxy dark shimmer: Rashida Jones, Joan Collins.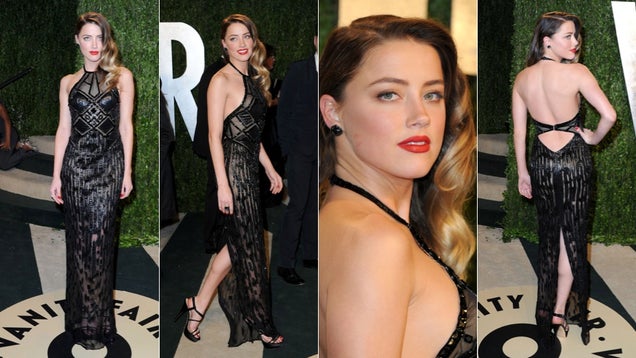 S
See-through fabric and almost sideboob: Amber Heard.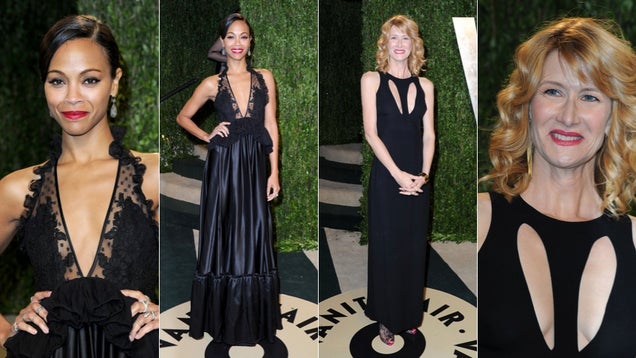 S
Zoe Saldana and Laura Dern: Plunging necklines for those on sternum watch.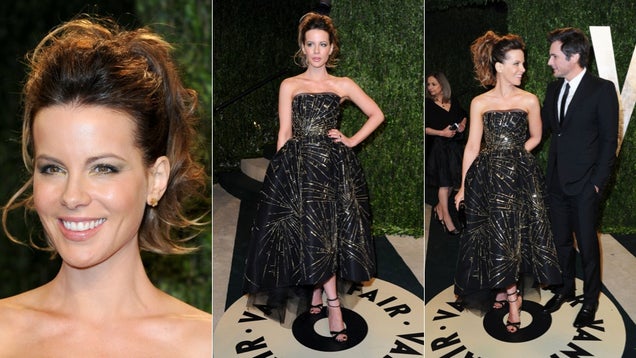 S
Now this looks like a party: Dig Kate Beckinsale's flirty frock and gold eyeliner.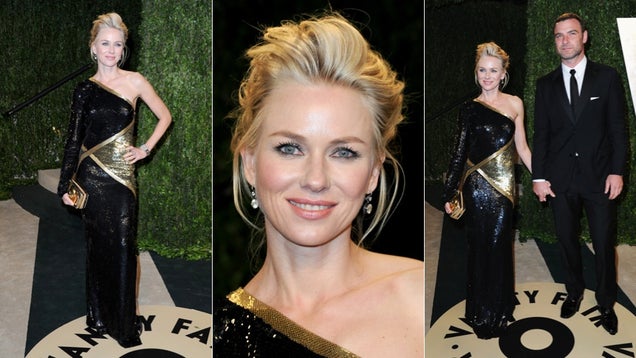 S
Which brings us to the metallics! Naomi Watts swapped her silver Oscar gown for black and gold sequins. Disco chic!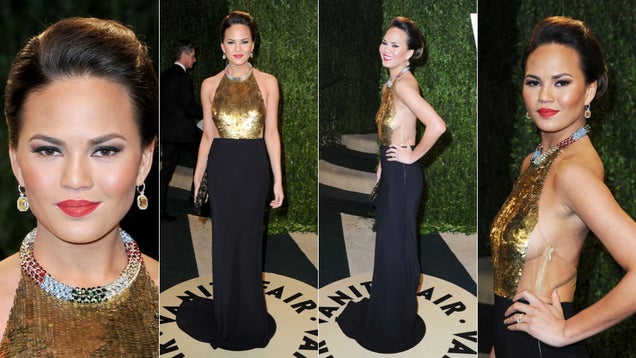 S
Sideboob alert AND underboob alert: Chrissy Teigen's see-through fabric allows strangers to give her a visual breast exam.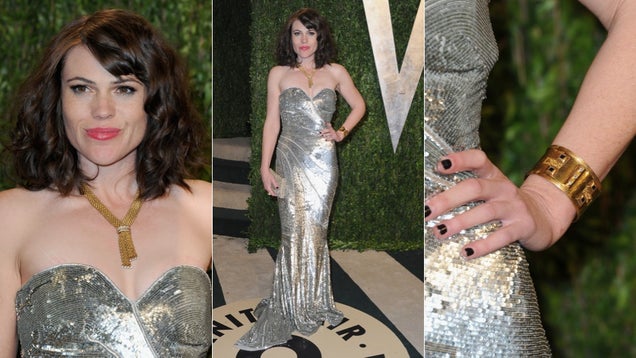 S
Silver and gold? Yes, Clea Duvall. Yes.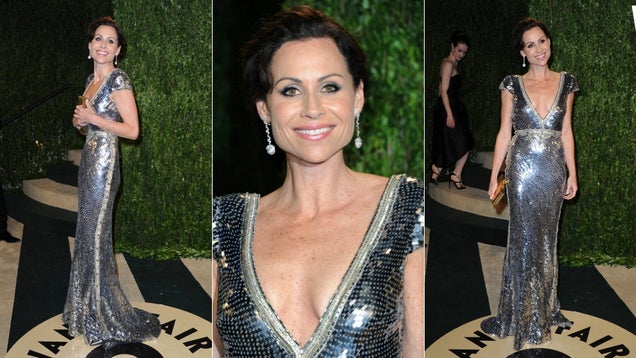 S
Minnie Driver takes yet another plunging neckline, makes it classy and spectacular. Haven't seen her in anything lately. Miss her! She was so great on Will and Grace.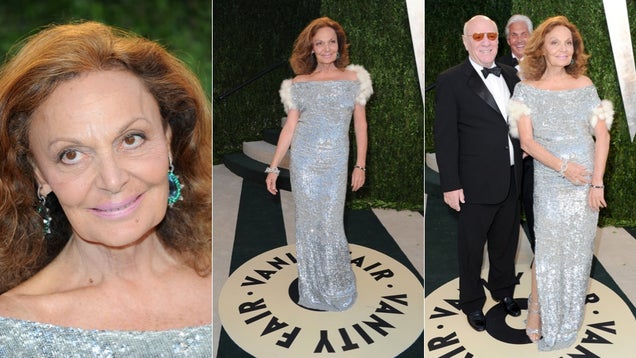 S
Diane von Furstenberg sparkles in titanium.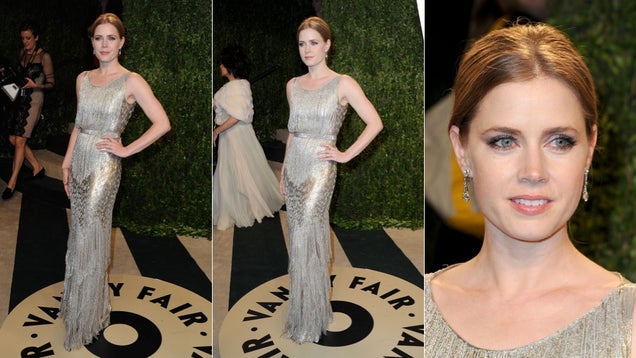 S
Amy Adams shines in body-hugging mercury.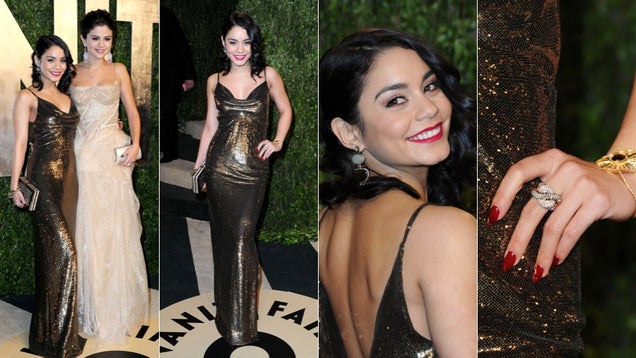 S
I don't know what color this is on Vanessa Hudgens — copper? bronze? — but I dig it.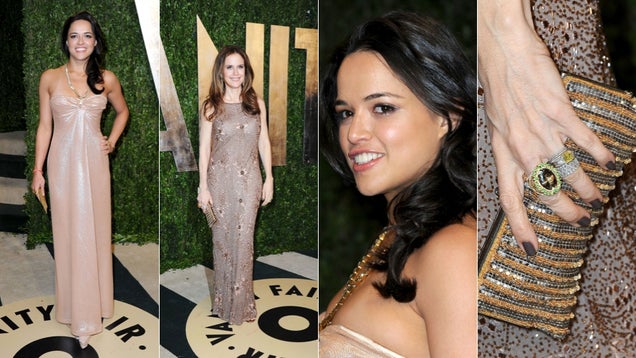 S
Shiny yet meh: Michelle Rodriguez, Kelly Preston.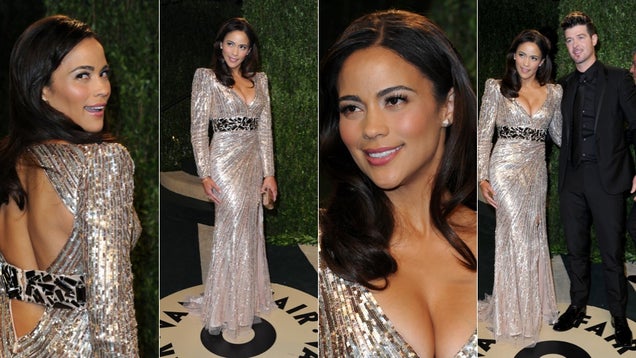 S
Yowza. Paula Patton wows in white gold, and you've gotta love the amazing accessories (aka the boobs and the husband).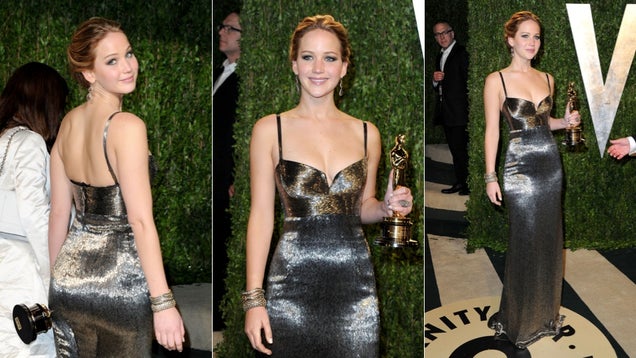 S
Best: Jennifer Lawrence, in platinum, looking amazing again. Just like a winner.
Images via Getty.