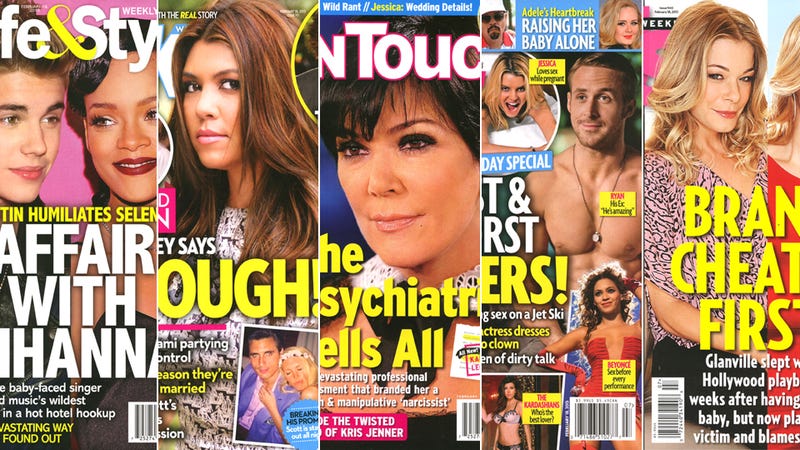 Welcome back to Midweek Madness! It's Wednesday, and we need to quench our thirst for gossip, so Intern Tanisha assists in our analysis of In Touch, Us, Ok!, Life & Style, and Star. This week, we learn that Rihanna and Justin Bieber messed around in a hotel room; we hear from AP.9, the man who claims he had sex with Coco behind Ice-T's back; and in an epic cover story worth your time and money, we find out Hollywood's best and worst lovers. Sexy sex secrets!
---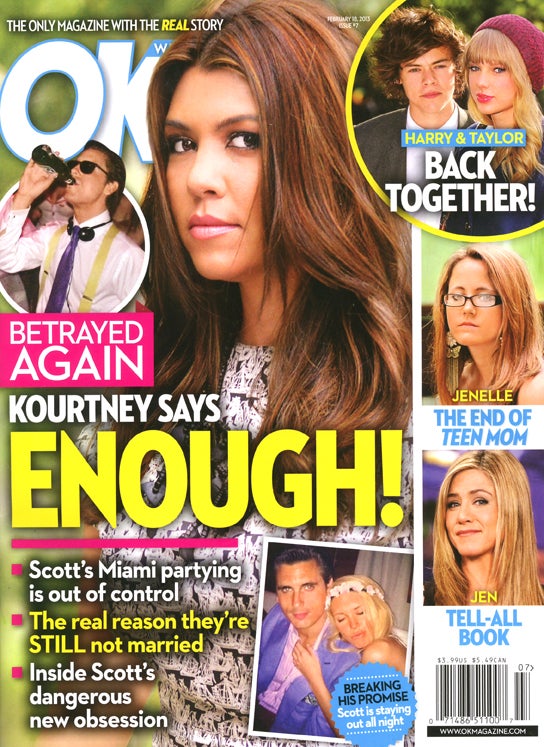 Ok!
"Kourtney Says Enough!"
This week in celebrity repeat offenders news: Scott "Oops, I did it again" Disick got "sloshed," Kourtney Kardashian threatened to leave him, and we're sharing same story we detailed back in October. Again! Nothing to see here, move right along. Jennifer Aniston is ready to tell her side of the well-worn tale of her becoming wretched, barren spinster, in an autobiography that doesn't even exist. What will be included in this dream autobiography about her life as a successful Hollywood starlet? Well, tons of dish about how she was dumped by Brad for Angie, crushed by John Mayer and — for shits and giggles — a rollicking story about Gerard Butler that'll have readers laughing their asses off. You know, her life. Meanwhile, we learn that John Mayer turned into a jerk because of his bum larynx: He's been on a steady decline "since he started having problems with his throat and his voice," according to a "friend." Also, John-boy's girlfriend Katy Perry has been wearing the latex and sequin pants in their relationship, as is evident by the many awful events she's dragged him to, such as the inauguration and the theater. Taylor Swift has been uber busy since her break up with Harry Styles, and has written FIVE songs about their relationship — one for every beauty mark on his cherubic face, no doubt. Finally, "Star Demands": Adele is a chillaxed badass who requires Marlboro Lights, a bottle of red wine and bite-sized chocolate bars in her dressing room; Kanye is a diva who insists that he be equipped with at least two tubes of Carmex lip balm to moisturize his situation and preserve his sexy.
Grade: F (dirty muddy water)
---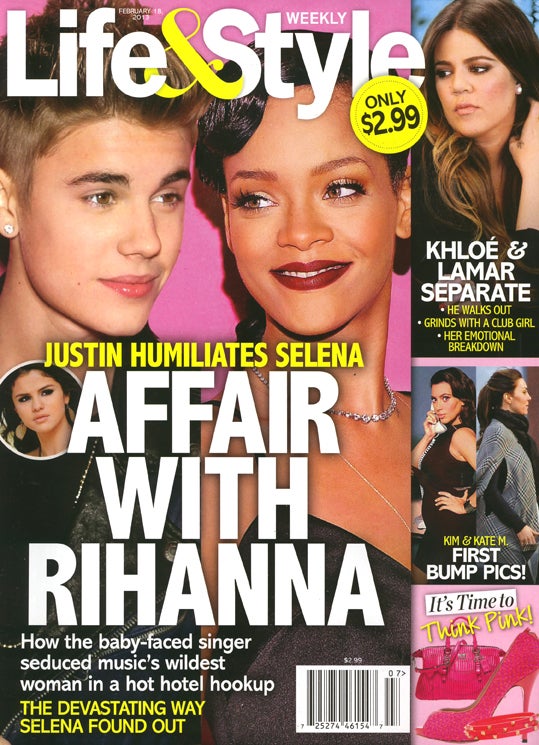 Life & Style
"Justin Humiliates Selena"
The mag can exclusively reveal, without a shred of hard evidence, that Justin allegedly put his Beiber in Rihanna's RiRi during his two-year relationship with Selena Gomez. Using a collage of photos of the Biebs and RiRi together at Hollywood functions as proof (Fig. 1), the mag alleges that Justin's long-held crush on Rihanna resulted in several hot, steamy hook-ups starting in 2010, when the Biebs was still a minor (abeit probably still more mature than Chris Brown) and RiRi was already an adult. Though it's icky to think "Rihanna had a baby inside of her!" it would be kinda awesome if they did hook up. Think about all the names! RiBi, Justianna, Riebers! Meanwhile: Khloe Kardashian showed up late to a photo shoot, looking tired and requested a nice glass of morning wine, prompting the editors to conclude that she and hubby Lamar Odom are dunzo. Hopefully they stretched before jumping to those conclusions. On the other side of the pond, Prince Williams and his dear ol' granny, Queen Elizabeth II are peeved that Kate's mother will be moving in with the Royal procreators. Wills wants his privacy, and according to the mag, the Queen may not take kindly "to the decision to let the 57-year-old former flight attendant, who's a commoner — the horror! — stay in a royal residence." Would it help if she were younger? Next: Exclusive tips on how to get J.Lo's rockin' bod and timeless face. First, hook your face up to a machine that sends currents of electricity into your facial muscles; then partake in quarterly cleanses that'll have you shitting out toxins and old age; enlist the help of celebrity sweat-master Tracy Anderson; and of course, date someone who is 18 years your junior. Voila! You're a sexy lil' fetus.
Grade: B- (refreshing water with cucumber)
---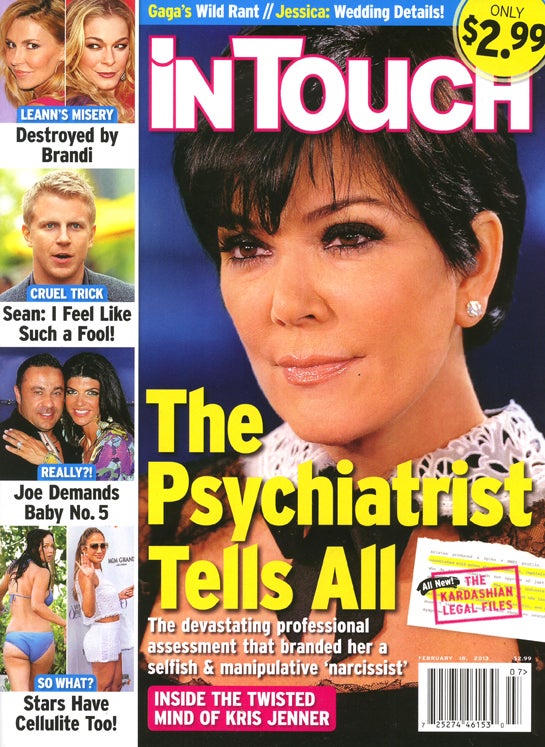 In Touch
"The Psychiatrist Tells All"
It always seemed like Kris Jenner was a little off; here's court-documented proof. The mag obtained an
official six-page psychological evaluation
that reveals what you already suspected:
Kris is an immature, narcissistic attention whore
with a severe Cinderella complex. The document (which really could have just been a transcript of any episode of
Keeping Up With the Kardashians
) described Kris as "the type of person who actively solicits praise and attention and frequently makes immature demands." Moving on:
Brandi Glanville admits that she couldn't help but continue to sleep with her cheating husband
. LeAnn's friends fear that Eddie will cheat on her because "he just can't help himself" and LeAnn can't help but tweet every single emotion she ever has-ever! Someone, help these people! Meanwhile,
KStew was left alone with Rupert Sanders
… in L.A., along with millions of people. Nothing happened, snooze. In more riveting news, we learn that
Alana "Honey Boo Boo" Thompson wants to grow up to be "Lots of things. A mama, a beauty queen, working at Walmart, working at McDonald's
so I can eat their chicken nuggets, a veterinarian and a nurse," because Amurrica! And finally a fun/slash terrifying spread featuring Scott "American Psycho" Disick, who is "Chillin' Like a Villain." Dark times. (
Fig. 2
)
Grade: D (sour water with too much lemon juice)
---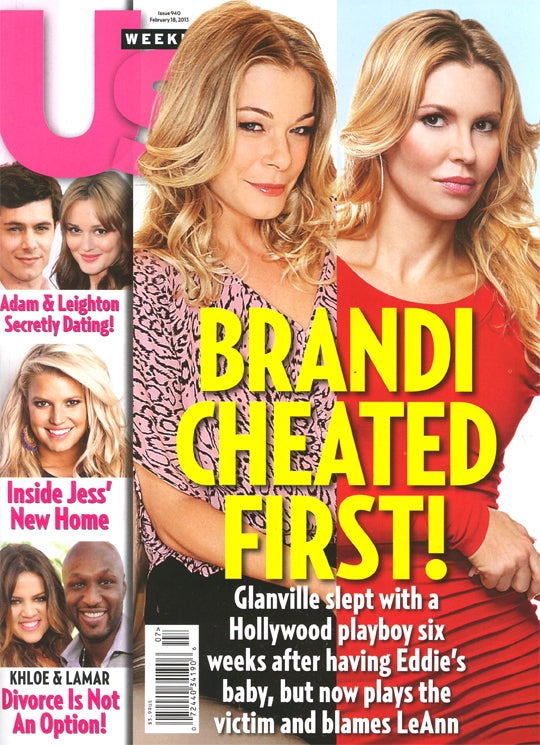 Us
"Brandi Cheated First!"
Blonde lady feuds continue! This report claims that though Brandi Glanville has been bad-mouthing LeAnn Rimes for being a homewrecker and stealing husband Eddie Cibrian, Brandi actually cheated on Eddie several times during their eight-year marriage, before he started hooking up with LeAnn. She had sex with "noted Hollywood lothario" Harry Morton, she made out with Rick Fox, and, when she met Eddie, he was living with his girlfriend, actress Juliann Morris, and Brandi broke them up. Anyway, a "friend" says that Brandi is "no saint" but when confronted about her fling with Morton, Brandi allegedly said, "I only blew Harry! I wasn't out screwing every waitress like Eddie was!" The very portrait of a healthy marriage. Moving on: John Mayer is "crazy" about Katy Perry, but not ready to pop the question yet. Maybe she really does shoot whipped cream out of her breasts? Dina Manzo and her husband Tommy are separated. Adam Brody on Leighton Meester: "I have someone to spoon with." Taylor Swift and Carrie Underwood "hate each other" and are trying not to cross paths at the Grammys. Bethenny Frankel might be dating her best friend, "billionaire hedge fund whiz" Warren Lichtenstein. In an interview on page 61, Khloe Kardashian and Lamar Odom are gushy and adorable as they hawk their new fragrance, Unbreakable Love. Last, but not least: A look at the international beauties of The Face. Do you see a winner? (Fig. 3)
Grade: C+ (bland flat room temperature tap water)
---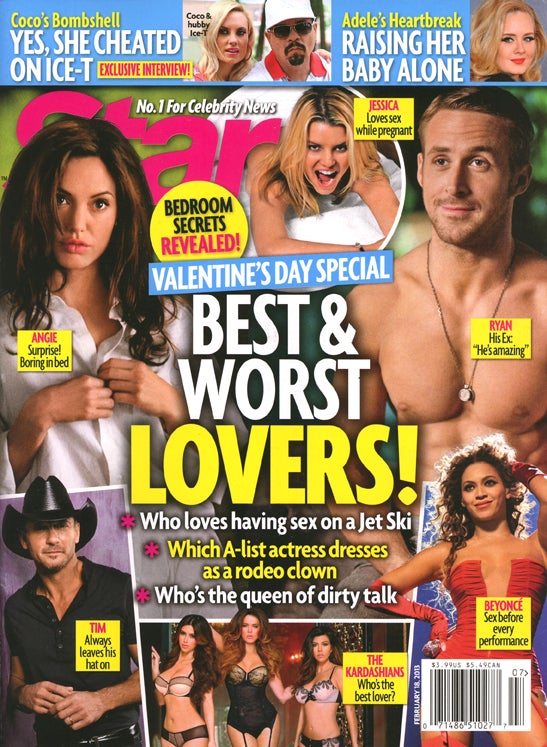 Star
"Best & Worst Lovers!"
Keep in mind that the bulk of the information in this "Valentine's Day Special" comes from unnamed sources and bitter jumpoffs. That said, it's basically the best thing EVER. Eight pages of sexy sexy celebrity sex secrets. A smattering: Angelina and Brad do it behind the waterfall in their pool. John Mayer is "sensational" in bed. Jennifer Aniston "just lays there." Beyoncé ties up Jay-Z and "gets absolutely wild." Ryan Gosling has "laser focus" during sex, Bradley Cooper talks nonstop in French, Jason Segal is "amazing" in bed, then gets giddily "goofy" afterwards. And Jennifer Lopez is a screamer: "Once, in a hotel, a maid charged into her room, thinking she was being murdered." Fucking secrets! Fucking love it. Fuck. Also inside: Denise Richards is "scary skinny," "superfrail" and at her "absolute thinnest." (Fig. 4) Adam Levine took his cousin to yoga class and Justin Bieber, who was also in the class (lolwut??), tried to hit on her. Allison Williams is "desperate" to sign a major fashion deal, even if it means outshining boss/bff Lena Dunham. Suri Cruise wants to be called Gigi now, because of some Christian picture book she's obsessed with. There's trouble in the Ryan Reynolds/Blake Lively marriage, because when they have time off, he only wants to go camping; she'd love to like, be on a yacht drinking champagne now and then. Apparently his camping obsession is one of the reasons he and ScarJo broke up. The outdoors ruin everything! Adele is not raising her baby alone, but she does have to travel to the Grammys and the Oscars and stuff and Simon won't go with her because he has to work, too. Casper Smart suggested he and JLo get matching tattoos on their ring fingers, partly because he thought it would be romantic and partly because he can't afford the whopper engagement rings she's accustomed to. Apparently Jennifer could "barely control her laughter" when he mentioned this idea. Finally, in an "exclusive," rapper AP.9 says he did indeed have a one-night stand with Coco on December 5. "We had sex," the eloquent gentleman explains. "It wasn't making love, it was just sex." He continues:"We had sex unprotected. I really hope she isn't pregnant!" AP.9 — whose name sounds like a high-school class with complicated homework — decided to come forward because Coco was making him out to be a stalkery superfan and she threw him under the bus. But he hopes Coco and Ice T stay married and happy. "I got respect for Ice, and I'm not mad at her. But don't lie about me." Sigh. Coco, is this true? And is AP.9 going to mysteriously end up AP6 feet under? (Fig. 5)
Grade: A+ (crisp sparkling water)
---
Addendum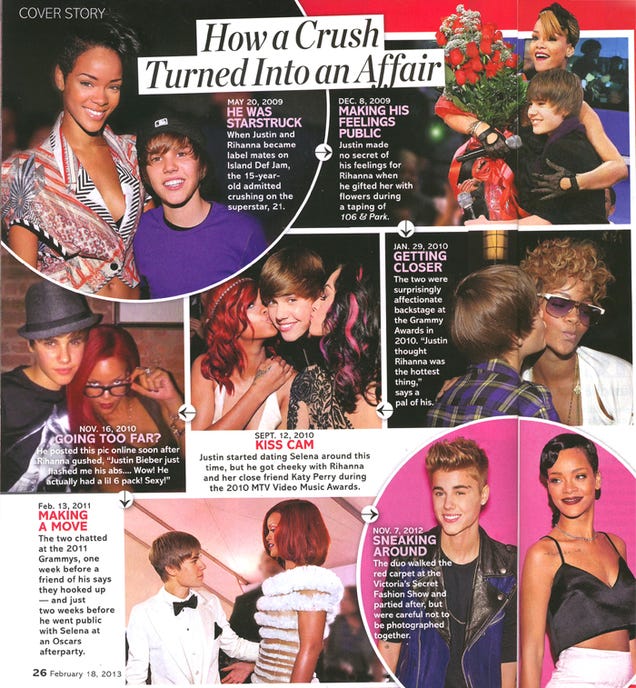 Fig. 1, from Life & Style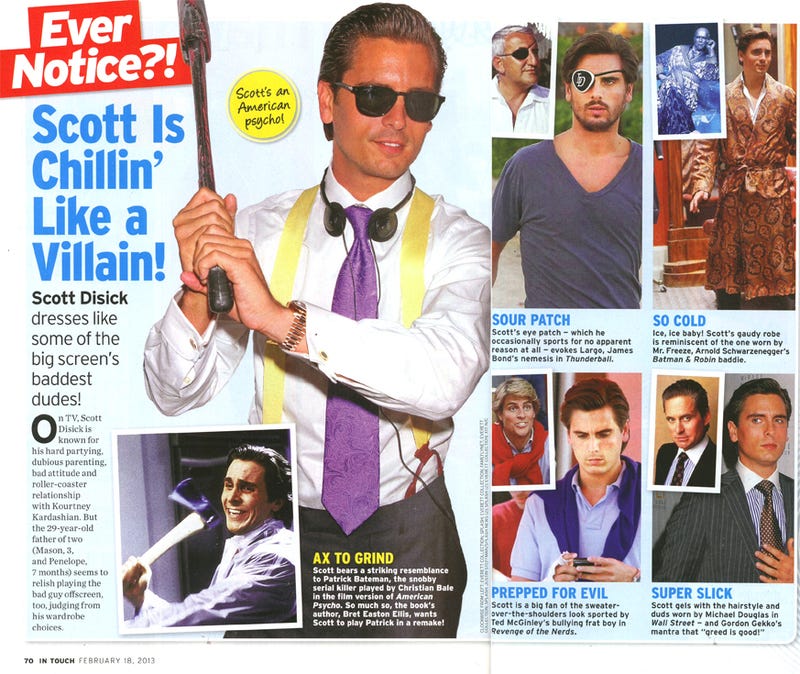 Fig. 2, from In Touch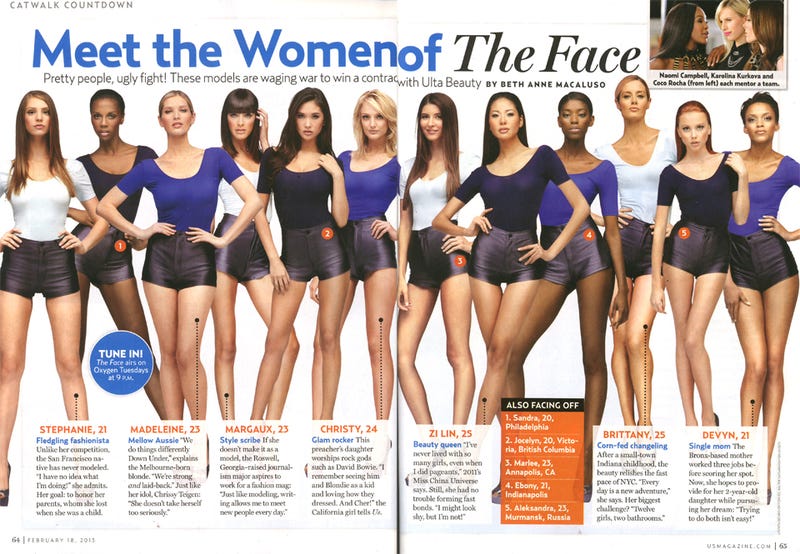 Fig. 3, from Us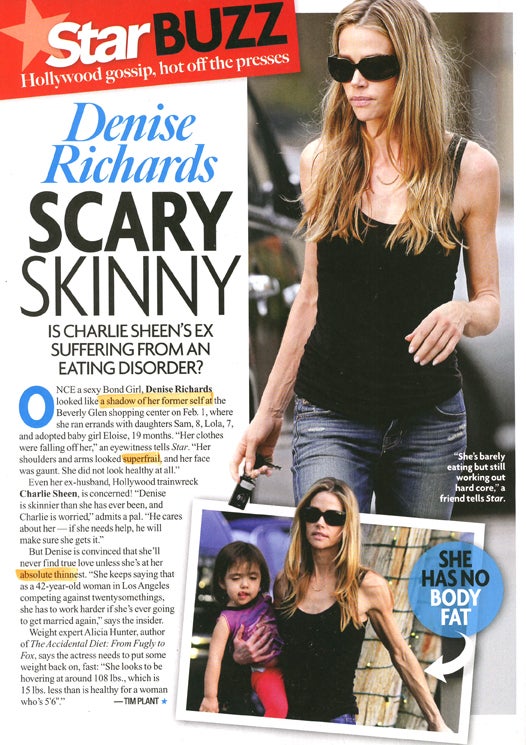 Fig. 4, from Star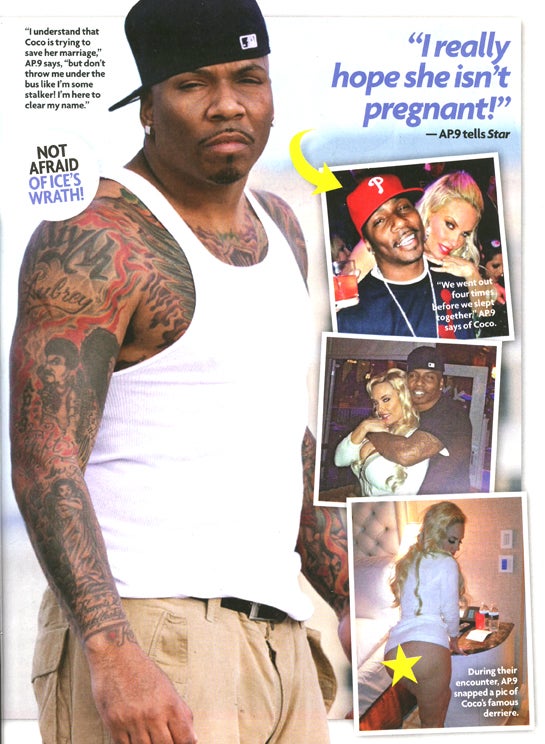 Fig. 5, from Star