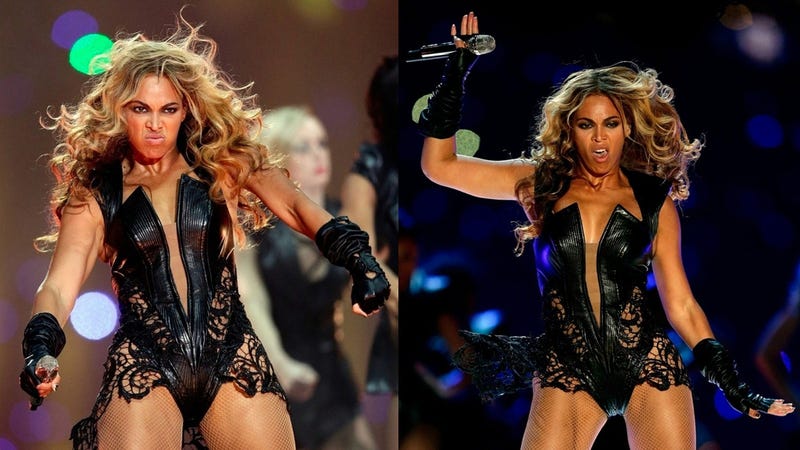 I know it's hard to believe (seriously), but Beyonce Knowles does not, in fact, look like a luminous sun-kissed angel 24/7. Particularly when she's in the middle of incredibly strenuous Super Bowl halftime performances. Weird! It's almost as though she's a human being with muscles and a face! Anyway, when BuzzFeed ran an appreciative post about Bey's halftime fierceness, they promptly heard from her publicist, who asked them to take down some "unflattering" shots and replace them with "better" ones. Kewl idea, publicist lady! Then no one will know the truth. About Bey having a face.
Thanks for taking my call. As discussed, there are some unflattering photos on your current feed that we are respectfully asking you to change. I am certain you will be able to find some better photos.

The worst are #5, 6, 10, 11, 12, 19 and 22.

Thank you very much.
I don't know about you guys, but the photos don't look "unflattering" to me—they look like an epic badass doing the fuck out of her job. But you know. Bygones. [BuzzFeed]
In other Bey-Bey news, she maybe had a nose job. [WoW]
In other other Bey-Bey news, Destiny's Child albums are selling like gangbusters. [HuffPo]
---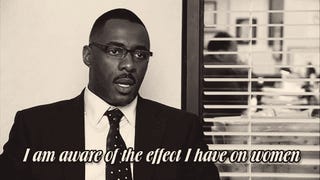 Here's Idris Elba discussing his superhuman sexiness with GQ:
On responding to people finding him incredibly sexy
'The irony is I wake up every morning, look at myself in the mirror and think, "Woah, I look like a piece of s***",' said the Hackney lad turned Hollywood superstar. 'You watch yourself age and it's hard to feel like a sex symbol.'
Loofah! Solve my vagoyna croym!!! [TheLifeFiles]
---
Budweiser has announced the results of the contest to name the baby Clydesdale from its tear-jerky Super Bowl commercial:
Submitted names included Stevie, Star, Buddy and Spirit but the winning submission was Hope.

Of the selection process, Budweiser Brand Director Lori Shembro said, "Budweiser fans suggested a lot of great names, and it was a tough decision, but we landed on Hope as the perfect name for this friendly, slightly feisty and just perfect Budweiser Clydesdale mare. Many of our fans wanted a name to reflect their optimism and spirit."
Whatever. His name is Charles, you guys. CHARLES. [AdRants]
---
Pete & Pete reunion, you guys. Pete. And Pete. Reunion. [EW]
---
Did you know that Jackie Kennedy Onassis's 1953 wedding gown was designed by a black designer? Her name was Ann Cole Lowe and she was awesome. [HuffPo]
Gay porn star Arpad Miklos was found dead in his New York apartment, apparently due to suicide. He was 45 and, according to friends, "a great guy." Condolences all around. [HuffPo]
Skiier Lindsey Vonn had a bad crash at a race in Austria. Her condition is still unknown, but a witness tweeted: "Right knee/ankle bent awkwardly. Looked scary." [People]
Here's Kristen Bell and Dax Shepard on Sesame Street. [EW]
Have you always wanted to see every lesbian and bisexual woman on television sorted into their Hogwarts houses? Well, THAT IS LITERALLY A THING THAT IS AVAILABLE TO YOU NOW. [AfterEllen]
Bruno Mars's sisters—Jaime Kailani, Tiara, Tahiti and Presley—are getting their own reality show. [Deadline]
Kate Middleton is going to "officially reveal" her baby bump two weeks from now. Please, please, please let's not make that a thing. [TheCut]
Kate and William and the bump are vacationing on an island called "Mustique," which sounds like the Garbage Pail Kid version of Rebecca Romijn. [People]
George R. R. Martin has signed a deal with HBO that will keep him on as executive producer of Game of Thrones for another two years. Could he also sign a deal with his own brain to fucking finish ASOIAF already? Who are the other two heads of the dragon!?!? VALAR MORGHULIS, MOTHERFUCKER. [HR]
Tuesday dance party! Woo!