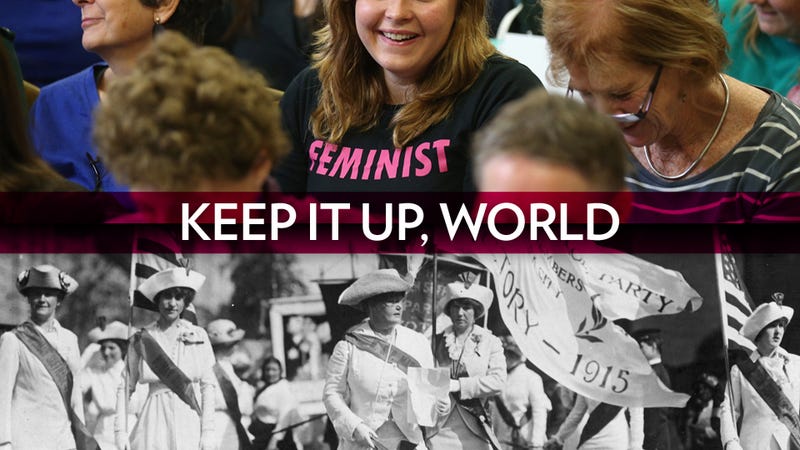 Isn't it bizarre that not particularly long ago a whole bunch of women just assumed they'd grow up to be housewives? Wives! Just in a house! Wifing around! ALL THE TIME. This isn't news, I know, it's just what women of a certain class did. For years and years and years and years and years and years, the expectation was that you should find a "good" husband, and then you're taken care of. 4 LYFE. You take care of the house, beat the rugs, maybe you get a cute little vanity degree, you sleep in a weirdly chaste twin bed with your hair in a scarf. That's your "job." He pays the bills, provides the penising, trips over the ottoman, maybe has an affair or two. That's his no-quotation-marks job. He's happy. You're happy. The end. Except — PLOT TWIST — women weren't happy. And it wasn't the end, it was the beginning of all this shit we're endlessly shouting about.
A new poll suggests that, perhaps, public opinion is (slowly, arduously) beginning to shout with us. Researchers asked 1,000 British parents what they thought would be the determining factors in their kids' longterm success. A hundred years ago, the parents of girls would, almost certainly, have put "marrying well" at the top of their list. 200 years ago? Scratch the "almost." But today, in our 21st-century matriarchal utopia (lolololoolllolll), here's what happened:
When asked whether their daughters thought their financial future was dependent on having a husband, only 31.9 per cent agreed.

By contrast 37.7 per cent of those with sons thought having a wife would make them financially secure.

Parents were also asked to choose what they thought their child would see as providing the greatest financial security from a list of options including matters like getting a good job or getting married.

Only seven per cent of parents with daughters chose "marrying well" as a top priority – with another one per cent chosing "marrying a celebrity".

By contrast 57 per cent thought that their daughters should prioritise getting a good job and 22 per cent singled out the importance of doing well at school or university. Only four per cent ranked starting a family as a top priority.

Among parents with sons almost 14 per cent chose either marrying well or marrying a celebrity.
Meanwhile only 47 per cent singled out getting a good job as the most important option for their son.
Okay, full disclosure: I have no fucking idea what's going on here, but I'm kind of excited about it. What's stumping me is that the numbers didn't even out — or equalize — they flip-flopped. Now more parents see a "good" marriage as essential for their sons—while those with daughters seem to not give much of a shit. So why on earth would that happen? Here are some theories:
1.
It's the End of Men!!! Aaaaaaahhhhhhhh!!! Panic! Tip some shit over! Buy all the Tasty Bites! Drums in the deep! Doom! Doom!! DOOOOOOOOM.