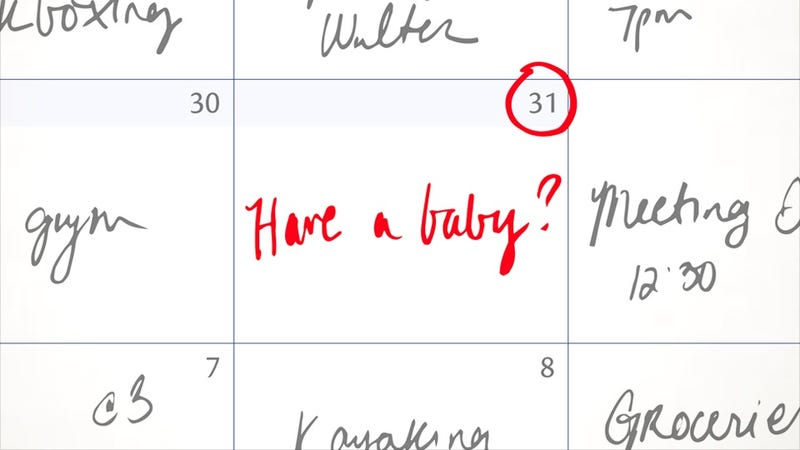 Hey there, lady. Thinking about becoming a mom? Good luck with that. Not only are you about to enter a batshit world of constant judgment, unsolicited advice and mom-on-mom crime (mostly in the form of judgy vibes), but also one filled with impossibly contradictory advice about how to parent, with surprise sucker-punch reports on the job you're doing. That's just if you read the books.
If you bother to get on the Internet (and you will, you masochist), consider yourself permanently descending down the mommy-claw rigged rabbit hole of conflicting viewpoints, harsh judgments, reactionary thinking and brutal takedowns, all because you thought it might be a good idea to try a newborn wrap to carry your child. You know, the one that could suffocate your baby? Oh, I'm kidding. It's the sling that fucks them up.
We weren't always such judgmental nutbags, were we?
I mean, sure, people have always been judgmental. I'm sure parenting has always been hard. Well, good parenting has always been hard. Shitty parenting is a breeze! But since the dawn of time, I'm sure there has been conflicting information out there about which deer antler best soothes a teething baby or which toxic anti-nausea meds will most likely guarantee that your child grow a deformity. No one's ever had it easier really, because it's all relative.
But the anxiety over parenting has reached an all-time high — or at least, it feels that way. Is it actually harder to be a parent now in the digital age of we-think-we-finally-know-best (but we still don't know shit, but that won't stop us from telling you what you're doing wrong) or does it just feel that way? Has it always been so hard to have good, useful conversations about it?
I submit there's something peculiar about this particular age, when all the available studies are reported with breathless certainty, then debated, torn apart, contradicted with anecdotal evidence, then more scientific evidence, then stalked, murdered and buried, only to resurface a few months later as a brand new study yet again touting its superiority. (Yes, I'm talking about new the cry-it-out sleep method victory.)
I'm convinced it's because more choice = more anxiety = bitches. Lots of good studies (that I'm sure you can contradict) have argued that more choice, even though that's a good thing, can come with paralysis, or what psychologists would call "demotivation." I, for one, was totally just going to do plastic diapers, until I found out that cloth is better. Then I found out there was a diaper-free movement. And now, that all diapers are bad. Seriously! But not for the reasons you think.
We all want more choices, because to us, that is synonymous with freedom, but like studies showing arranged marriages can be more hospitable, it sometimes contradicts reality. Take the jam experiment. In a very cool Columbia University study, two groups of shoppers were presented with six jams to shop from versus thirty jams, and asked to choose. Some 30 percent of those who only had six options to pick from came away with a purchase. But only three percent of those who had thirty options were able to pick one.
And get this: Not only did the participants choose more easily with fewer options, but they seemed more committed to what they chose. Additionally, folks who had more choices were more likely to second-guess their pick. In other words, nothing like only having two options to make you pick one fast, and stick with it. I choose my choice, anyone?
Applied to parenting, we might argue that the more options for how to parent a child, the harder it will be to decide, and the more doubt about the choice after the fact. I'd take it further to say that because we have so many choices about parenting, we want to feel sure of what we pick. And this surplus of choice — too much knowledge about too many options, often contradictory — could ratchet up the anxiety, and make us more likely to fight over what's right, and criticize what we think isn't.
We second-guess not only our own choices, but the choices of others, to make us feel better. The result is a lot of shit-talking awfulness that spirals into absurdity, tedium and exhaustion. (Also, it's depressing.) Some of that is, indeed, the web, but don't get me started on the real-life debate I'm overhearing about when, exactly, is the correct age to take your kid to Disneyland.
(Side note: Furthermore, with parenting, I'd even argue the plethora of choice is a bit of an illusion in itself, as it overshadows a big myth about parenting: That you can even just choose a method of parenting in a vacuum and roll with it anyway, when in reality, you're more likely to end up parenting the child you have and following his/her cues, rather than implementing a rigid parenting method regardless of whether the kid responds to it, such as cry-it-out. Lots of well meaning parents go down this road and find their kid never takes to it. You don't have to be a hippie to find yourself suddenly trying the family bed. In other words, the child's personality/disposition has a way of eliminating a lot of so-called options right away.)