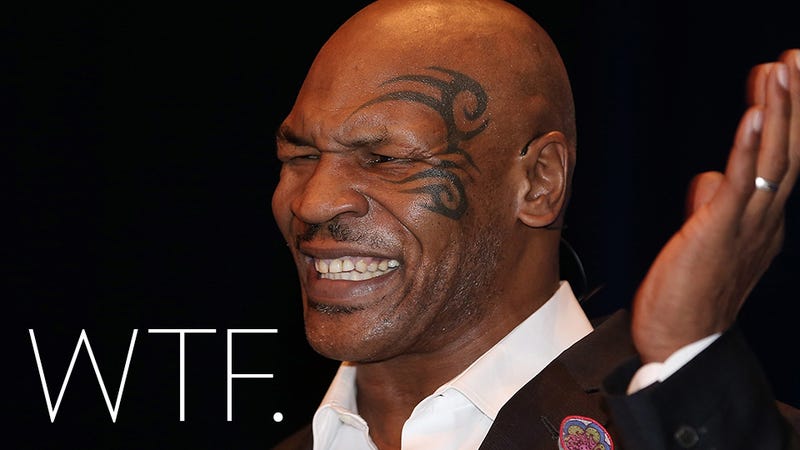 I've spent a lot of time analyzing my long-term, stable(r), monogamous attachment to Law & Order: SVU (how do we keep the spark alive!?), and one of the main conclusions I've come to is that—for all its gratuitous trauma-porn issues — it's a show largely about women that actually acknowledges how scary and vulnerable it can be to walk around in possession of a vagina. It focuses on victims, not perpetrators. Bad guys, almost always, are reported and shamed and aggressively pursued and tidily punished within an hour. Actual convictions! So satisfying! And I know they're not real people, but the idea that Olivia and Casey and Judith Light would have my back if I were to be, um, raped inside a TV show I guess, makes me feel like ladies can get some shit done. Also, Stabler, I have feelings. DM me, bro.
So the news that convicted rapist Mike Tyson—MIKE FUCKING TYSON—is slated to guest star in an upcoming SVU episode is blowing my mind (and many other minds) all the way up.
In the episode, slated for February sweeps, Tyson will play a murderer on death row who was damaged by a "troubled childhood." If I know my SVU tropes, that's setting us up for an ambiguously sympathetic exploration of the cyclical nature of violence—how the lines between perpetrator and victim can easily blur—and, no doubt, a bit of meta-commentary on Tyson's own personal history. I actually loved James Toback's 2008 documentary Tyson, in which the washed-up boxer (this was pre-Hangover) tells his story with chilling candor and almost no self-awareness. He's like an overgrown toddler with zero intellect and less impulse control who could kill you with his hands. "I may have tooken advantage of women before," he said about his 1992 rape conviction, "but I never took advantage of her." Ugh.
Now, Tyson completed his sentence and is free to live his life at this point. But that doesn't mean we all have to be complicit in the rehabilitation of his image. That doesn't mean SVU has to hire him. Like I said, SVU's not perfect, but it's something—a small counterpoint to the rape apologia that currently pervades our culture. It at least attempts to unpack tough ideas about shame and victim blaming and the way we protect rapists by stigmatizing sexual violence. Mariska Hargitay runs a foundation to support victims of sexual abuse, for Christ's sake. When I wrote about SVU before, I heard from a lot of victims who say they find SVU therapeutic.