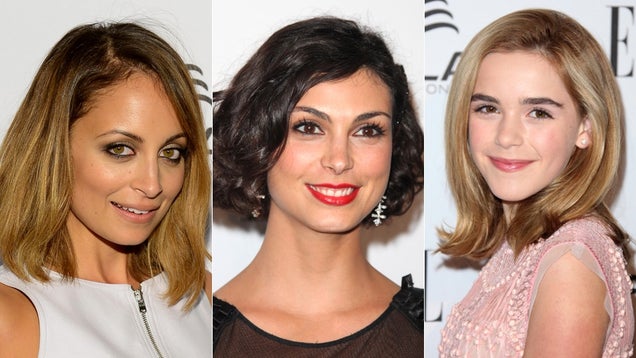 S
Last night at the Elle Women in Television Celebration held at Soho House in West Hollywood, the fashion was all over the place: Formal black feathers, vivid yellow fringe, a shiny metallic short suit. While many of the awesome ladies in attendance looked great, there were, as always a few misfires. Let's take a look.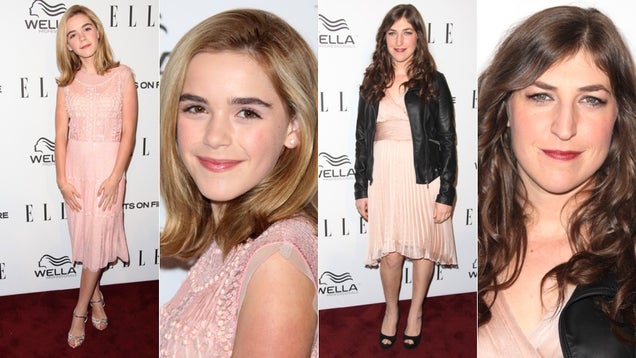 S
Pretty in pink: Kiernan Shipka and Mayim Bialik both chose soft, peachy-rosy hues.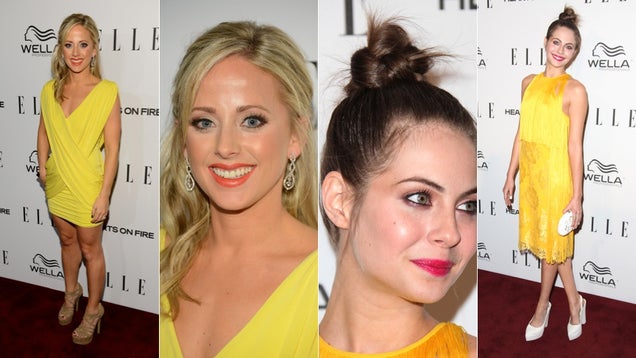 S
Love a bright, optimistic yellow, though not necessarily in the fabric that Hearts On Fire's Angie Kielt is wearing. Also having mixed emotions about Willa Holland's fringed frock.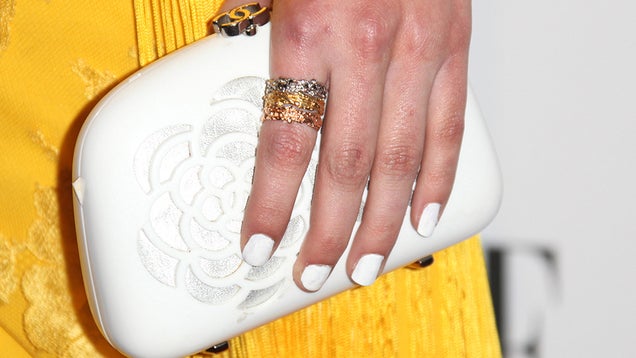 S
Although: Willa's Chanel bag and white-out nails are great.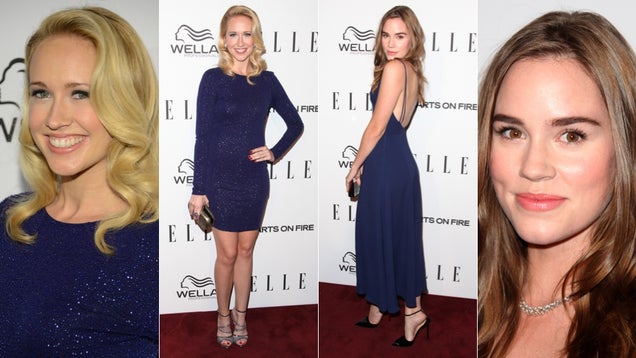 S
In the navy: Anna Camp and Christa B. Allen look elegant.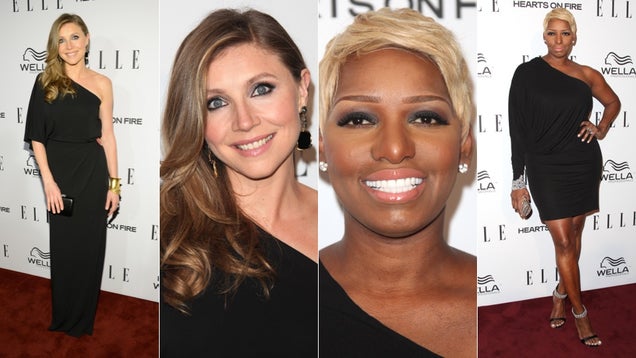 S
Ready to party in one-shouldered slink: Sarah Chalke and Nene Leakes.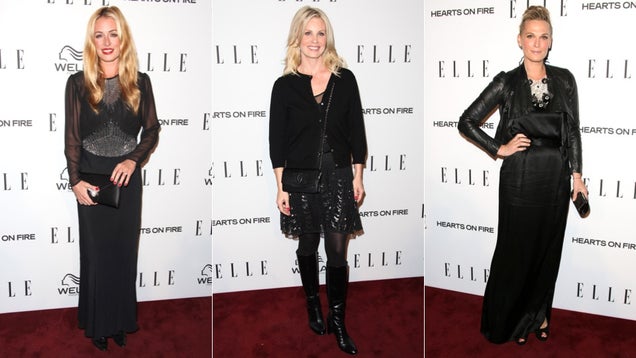 S
When it comes to evening glamour, you can't go wrong with all black everything: Cat Deely, Monica Potter, Molly Sims.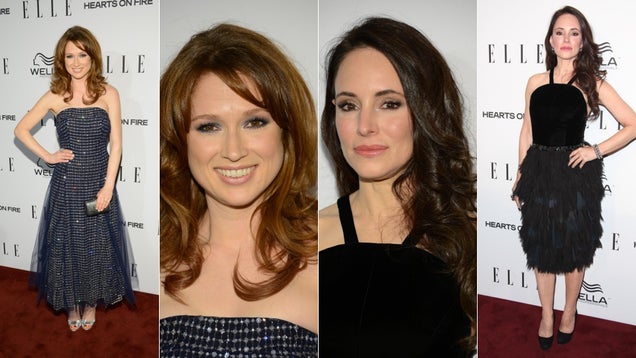 S
Kicking things up a notch: Ellie Kemper in sparkly midnight blue; Madeleine Stowe in ominous raven feathers. Victoria Grayson is up to something.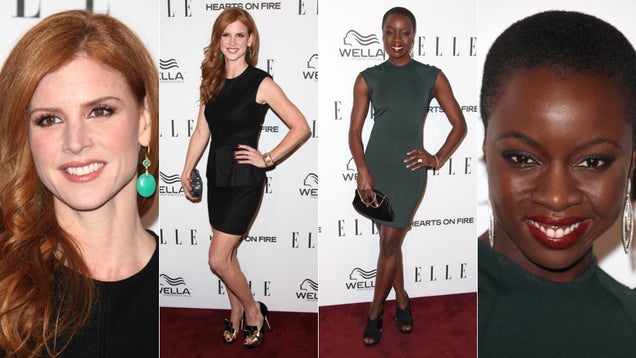 S
Rocking short hemlines: Sarah Rafferty from Suits and Danai Gurira from The Walking Dead. The former looks great, the latter has looked so much better. She should wear white all the time.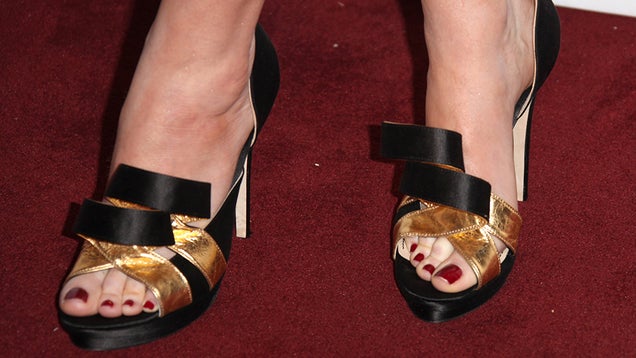 S
More important: Rafferty's shoes!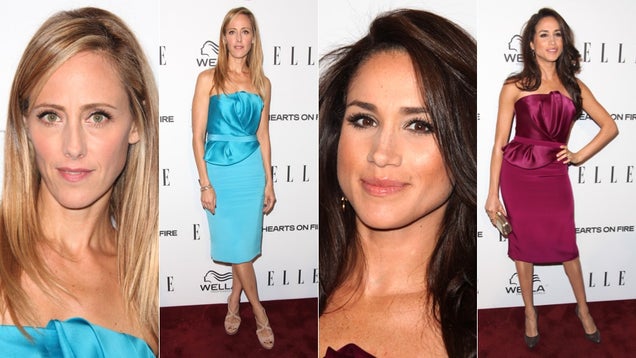 S
Kim Raver and Meghan Markle wore the same strapless, pleated satin bustier dress! Which color do you prefer? I can't decide.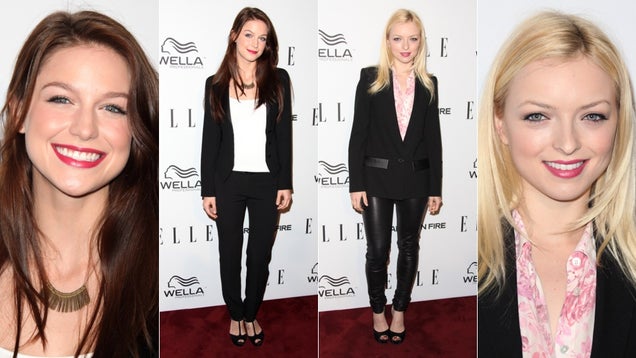 S
In cool, youthful skinny-leg suits: Glee's Melissa Benoist and Francesca Eastwood.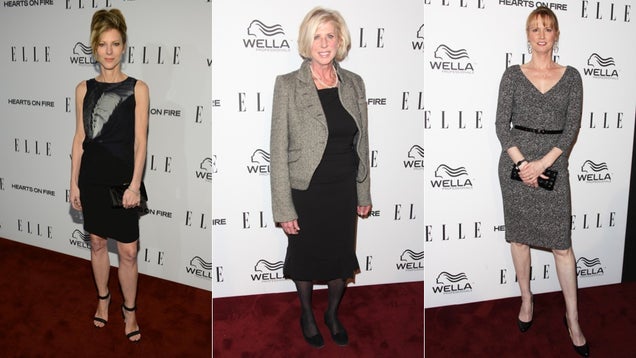 S
Woohoo! Writers! Looking chic: Elle Editor-in-Chief Robbie Myers; Callie Khouri, screenwriter of Thelma & Louise and creator of ABC's Nashville; and Melissa Rosenberg, who wrote the screenplays for the Twilight flicks.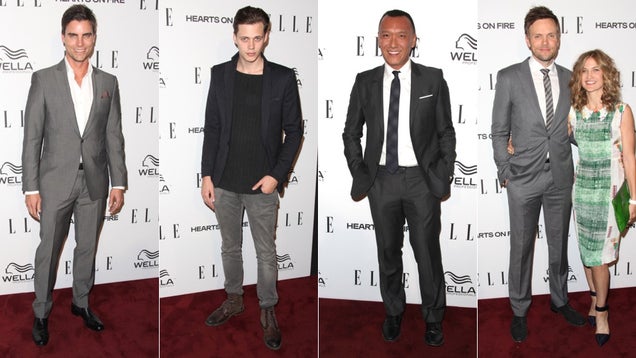 S
Ooh, hey now. Gentlemen callers: Colin Egglesfield in a great gray; Bill Skarsgård keeping things casual; Joe Zee channelling Don Draper; Joel McHale starring as a tall drink of water for wife Sarah Williams.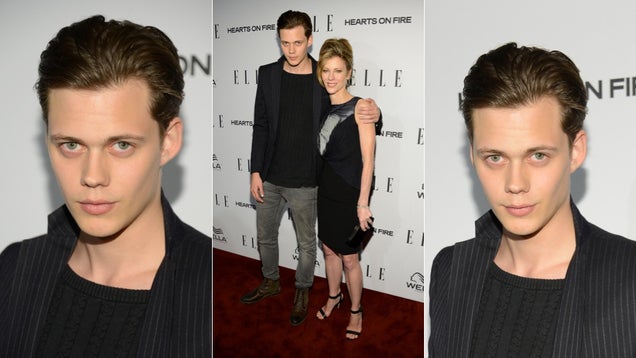 S
Okay, so we need to talk about Bill Skarsgård. So hot. Did you even know that Alexander Skarsgård had brothers? Actually, Stellan Skarsgård has eight kids; four of them are sons who act: True Blood's Alexander, Gustaf, Sam, Bill and Valter. (Daughter Eija Skarsgård is a model, of course; the younger kids are not in the biz… yet.) Anyway, the point is that Bill needs to be in something I can watch ASAP. Maybe even a vampire project. Or an Oscar Wilde mini-series? He has an air of beautiful-but-up-to-no-good that my TV always needs more of.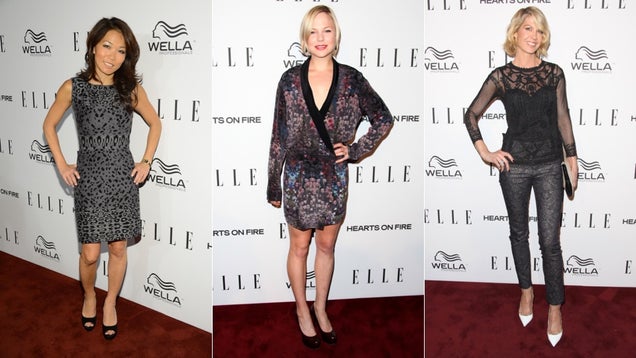 S
But back to the clothes. In patterns: Executive Vice President of casting for ABC, Keli Lee gets catty. Actress Adelaide Clemens wears Monet's bathrobe. Dig Jenna Elfman's star-embroidered sheer top, but the jeans, not so much.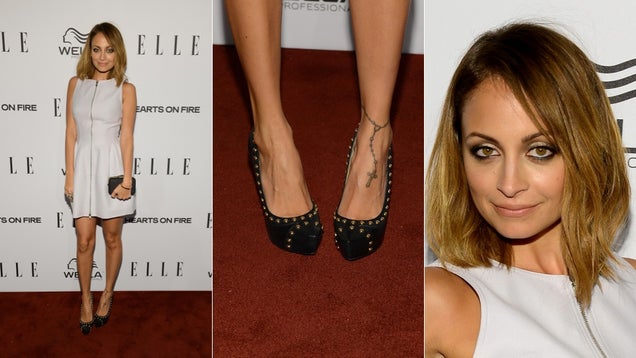 S
Nicole Richie came right from her scuba lesson.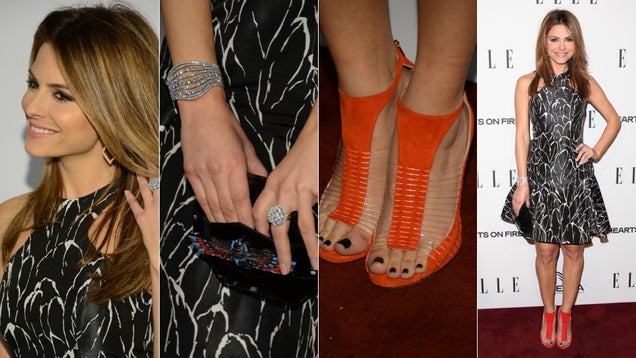 S
Maria Menounos's flirty little dress and detail-oriented shoes are party-perfect.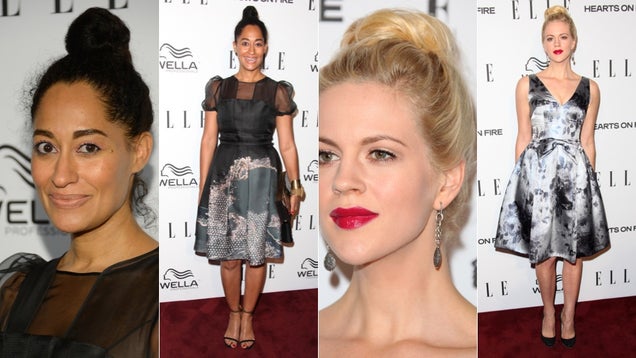 S
Now we're getting into some not-so-great stuff. Tracee Ellis Ross and Georgia King both picked pseudo-prints that were not terribly flattering.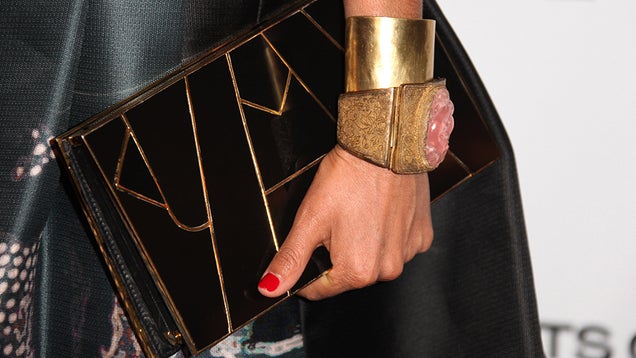 S
However: Tracee's bag and jewelry? A+.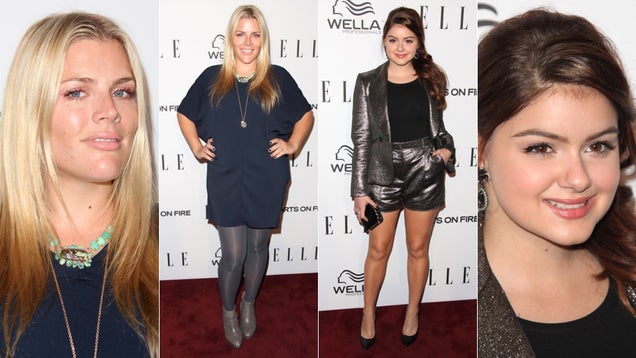 S
Speaking of not that flattering: The sheen on Busy Phillips's hose and the shine of Ariel Winter's short suit.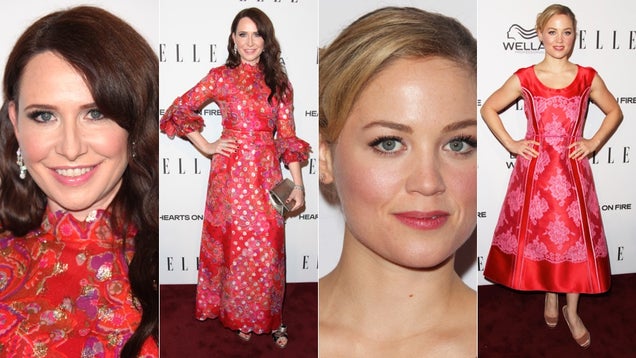 S
Katherine Jane "Janie" Bryant designed the clothes for Deadwood and Mad Men, and this crimson gown is an eye-catching risk that pays off. Erika Christensen's red dress, however, seems loo long and too heavy.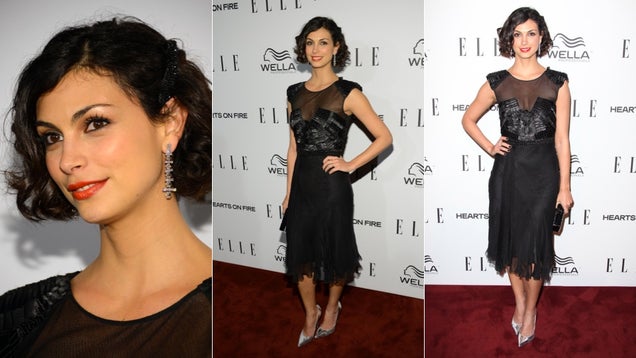 S
Best dressed? The exquisitely beautiful Morena Baccarin, who looks just like the woman you meet in the first chapter of a noir novel set in the 1930s. Kudos.
Images via Getty.