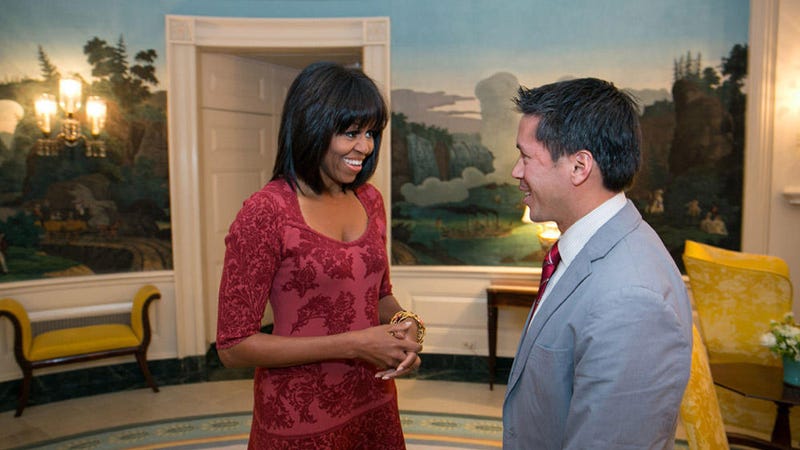 From my mom to the New York Times, everyone's got an opinion about the FLOTUS' new bangs. Concerned citizens are either, "BANGS YAY!" or "BANGS NAY!" and the nation, as it stands, is very invested. Some guy behind me at Starbuck's yesterday was telling his friends how Michelle Obama's bangs were keeping him up at night. A small part of me hopes that Michelle Obama's bangs are creeping off her scalp at night and administering tickle torture to this man in San Francisco, but I know he was just bringing our obsession into perspective.
Jane Larkworthy, the beauty director at W Magazine, tweeted that she's received more emails about the first lady's bangs than about the Golden Globes. Emily McCombs, the executive editor at XOJane joked that all of her staffers that didn't turn in a Michelle Obama bangs story were fired. Kelly Ripa and Michael Stahan wore fake bangs on their show. Ana Marie Cox hated them and Nick Cannon loved them.
Even the President got in on the action:
"I love Michelle Obama," he said at a candlelight reception at the National Building Museum. "And to address the most significant event of this weekend: I love her bangs."
"She looks good, she always looks good," he added.
When Mrs. Obama took to Twitter to share her new look, she and Ellen DeGeneres playfully sparred:
It appears to be no less than a national obsession, something on par with how we talk about her arms. Do you think the bang obsession is because we've all fetishized her arms to death, and the bangs are something actually new to freak out about? Or because the FLOTUS is our first style icon first lady since Jackie O.?