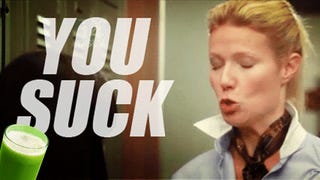 Before anyone says anything about how a few days of drinking grass in a bottle is not a healthy or effective way to lose weight, I just want to lose 3 poundsssszzzss! Just kidding. No, my five days of mainlining liquid vegetables is actually a serious effort to unhitch my apple wagon from the (death) star that is Marlboro Reds and functional alcoholism, because while I wasn't looking, shit got bad. Like a bottle of sauv blanc at home and then five drinks at a bar and still able to talk semi-coherently about books bad. Like Days Of Wine and Roses but with mediocre Instant Netflix indie dramas instead of Jack Lemmon bad.
There are myriad reviews of the Blueprint Cleanse on the Internet (although some of the reviewers were provided with the product for free in exchange for a review), so I'll be comparing and contrasting.
I will also be dropping some truth-bombs on you guys about poop, but I'll warn you before I do. Because we're all real ladies and when we sit down to "eliminate" (as the Blueprint website puts it) we expel Sephora samples and an effervescent sense of calm, OBVIOUSLY.
Before The Cleanse:
I had watermelon, a few iterations of that sad excuse for a "salad," and two yams. One yam the day before the cleanse, even though they recommend against starch, because THAT'S JUST HOW I ROLL, AND BESIDES, IT'S NOT LIKE YOU'RE MY REAL DAD!!! I'LL BE IN MY ROOM.
Day 1:
First, here's what "they" say about it. From Oh Eat Dirt:
Overall, I did not feel hungry at all... One thing I did notice was I felt more focused throughout the day, and maybe it was from the cleanse or maybe it was because I wasn't daydreaming about what I was going to make that night or have for lunch. Physically, my typical bloodshot eyes were clear, a true miracle.
Okay. Let's talk brass tacks and taste. First, there are six juices. The juices are numbered 1-6 and can be described thusly:
1. Your next door neighbor's freshly-cut grass that she meticulously maintains because her marriage is terrrrrrible, or at least that's what your mom told my mom in the frozen foods aisle at Shop-Rite but don't spread that around, OK?
Or, as Chef Amber Shea puts it: "This was a very drinkable green juice, and even by the end of day 3, I still wasn't tired of it. In sum: refreshing and enjoyable!"
2. Fruit mint. Pretty yumz.
3. See #1.
4. Spicy lemonade.
5. See #1 and urghhhhh.
6. Cinnamon-infused cashew milk, hereafter referred to as "angel jizz." It's awesome. Like it was milked from a breed of sparkly nut-cow found exclusively in Gstaad. But that might also be the lawn water talking.
Had half a glass of champagne at an event and spent the rest of the night wracked with guilt.
Day 2:
This is what the The Jet Set Girls say about Day 2:
My energy levels were sky high the first two days. I was ultra productive and managed to not only get myself organized, but also set some goals for the coming months. I was clear headed and on fire.
Me? Not so much. Maybe I would be "ultra productive" if [POOP WARNING] my butthole had not become a magician's top hat. What will I "eliminate" next? A white rabbit? The Magic School Bus with Miss Frizzle anxiously trying to convince 15 extremely alarmed grade school students not to tell their parents what they saw today because she's been on probation since 12-year-old Chris Bramante was eaten by a Mexican penis fish during their Underwater Adventure Day? Josh Brolin?