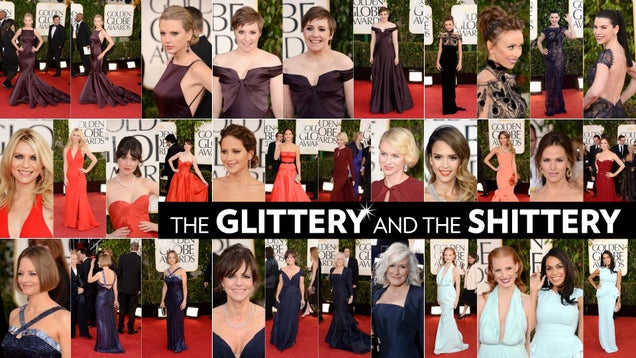 S
Last night at the 70th annual Golden Globe Awards, the gowns were mostly good: Sparkly, vibrant, glittery bombshell dresses perfect for Hollywood royalty. Unfortunately, there were a couple of duds: Hideous or ill-fitting concoctions that fell flat. Let's take a look, shall we?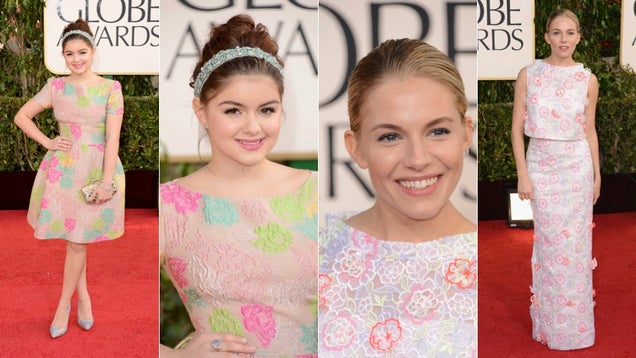 S
There were plenty of pale hues on the red carpet yesterday — whisper-light, beige, flesh-toned and nude illusions. Both Ariel Winter and Sienna Miller chose sweet floral patterns. (Sienna's is by Erdem.)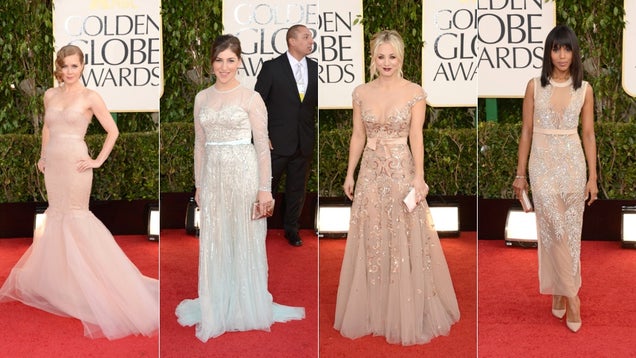 S
Delicate dresses with tulle and sheer accents: Amy Adams, Mayim Bialik, Kaley Cuoco, Kerry Washington. All looking beautiful.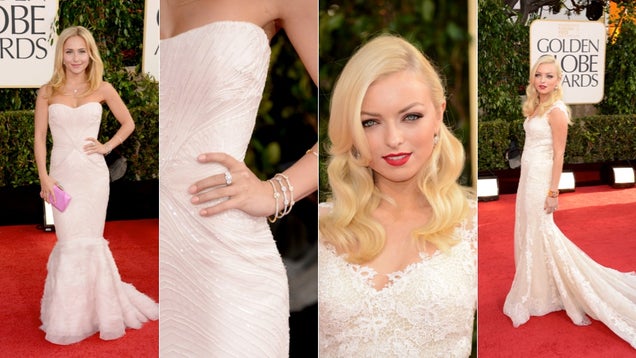 S
More pale hues: Hayden Panettiere, Francesca Eastwood.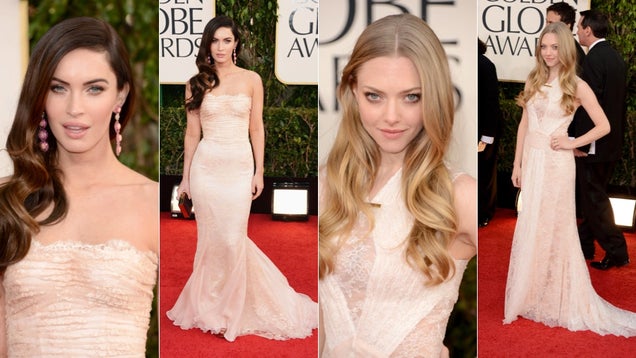 S
Also in peachy beige: Megan Fox and Amanda Seyfried.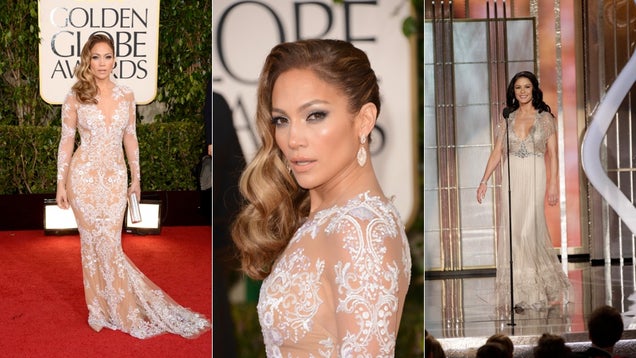 S
Jennifer Lopez took the "nude" trend right up to the edge of decency. Cathy Z wasn't on the red carpet, but her pretty, pretty beige gown had a vintagey vibe.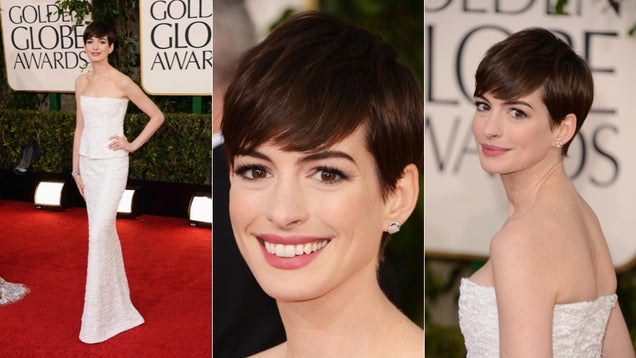 S
Bright, simple, elegant white on Anne Hathaway.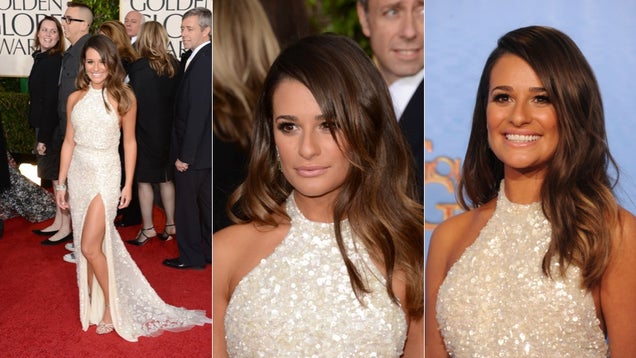 S
Lea Michele's shoulder-baring gown was simple and elegant, but under certain lights her skin was a bit tangerine.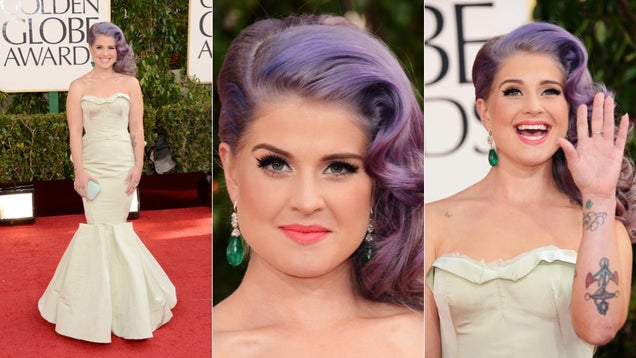 S
Kelly Osbourne: Sleek in pastel mint.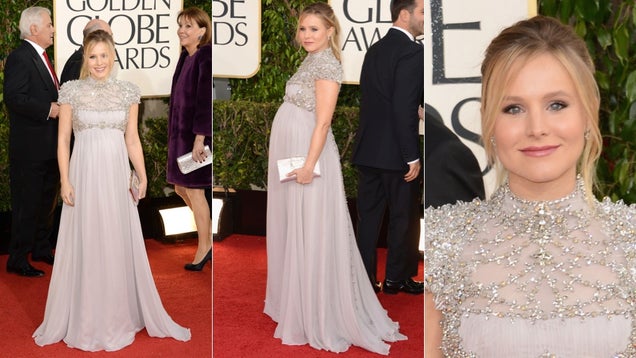 S
Marvelous maternity style: Kristen Bell.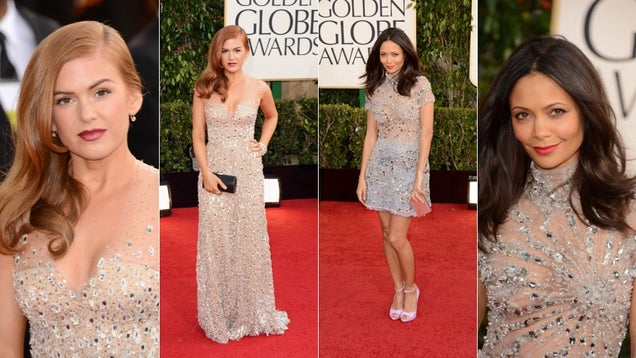 S
Nude-illusion-mesh, encrusted with stones: Isla Fisher, my girl Thandie Newton.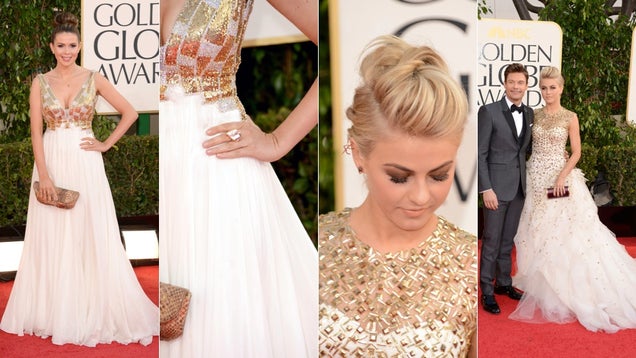 S
In addition to pale hues, we saw quite a bit of metallic last night. The gold accents on Carly Steel and Julianne Hough made for a contrast of hard and soft.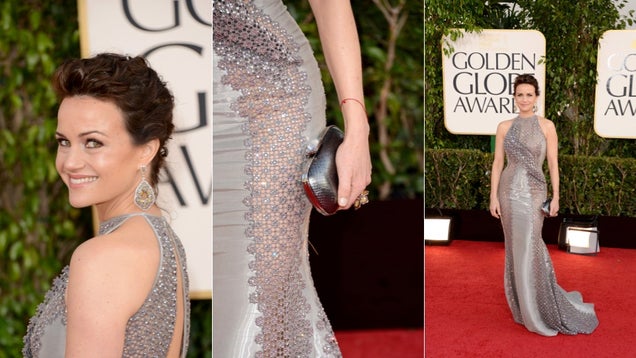 S
Carla Gugino was a knockout in molten quicksilver.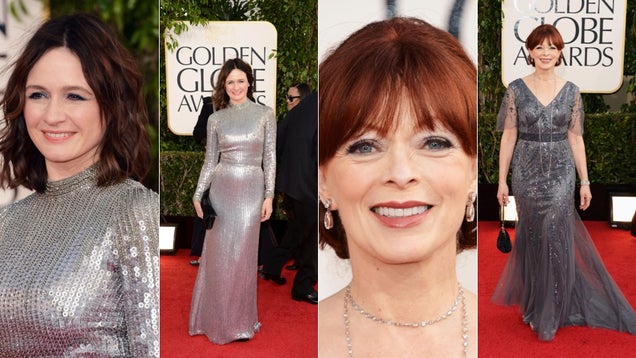 S
Emily Mortimer and Frances Fisher were silver belles. Frances's dress is quite beautiful, although she's dressed a lot like her character in Titantic.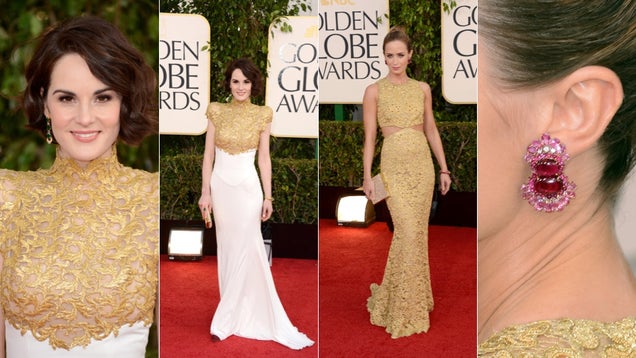 S
More gold: Michelle Dockery, Emily Blunt.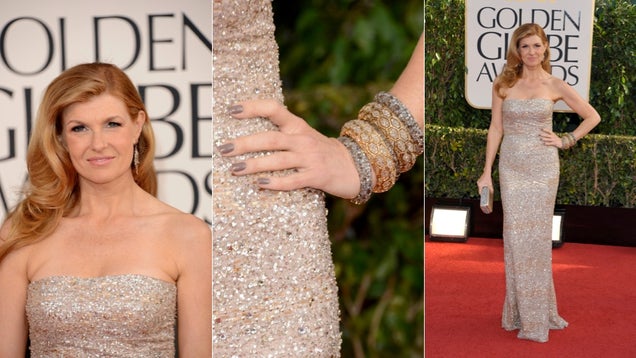 S
Connie Britton, shining star.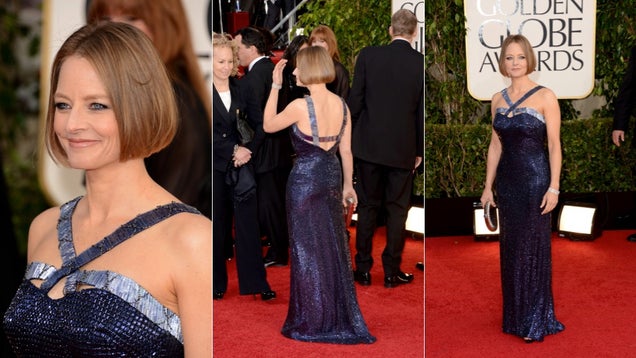 S
Jodie Foster rocked strong, bold pewter and sapphire.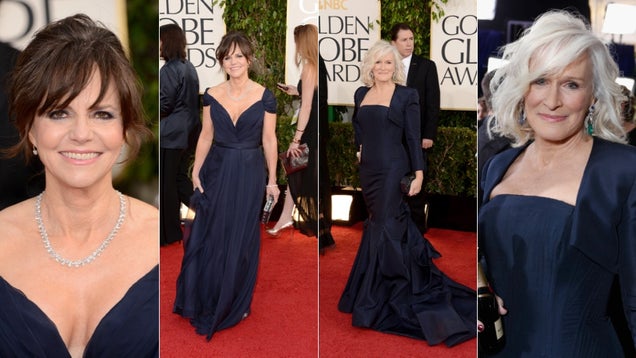 S
Many celebs chose vivid, saturated color instead of pale hues. In navy: Sally Field, Glenn Close.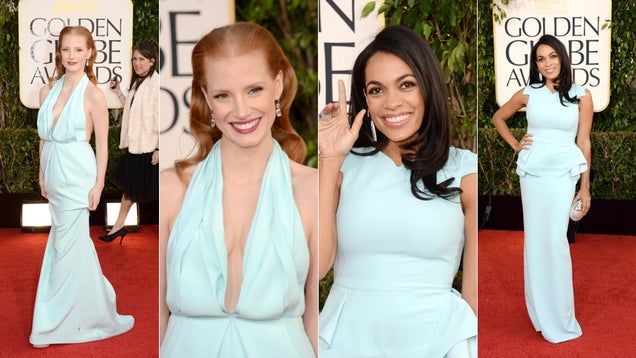 S
Jessica Chastain and Rosario Dawson both wore baby blue, and both had bad necklines. Jessica's Calvin Klein is too low and a total mess; Rosario's is too high and constricting.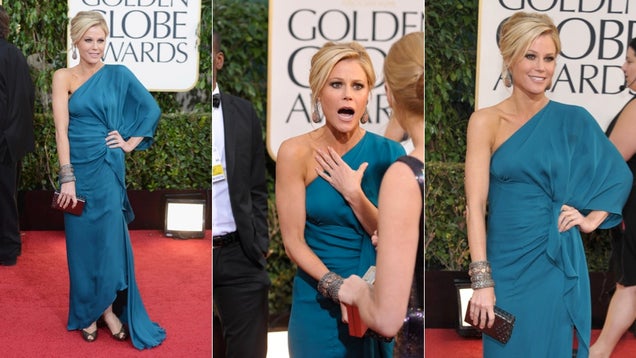 S
Julie Bowen wore Halston Heritage in a color called "Atlantic."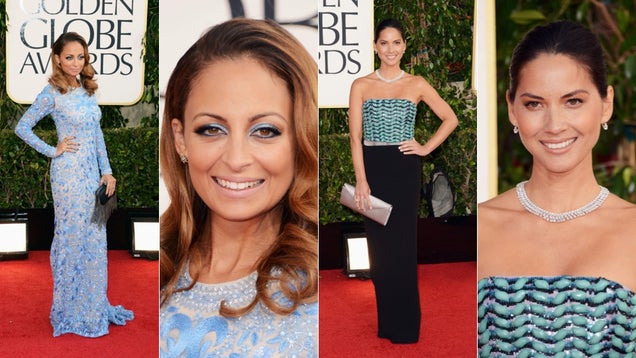 S
Nicole Richie's elegant blue column has a cool retro feel, but what about that eyeshadow? Olivia Munn wore a Giorgio Armani gown studded with turquoise stones, but was it glam enough?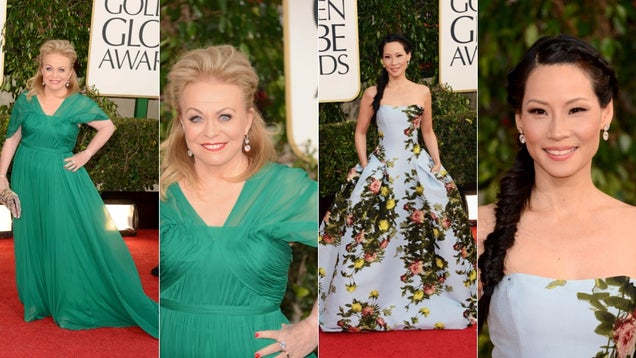 S
The color of 2013 is emerald, and Jackie Weaver is on it. Meanwhile, Lucy Liu 's rose-vine patterned Carolina Herrera stands out on this red carpet. It's tough to decide if it's in a good way or a bad way.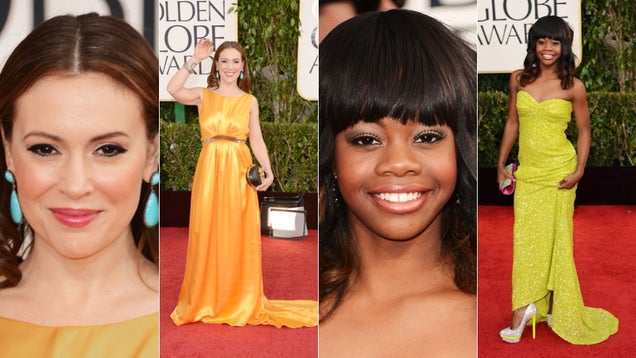 S
In sunny yellow, Alyssa Milano. In vivid chartreuse, Gabby Douglas.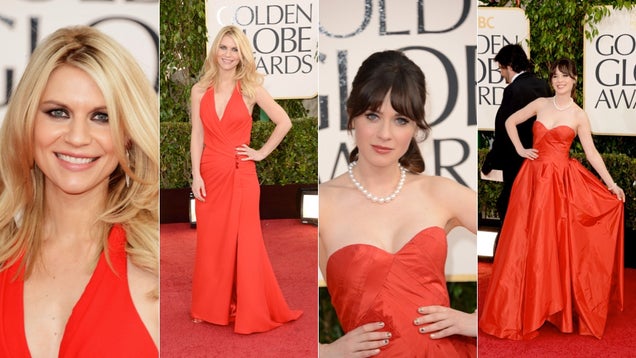 S
We saw plenty of scarlet, crimson and coral last night. Claire Danes chose a modern version; Zooey Deschanel wore a classic ball gown silhouette.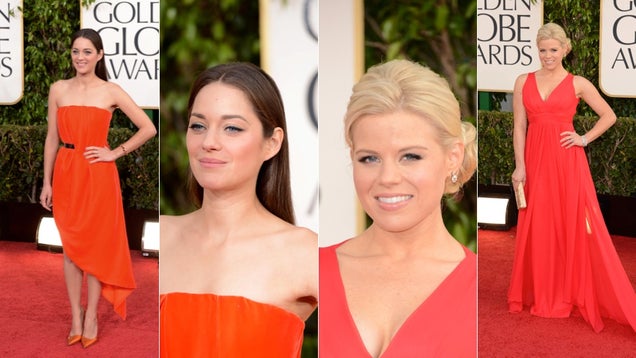 S
Fashion-forward and asymmetrical Dior Haute Couture for Marion Cotillard. Draped simplicity for Megan Hilty.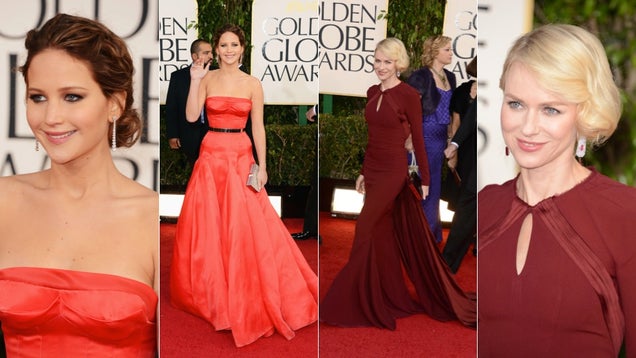 S
Very cool belt on the vivid Dior Haute Couture gown Jennifer Lawrence rocked — although the origami bust construction was distracting. Naomi Watts looks like a '30s screen siren in deep red Zac Posen.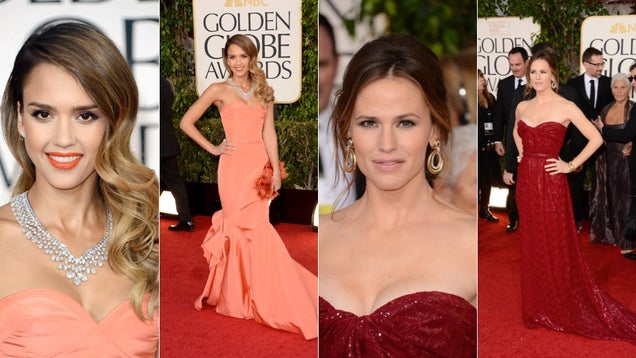 S
Jessica Alba's a class act in pink Oscar de la Renta, but is the lip color right? Jennifer Garner was stunning in a slinky Vivienne Westwood couture dress. Again, questioning that lip color.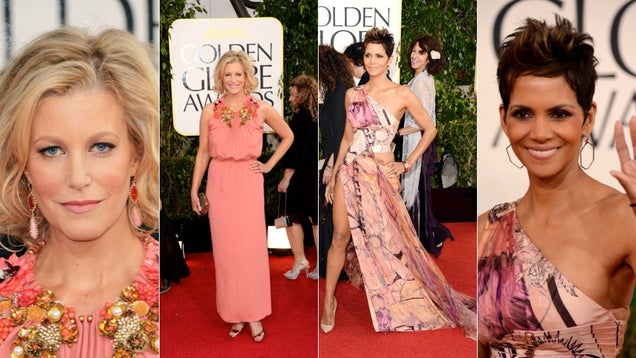 S
Anna Gunn's sugary sweet pink was not a great look, but it was better than the one-boob-up-one-boob-down splatter mess Halle Berry chose. Gorgeous lady, hideous dress.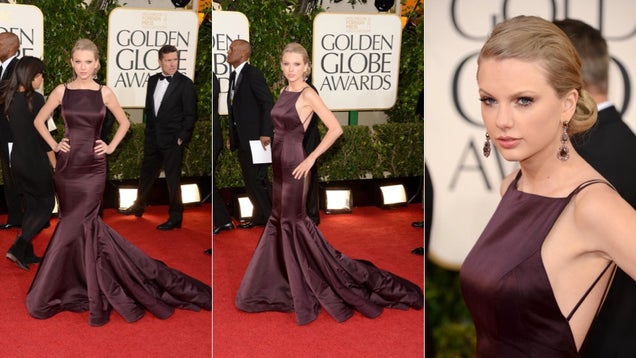 S
Speaking of hideous: Taylor Swift's Ursula The Sea Witch gown in grape. Too heavy, too stiff, unflattering neckline. We've seen her look spectacular… and this ain't it.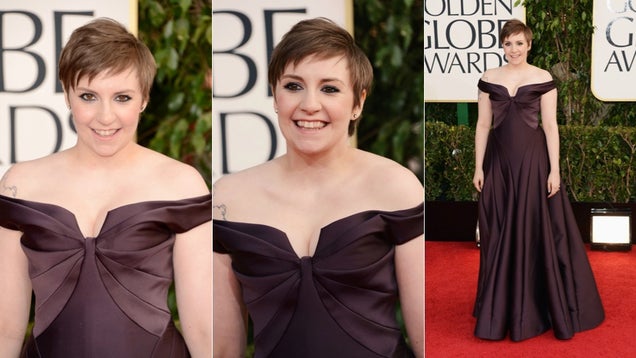 S
Lena Dunham also wore a heavy, dark dress the color of eggplant or raisin or prune or something not good. A flirty, shimmery little flapper-style dress would have been so much better with her shape and that haircut.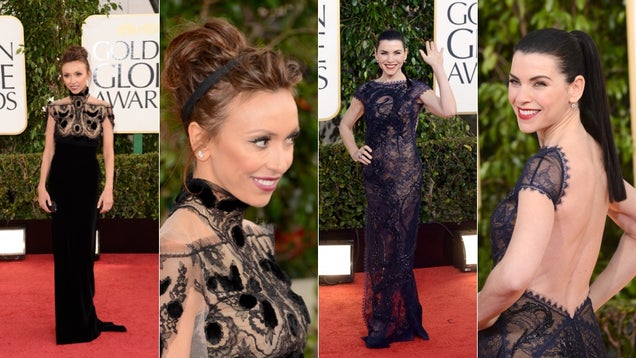 S
As we head toward the dark side, many of the celebs who chose black or midnight looked great. Case in point: Giuliana Rancic and Julianna Margulies, smashing in romantic lace.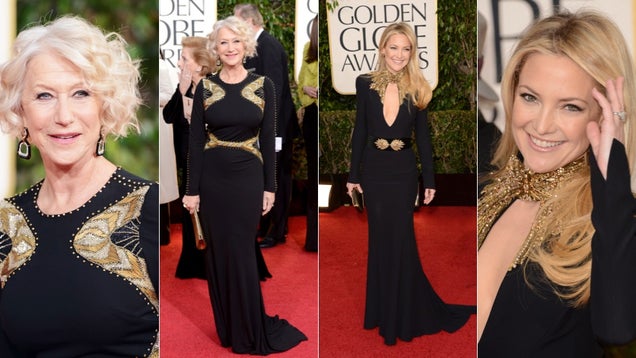 S
Superb versions of black and gold: Helen Mirren, Kate Hudson.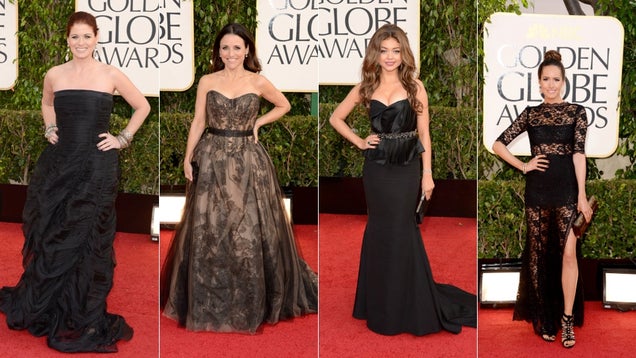 S
More black, strapless or lacy: Debra Messing, Julia Louis-Dreyfuss, Sarah Hyland, Louise Roe.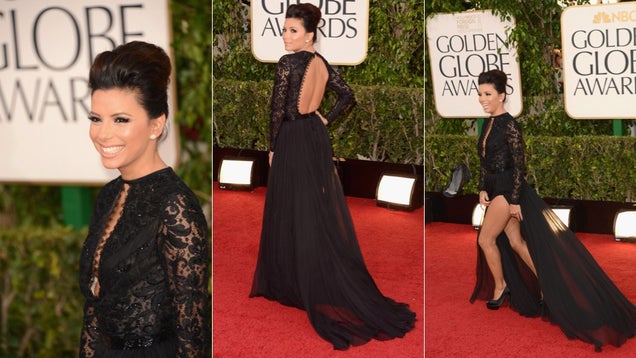 S
Eva Longoria in skin-baring black lace.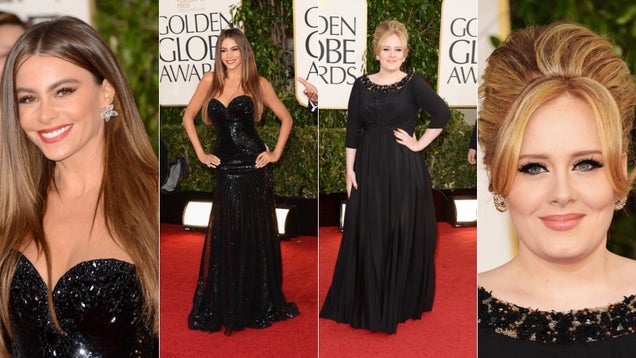 S
Proving black looks amazing shimmery or matte: Sofia Vergara, Adele. And both of these ladies had some killer makeup happening.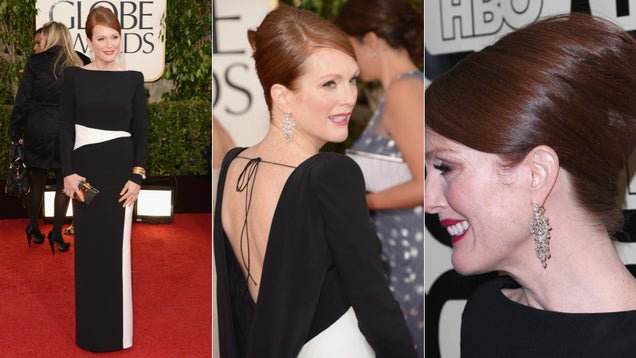 S
Julianne Moore did black accented by white… and a voluminous updo.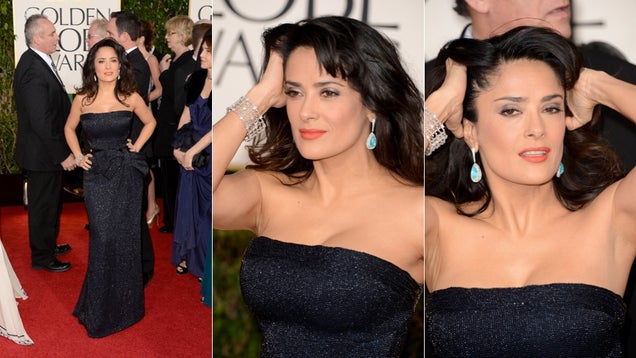 S
Salma Hayek, doing the bombshell thing she does do well. Channelling Sonia Braga/Kiss of the Spider Woman.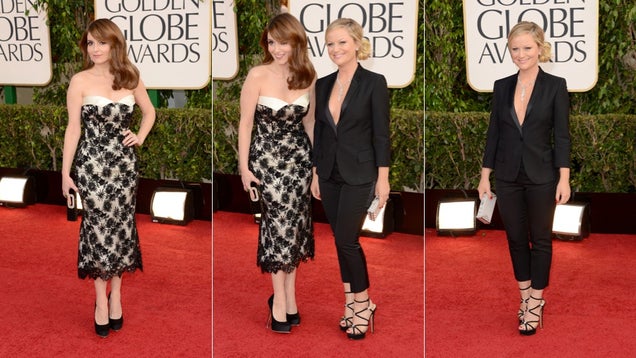 S
Last but not least: Your stunningly gorgeous and ridiculously funny hosts, Tina Fey and Amy Poehler. Divine little strapless frock and adorably sexy little tuxedo!