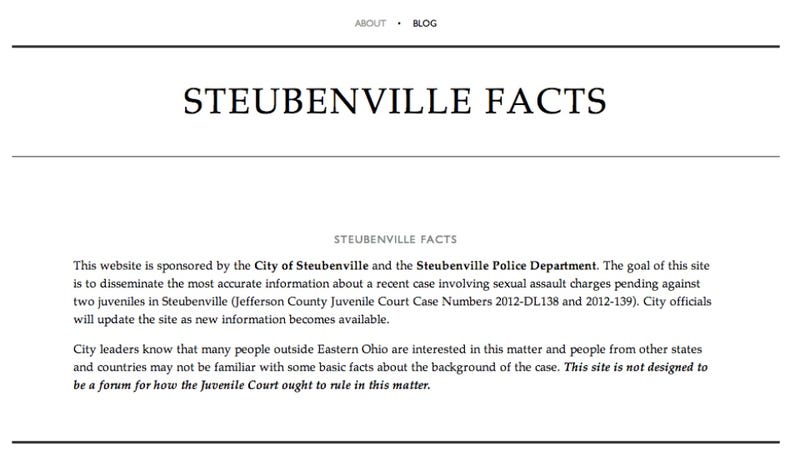 The way we live now: cities and cops are forced to enact websites to combat internet vigilantes in an effort to transmit the truth.
The City of Steubenville and the Steubenville Police Department launched a website called Steubenville Facts "to disseminate the most accurate information about a recent case involving sexual assault charges pending against two juveniles in Steubenville (Jefferson County Juvenile Court Case Numbers 2012-DL138 and 2012-139)."
You may have already guessed the minors they're referring to: Trent Mays and Ma'lik Richmond, the two high school football players charged with raping and kidnapping a teenage girl last August. (Read all about it here.)
Anonymous sub-group KnightSec has become extremely involved in the case and recently released a large dossier detailing what they believe went down that night, including accusations that more teenagers were involved in the rape, the girl was roofied, and a team booster was exchanging photos of underage girls with teammates. They also released a disturbing (understatement of the year) video of one former Steubenville student joking about the hiiilarious rape the night it happened, and have been leading protests in the area. As a result, Jefferson County Sheriff Fred Abdalla said that no more suspects will be charged and defense lawyers are trying to move the case elsewhere.