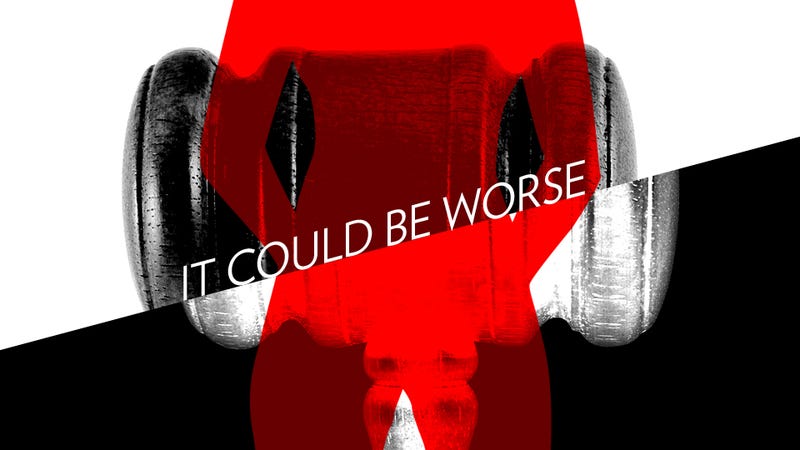 Here's the good news: anti-choice legislators enacted fewer abortion restrictions in 2012 than in 2011. The bad news? They still managed to devise a shitton of ways to restrict abortion access, particularly for low-income women, and no laws were enacted to actually improve access to abortion, family planning, or sex ed. Better luck next year?
Here's a recap of 2012's reproductive rights highs and lows:
42 states and the District of Columbia passed 122 reproductive health-related measures in 2012. The express purpose of one-third of those — 43 in 19 states — was to limit access to abortion. Is this the worst year in abortion restriction history? Nope — a whopping 92 abortion restrictions were enacted in 2011. But 43 is the second highest number of new abortion restrictions passed in a year, so let's not pat ourselves on the back (uterus?) just yet.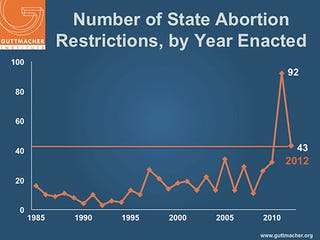 The always awesome Guttmacher Institute broke down the year's most notable abortion legislation moments (that countdown was left out of 'Dick Clark's New Year's Rockin' Eve') with some helpful charts and detailed statistics.
TL;DR: There's hope! Reproductive health advocates prevented attacks on abortion access in states including Alabama, Idaho, Minnesota, Pennsylvania, and Virginia. Remember when seven states took funding away from family planning providers in 2011? Only two did in 2012.
But no laws — none whatsoever — were enacted in 2012 that would've actually improved access to reproductive health, including not only abortion but family planning and comprehensive sex education. Which means that the politicians you support had to spend more time and energy preventing bad things from happening than passing helpful, worthwhile legislation. 2012's reproductive rights motto: "It could be worse." (2011's was "Oh fuck.")
Over half (24/43) of the new abortion restrictions were enacted in the same six states. Women in Arizona: You have our sympathies, because 7 of those 24 were passed where you live. Kansas, Louisiana, Oklahoma, South Dakota and Wisconsin all enacted at least three. Here's a rundown of the myriad of ways legislators tried to get into your underwear this year:
Unnecessary and uncomfortable red herring pre-abortion procedures: Remember the controversy that ensued after Virginia's state government proposed that all women should get mandatory invasive transvaginal ultrasounds, because they had already had sex so why would they care what goes up their vaginas anyway? The subsequent outrage stilted similar efforts in other states, but Virginia did pass a lighter version of the bill, which means that eight states now require an ultrasound prior to receiving an abortion.