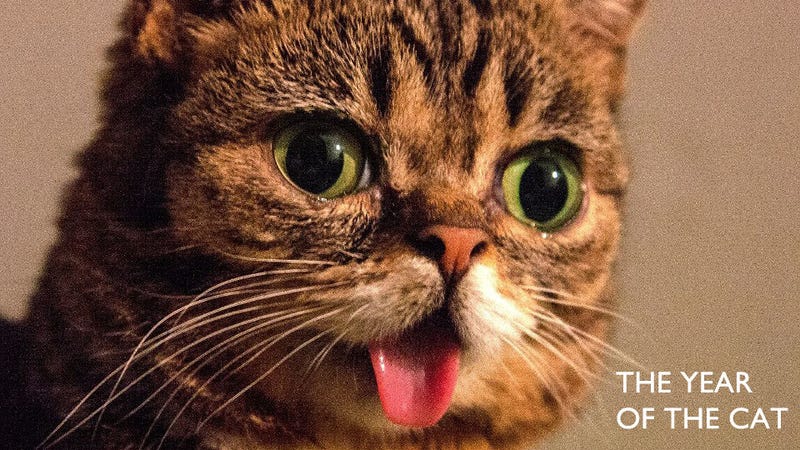 The popularity of the Internet Cat has only increased since the dawn of the web and 2012 was no exception. This year saw plenty of feline celebrities — Grumpy Cat, Colonel Meow, Henry Le Chat Noir and the ever popular Maru — but few have even come close to outshining the star that is Lil Bub. With her many deformities (she has no teeth, a shortened jaw and dwarfism) and so-odd-that-she-couldn't-be-cuter look, Lil Bub is the perfect fodder of Facebook posts and some of the most widely shared and entertaining videos on YouTube. (Who cares if most of the videos are just her sitting still and panting in the grass?)
Considering the place she holds in our hearts and the gigantic cat scratch that she's made on the pop culture landscape, it's pretty amazing to think that Lil Bub has been around for just over a year. Let's take a moment out of our day to recognize the accomplishments of this kitty prodigy who has done so much good in so little time. Let's look at the year in Lil Bub.
Lil Bub made her debut in November of 2011, but really that's just a technicality since she didn't gain steam until 2012. Still, check out her first YouTube appearance from when she was just a kitten. Slow motion video = fast trajectory to fame.
November 8, 2011: The birth of the Lil Bub Tumblr.
Also from November 2011: Lil Bub yawns for the first time on camera.
Lil Bub's first video of 2012.
May 2012: Lil Bub is happy with her growing success.
May 27, 2012: Lil Bub gets social media savvy and joins Facebook. This is her first uploaded photo.
June 1, 2012: Lil Bub joins Twitter. Her first tweet only gets one retweet.
On July 2, 2012, Lil Bub thrills the world when she shoots her first outdoor video.
July 9. Lil Bub hangs out with a dog. Is kind of a jerk.
August 13. Lil Bub speaks.
On August 30, Lil Bub had an encounter with a very lucky Jezebel writer.