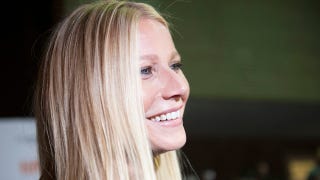 Yeah, I get that making fun of Gwyneth Paltrow's Goop empire is a bit 2009 (vintage!), but the thing is that she just keeps doing stuff. I'm supposed to stop making fun of her just because we already made fun of her a bunch some other time? When she insists on continuing to do hilarious stuff? NNNNNOPE, SORRY. I find it impossible to really dislike Gwyneth—she seems genuinely sweet, plus Chris Martin was so utterly delightful on Extras—but I still think she's goofy as hell. Commitment to whimsy + clueless gusto + impenetrable privilege = the world's best comedy. And making fun of her is pretty much a victimless crime because she's literally the queen of earth and space. So let us commence.
2012 was a super exciting year for Stacey McGill oops Galadriel, Lady of the Golden Wood oops La Llorona oops sexy shaved wampa oops a glancing sunbeam oops Lady Amalthea oops that chick from the Orbit commercial oops Jadis and/or the Lady of the Green Kirtle oops a pile of Celtic sea salt with a wig on it oops Gwedgar Winter oops GWYN-DOGG (sorry about all the typos; my fingers are stuck together with royal jelly and spider honey)—she discovered a sensitivity to oats, upgraded from regular shoes to golden shoes, and went beyond yoga. Let's take a look back at 2012's most memorable goops.
MAKE
Gwynnie likes to start the year out strong with a bunch of diarrhea, so she and her house-shaman developed something called "the goop cleanse." It's like a regular cleanse, but goopier. It costs $425. Goop rhymes with poop.