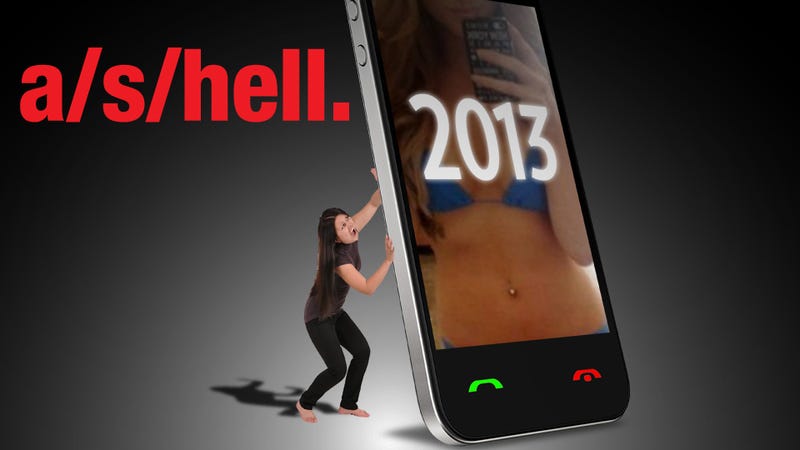 It's hard to be a teenage girl in any decade, but it's exponentially more traumatizing to go through puberty these days thanks to social media. Here are our predictions for why it'll be even shittier to be a teenage girl on the internet in 2013.
I recently found a bunch of notes that I passed to my "friends" during middle school. Why did I save so many mini sticky notes covered with bubble letters written in pastel gel pen? Unclear, but they sure are a fantastic reminder of why being an 8th grade girl should've been one of Dante's circles of Hell. Half the notes are me and my frenemy/idol Kim incessantly making fun of this girl Stephanie who Kim didn't like. The other half are plaintive laments that I slipped to a friend I actually trusted, wondering why Kim didn't invite me to a slumber party she was throwing after semi-formal. Tragic.
It's difficult for me to imagine how girls handle all that cattiness now that it's plastered on the internet for everyone to peruse. What if I had to click through Facebook photos of said epic slumber party I wasn't invited to? What if Kim and I had pestered Stephanie with anonymous bitchy questions on Formspring? Here are five reasons why 2013 will be even worse for teenage girls than 2012:
1. Humbleswag
Scrolling through photo after photo of my friends' impressive Christmas presents on Instagram this week made me feel like I was back in middle school, when all of my spoiled classmates got way cooler presents than I did and would brag about each night's (we were mostly Jews) bounty by the lockers every morning. I'm all for announcing personal accomplishments via social media, but really? We're posting photos of the presents people get us now?
I don't actually care, because I am an adult and my mom renewed my New Yorker subscription for me this holiday season, but it must be tough for teenagers whose parents can't afford or simply refuse to buy them designer clothes to see photos of their friends' new Juicy Couture sweats and Kate Spade bags. (Yes, I fully realize that those items are probably not as lusted after as they were when I was 13/my peers were budding Real Housewives. Now there's probably more hipster bullying, right? Must have correct vintage!)
Prediction: Instagram will launch an advertising component that allows jealous users to instantly online shop for the filtered items their friends flaunt.
2. Easy Access Sexting
I first heard about Snapchat from my friend's 18-year-old sister. We were sitting around their dinner table when someone asked why anyone would be interested in an app that only displays photos for a few seconds at a time; the expert rolled her eyes and said, "Duh, for sexting!" Now Facebook is getting into the teXXXting market, too. (They won't admit it, but it's obvious that's what these apps are for.)