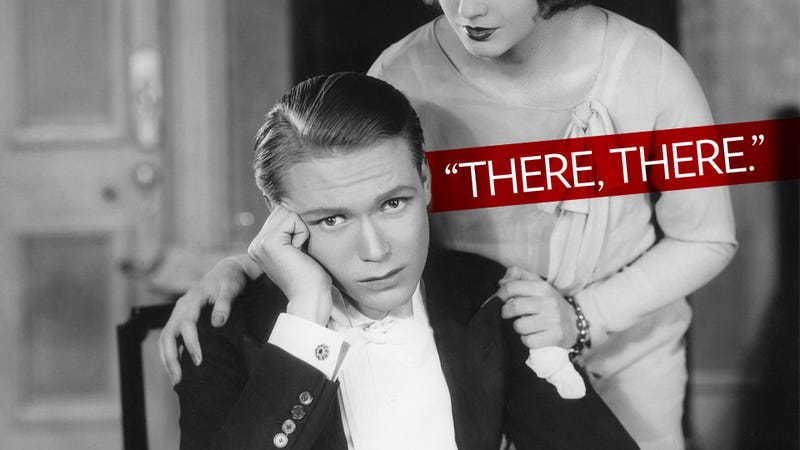 Still grieving over Sandy Hook? While your tear ducts are still flowing, how about shedding a few empathetic drops for a much broader group of victims: depressed and discombobulated white males. Those who once were heroes, filled with a sense of purpose and place? They're now lost young men, reeling from the rapid depletion of their privilege.
Fortunately, ladies, there's something you can do to help. Something that might even prevent the next Newtown massacre. You "who belong to a demographic that is doing increasingly better" (women) can "cultivate a more deferential attitude" to America's bountiful crop of overgrown, bewildered boys. Do that, and there's a chance you could "make someone think twice before targeting another human being."


Post-Patriarchal Depression is a real thing, according to an article by Christy Wampole for the New York Times last Sunday. Not just real, but deadly: this decline in status is directly linked to the horrific spate of recent rampage killings by anguished white guys. "Life seems at times to have stacked the cards against them," she declares, and while only a few of the displaced turn into spree shooters, far more are suffering from what Wampole, a French professor at Princeton, declares is "a centripetal hatred (that) moves inward toward the self as a centrifugal hatred is cast outward at others." (Take a moment to visualize.) Wampole's not just talking about the Adam Lanzas of the world, but about an entire generation of young men who need our immediate comforting.
In the year where The End of Men became a bestseller and in the week where we finally started talking about the common denominator among all of our recent mass murderers, it's not hard to convince people that there's something wrong with young American white guys. The debate is over what that "something" is. And while renowned experts on masculinity like Michael Kimmel and Jackson Katz have weighed in with calls for greater male responsibility in ending violence, the danger is that their recommendations are in danger of being drowned out by the louder cries for (increasingly successful) women to stop expecting so much from confused, exhausted, alienated young men. Or else.