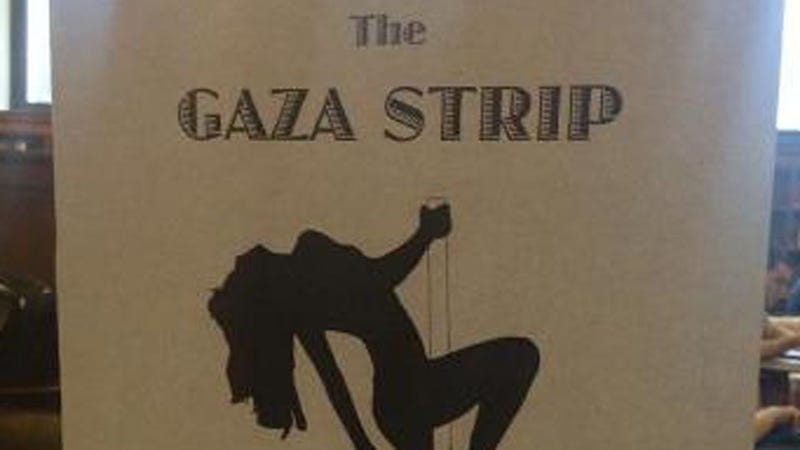 Tonight is "Orgo Night" at Columbia University, a storied school tradition that takes place every semester during finals when the marching band performs stand-up comedy in the library in an attempt to entertain (and offend) everyone. Some Barnard students say Orgo Night is too sexist to be funny — and that this year, a nonsensical poster about Gaza strippers takes it too far.
As you can see from a transcript of last year's event, Orgo Night's organizers do their best to offend pretty much everyone, from Occupiers ("those grizzled urban lumberjacks have packed up and headed home, leaving behind nothing but vintage skinny jeans, crumpled cans of PBR, and ironically placed copies of the new Real Estate album") to themselves ("Marching bands, historically famous only for their enduring virginities..."). But some Barnard students told us that the proliferation of Barnard jokes hit a little too close to home.
"They usually tell a bunch of jokes to undermine Barnard students," said one Barnard junior who asked to remain anonymous. "Because Barnard is a women's college, there is a power dynamic on campus where Barnard girls are assumed to be 'sluts', stupid, not smart enough to go to Columbia, all lesbians, that kind of thing." She noted the controversy that ensued last spring when some Columbia students posted viciously misogynist comments online after Obama decided to speak at their sister college. "My general experience on campus has been things like, when I go to a dining hall at Columbia, Columbia students have asked me why I was there. It also means you have to prove yourself and outspeak men and Columbia students in Columbia classes because it is automatically assumed you are less intelligent than everyone else."