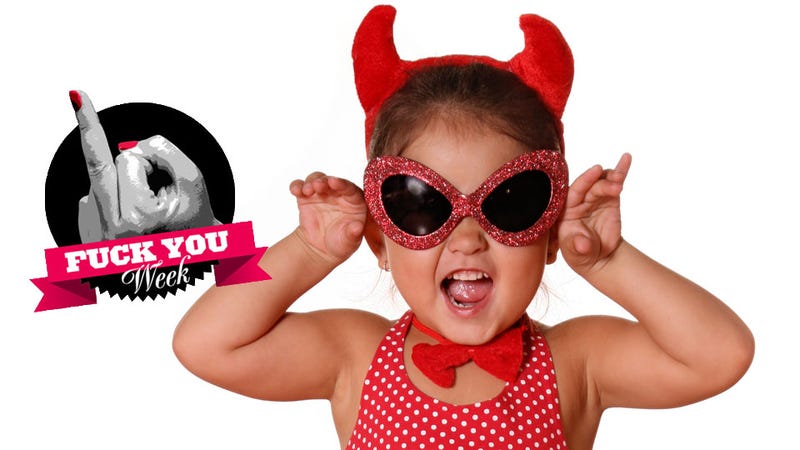 This is Fuck You Week, Jezebel's first annual week of desperate emotional cleansing and unhinged psychic purging.
I fucking hate other people's kids. Before I became a mother, and some shitty child would be having a total meltdown in a restaurant, screaming at the top of his lungs and writhing around on the floor, trying to escape from his table as though sitting properly in a chair was tantamount to Lingchi torture, I used to be like, "Well, having kids must be so hard. I'm sure those parents are doing the best they can." But now that I have a child of my own, I'm like, "I hear enough of that shit at home! Hire a fucking sitter like the rest of the people in this restaurant did. God!"
Seriously, though, other people's kids are the worst. I actually thought that once I had a child, I'd start to like all children. But the opposite has been true—I like other children a lot less now. Experience as a parent has given me some real perspective on the matter. Asshole children didn't get that way despite the best efforts of doting parents. They're assholes because they're born of assholes who never correct asshole behavior because they don't even recognize how asshole-y it is.
Besides, now I have this cute, sweet, polite, funny, gorgeous, award-winning baby. And I'll probably eventually learn that she's a genius, you know, once she starts school and the teachers notice how remarkably advanced she is and send her off for some testing. I don't know yet if we'll allow her to skip grades. That's like a we'll-cross-that-bridge-when-we-get-to-it kind of thing, but obviously it is swirling around in the back of our minds.