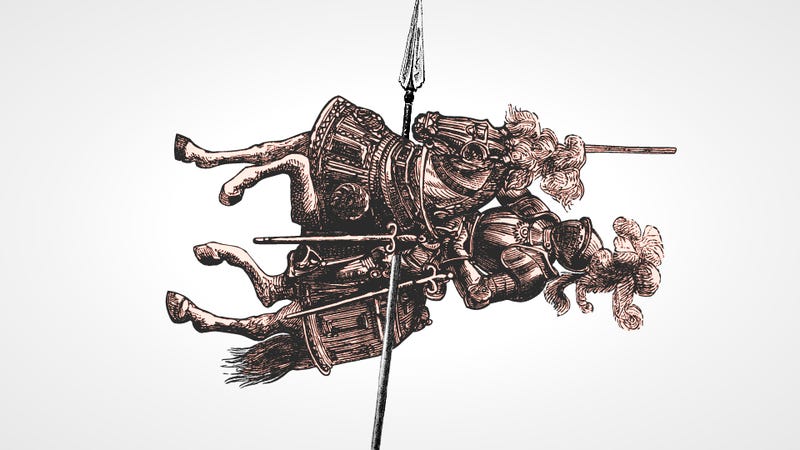 Should we give chivalry another chance? No thanks. Chivalry is an archaic term that is only necessary if you think women are fragile posies who must be protected by self-proclaimed knights in shining armor. Letting go of the sexist word doesn't mean men shouldn't be polite and respectful, obviously. It means that people should look out for each other because we're all human beings — even those of us who have vaginas that some people still think should be guarded by "gentlemen." Fuck that.
The Atlantic's Emily Esfahani Smith is concerned about the "decline of chivalry and the rise of boorish behavior among men," and has some data that she's twisted to back her worries up: a new study, published in the feminist journal Psychology of Women Quarterly, found that male chivalry is indicative of "benevolent sexism" that perpetuates gender equality, even though it was "indirectly associated with life satisfaction for both women and men." The American Enterprise Institute's Charles Murray chuckled at the irony of these silly feminists' findings: "When social scientists discover something that increases life satisfaction for both sexes, shouldn't they at least consider the possibility that they have come across something that is positive? Healthy? Something that might even conceivably be grounded in the nature of Homo sapiens?"
Nice try, but just because the study's authors concluded that "274 college women and 111 college men" like it when men are polite to women doesn't mean chivalry is good for the feminist movement. (Or for the LGBTQ movement, for that matter, but non-straight people apparently don't exist in Smith's fairytale castle of a world.) It means that most women like it when men are polite to and respect them. Men, also, usually like to be treated well by women. It's shocking, I know, but people like it when other people are kind. Why do we have to call it chivalry?
Let's think about the word's history for a sec. Here's Smith:
Chivalry arose as a response to the violence and barbarism of the Middle Ages. It cautioned men to temper their aggression, deploying it only in appropriate circumstances-like to protect the physically weak and defenseless members of society. As the author and self-described "equity feminist" Christina Hoff Sommers tells me in an interview, "Masculinity with morality and civility is a very powerful force for good. But masculinity without these virtues is dangerous-even lethal."

Chivalry is grounded in a fundamental reality that defines the relationship between the sexes, she explains. Given that most men are physically stronger than most women, men can overpower women at any time to get what they want. Gentlemen developed symbolic practices to communicate to women that they would not inflict harm upon them and would even protect them against harm. The tacit assumption that men would risk their lives to protect women only underscores how valued women are-how elevated their status is-under the system of chivalry.
It is awesome to value and protect others. We are down with that. But what makes a woman more "valuable" than a man? What, exactly, are we protecting? That's a dangerous question, because it leads to pro-modesty crusades, purity balls, and the assumption that women warrant additional protection. "Feminists want men to treat women as equals; traditionalists want men to treat women like ladies," Smith writes. "Are the two mutually exclusive?" Okay, first, BARF, that quote makes want to take a shower/never use the term "ladies" again, even sarcastically. Second, yes, they are if you think women necessitate male guardians at all times.