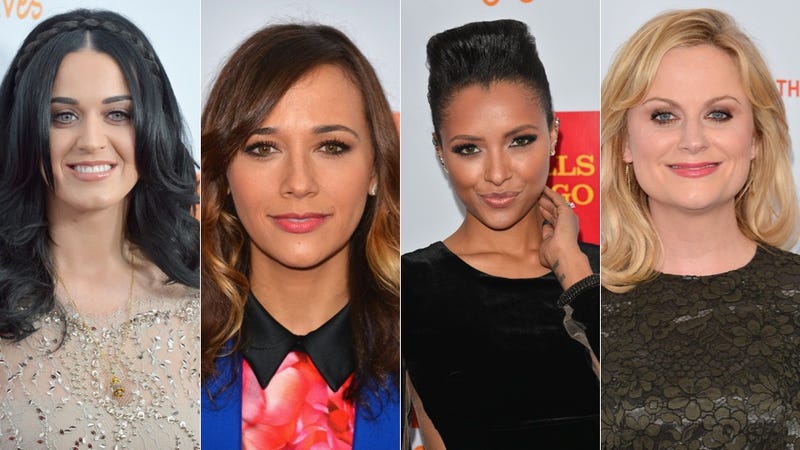 Last night at Trevor Live, Katy "I Kissed a Girl" Perry was honored as a Trevor Hero. As you may know, The Trevor Project is a national organization providing crisis intervention and suicide prevention services to lesbian, gay, bisexual, transgender, and questioning youth. Hooray for that! And hooray for some of the chic little outfits seen on the red carpet.
Ashley Fink, we miss you on Glee! Dig that art deco-ish necklace.
Glee peeps in somber colors: Jane Lynch, Jenna Ushkowitz, cutie pie Chris Colfer, and Samuel Larsen, aka Swoony McSwoonerson.
Looking rakish in gray with a splash of purple: Zachary Quinto, Revenge's Gabriel Mann.
Is Whitney Cummings's dress too long? Or is that a good length? It looks nice, so whatever. Perfect lip color, too.
What's higher: Jessica Sanchez's hair or heels?
A whisper-soft, delicate, periwinkle dress looks gorgeous on Anna Kendrick, but a brighter pink lip would bring some more color to her face.
So many fug things about what guest of honor Katy Perry is wearing. Hate the hair — the braid looks pasted on, the fringe in her eyes looks messy. The dress is yet another sheer/illusion/pale/nude/flesh-toned sparkle thing, with the added disadvantage of being too long and ill-fitting, like she bought spangly panty-hose in the wrong size. It's thisclose to being a circus performer's discarded foundation garment. And that lizard purse shaped like an apple? Gag.
Another pale/skin-toned dress, this time on Zoe Saldana. Sometimes she picks absolutely stunning gowns. This is not that time.