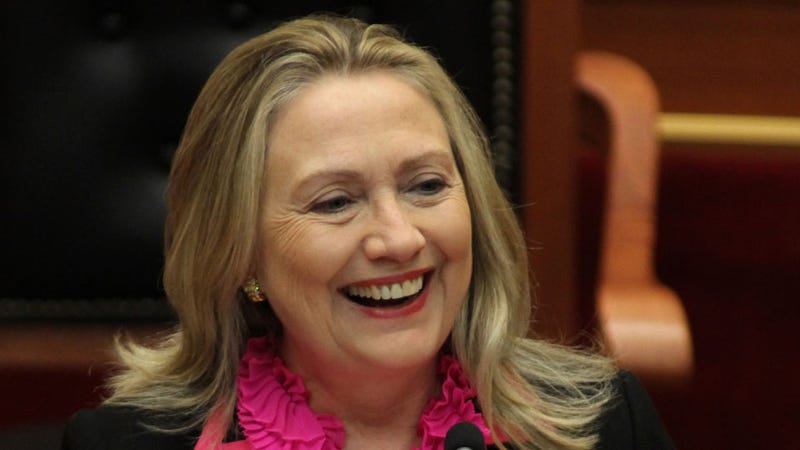 Are you sick of unabashed Hillary Clinton fangirling? Then you probably shouldn't read this.
Is Stephanie McCrummen's Washington Post profile of Hillary Clinton fawning as fuck? Oh yes — judging by this piece, Hillary is not only the Secretary of State but Superwoman, the Second Coming, and a wonky fun-loving gal who has to be literally torn away from building cookstoves for impoverished women with her bare (yet impeccably manicured) hands. And we're into it. Here are a bunch of reasons (we lost count) why Hillary Clinton is officially the Best Ever — a title which, after years of both belittlement and hard behind-the-scenes work handling global crises and promoting integral development initiatives by spreading her "21st-century diplomacy" around the world, she deserves.
She doesn't hold grudges!
One of the first moves Clinton made after becoming Secretary of State was "making good with Obama," McCrummen writes. Her decision "to sublimate any resentment that had come between her and Obama during their fight for the 2008 Democratic presidential nomination" illustrated her desire to serve in whatever capacity.
Hillary Clinton: "Cooperative" is her middle name!
She cares about the little people!
McCrummen believes that Clinton's most controversial mark on the White House is her push for "expeditionary diplomacy," the concept that diplomats should actually engage more with people, not just chill at embassies.
Hillary Clinton: "Game Changer" is her middle name!
Like, REALLY cares.
Most of the work she's done is "obscure," aka awesome but not showy:
They include promoting a milk cooperative in Malawi and low-pollution "clean" cookstoves in China and attending an environmental summit in Greenland's capital, Nuuk. They include decidedly unglamorous events, such as a conference devoted to gender-specific data collection, and thousands of miles traveled to often-overlooked places.
Hillary Clinton: "Low-Key Yet Incredibly Effective Multitasker" is her middle name!
She knows her yurts from her gers!
Check out this amazing anecdote, which took place during "a 12-day odyssey" which included meetings in Paris, Kabul, Tokyo, Hanoi, Cairo and Jerusalem:
But the stop Clinton was really looking forward to was Ulan Bator, Mongolia, where she once downed a glass of yak milk in the spirit of diplomacy.

A reporter mentioned that she was scheduled to visit with the Mongolian president in his ceremonial yurt, the traditional Mongol dwelling. Clinton smiled.

"It's not a yurt," she corrected, noting that Mongolians prefer not to use the Turkic term. "It's a ger."
Hillary Clinton: "If Anyone Else Corrected Your Usage Of 'Yurt' It Would Be a Bit Obnoxious But When She Does It It's So Badass" is her middle name!
She says important shit and we all listen!
According to McCrummen, Clinton spews out integral soundbites on foreign policy with ease:
By the time Clinton's plane landed at Genghis Khan International Airport, she had already grabbed international headlines.

In Paris, she had blasted Russia and China for "blockading" a solution to the Syrian crisis. In Kabul, she had declared Afghanistan a "non-NATO ally." In Tokyo, she announced U.S. aid to the Afghan government.
Hillary Clinton: "Outspoken" is her middle name!
But she can also communicate without even saying a word.
After that, she gave a speech to an international women's group about political liberalization that was clearly aimed at China, but which also emphasized the role of women in politics, words she did not have to utter.
Hillary Clinton: "Silent Yet Deadly" is her middle name!
She takes responsibility!
"I'm the one who sent Chris to Benghazi during the revolution," she told the Washington diplomatic corps in a "deliberate" tone after the attack on the U.S. post in Benghazi.
Hillary Clinton: "Adult" is her middle name!
She never gets tired!
Her aides started checking their BlackBerrys. Some reporters took a breather. Yet Clinton, sitting at a table full of officials, seemed more energized than ever.
Hillary Clinton: maybe on Adderall? Just kidding. Hillary Clinton: "Tireless" is her middle name!
She understands the internet!
We already know that Clinton's impressively keyed in regarding memes. But she's also pretty innovative; she helped launch the LEND Network, which she calls "a new tool that will help countries navigate the transition to sustainable democracy":