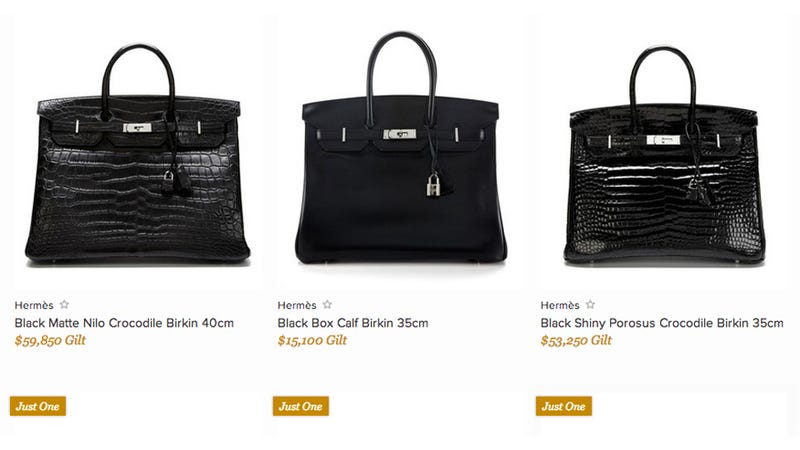 Exciting Thanksgiving news for all you exceedingly wealthy sociopaths out there. Gilt Groupe, the online provider of designer sales, has a very special, one of a kind deal for you this holiday weekend and is offering up a small selection of rare and vintage Birkin bags for a cool $59,850. Would you like to pay with a card or is Nazi gold more convenient?
Generally, fashion's value is in the eye of the beholder. Rarity, creativity and craftsmanship must be taken into consideration, which is why high end pieces oftentimes resemble wearable art more than functional clothing. And like with art, what might look overpriced, stupid or slapdash to some is exceedingly precious to others. Still, I am going to go out on a limb here and say that the only way that a Birkin bag — or any bag — could be worth $60K is if it were made from the skin of Jane Birkin herself. (Birkin, by the way, is very much alive.)
But you have $60K burning a hole in your little silk-lined pocket! Don't fret — there are lots of things that you could buy instead of a purse. Here, I'll list!
Rafalca Romney
Josh Romney
3-4 Prius cars
Sixty $1K purses
Over three full-time semesters at Havard
The bones of one of the less popular U.S. presidents
Three hundred thousand meals for people in need.

But, hey, it's your money and who am I to tell you what to do with it? One thing's for certain: buy the $59,850 Birkin (and buy now — there's only one of each model available) and you're sure to be the most fashionable asshole in town.

'Buyer's Gilt': Digital Luxury Site Selling Hermès Birkin Bags for Ungodly Amount of Money