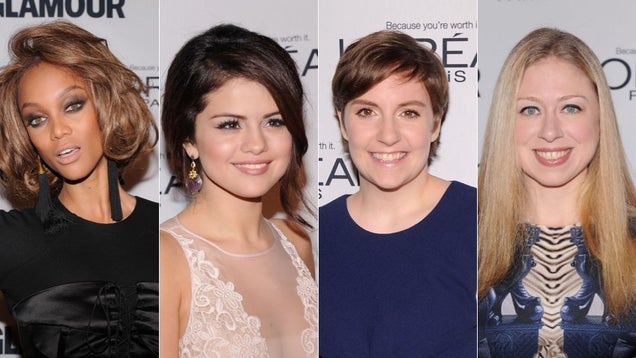 S
Last night in New York, Glamour magazine held its 22nd annual Women of the Year Awards — a fancy schmancy party, where ladies making big moves mixed and mingled. 20-year-old Selena Gomez is on the cover of the December issue, which honors the women of the year. Fun fact: All of the ladies were photographed for the issue by female photographers. But let's take a look at what they wore, shall we?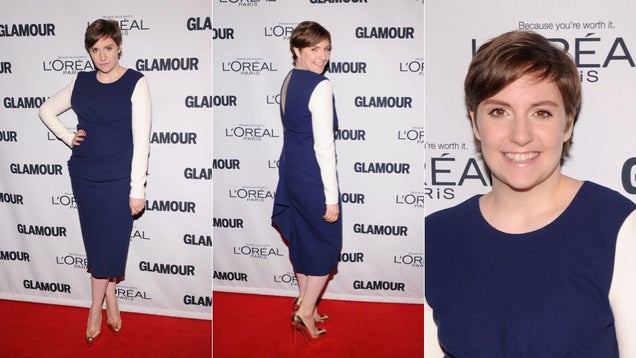 S
Here's Lena Dunham in Roksanda Ilincic. She looks cute, even though I really do not like this dress one bit. It's so blocky and cover-up-ish, like modesty Lego.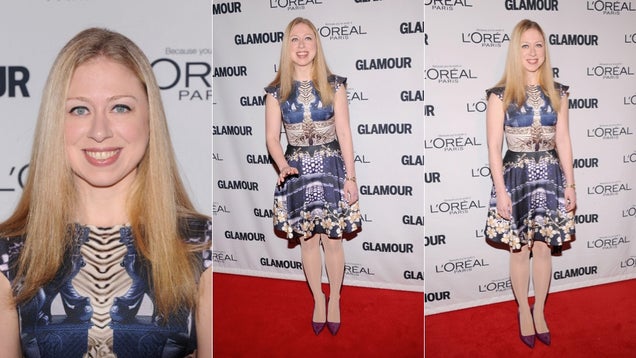 S
Chelsea Clinton looks really nice, although the hosiery is questionable. Or did Kate Middleton make this okay now?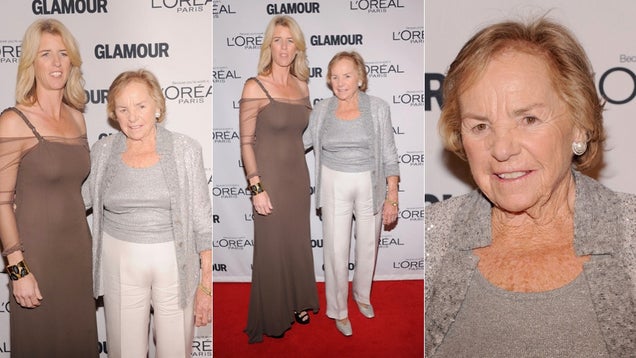 S
Rory Kennedy and Ethel Kennedy: Elegant in neutrals.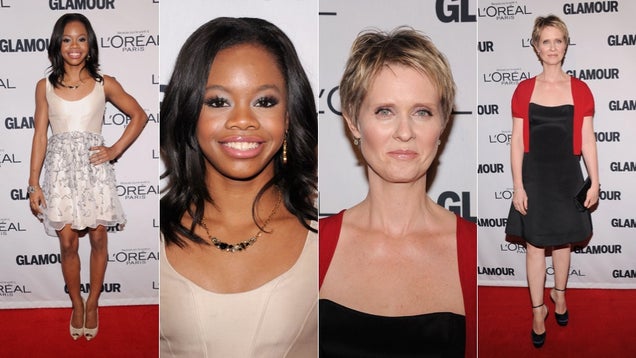 S
Keeping it simple, showing some leg: Gabby Douglas, Cynthia Nixon.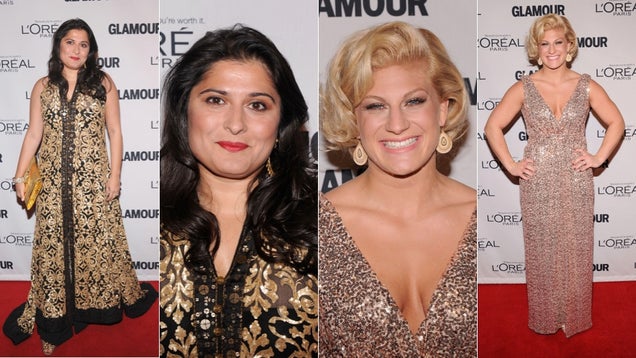 S
Shiny! Sharmeen Obaid-Chinoy and Judo champ/Olympic gold medalist Kayla Harrison.
Some info about Obaid-Chinoy, via Glamour:
"It takes one second to ruin a woman's life," says activist Sharmeen Obaid-Chinoy, 34. "You may need a license to buy a gun, but in many places a man can buy acid from the corner store, throw it on a woman's face, and from then on she is the living dead." And that, shockingly, is exactly what happens every year to more than 1,200 women worldwide-victims of horrible, disfiguring acid attacks. While such acts are outlawed in Obaid-Chinoy's native Pakistan, they often go unpunished. In fact, reports of the incidents have almost tripled since 2010. So Obaid-Chinoy made it her mission to give women the most crucial form of self-defense: a voice. Two years ago she and codirector Daniel Junge began persuading dozens of acid-violence survivors to tell their stories. In an amazing triumph, their resulting film, Saving Face, won this year's Academy Award for Best Documentary Short. And it's creating huge change in the country's legal system: Perpetrators in Pakistan's largest province are now subject to much harsher punishment, and acid violence is being classified as a form of terrorism. Says Melanne Verveer, United States ambassador-at-large for global women's issues: "She will save countless lives."
More here.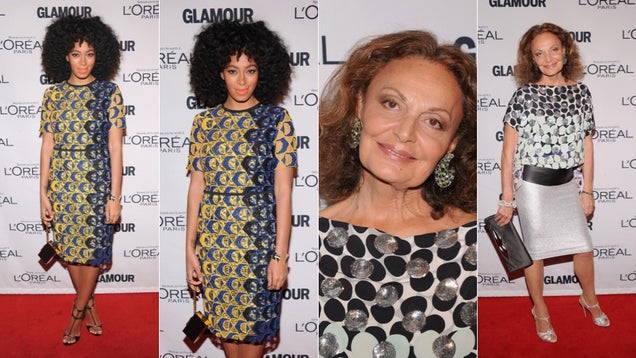 S
Groovy patterns: Solange and Diane von Furstenberg.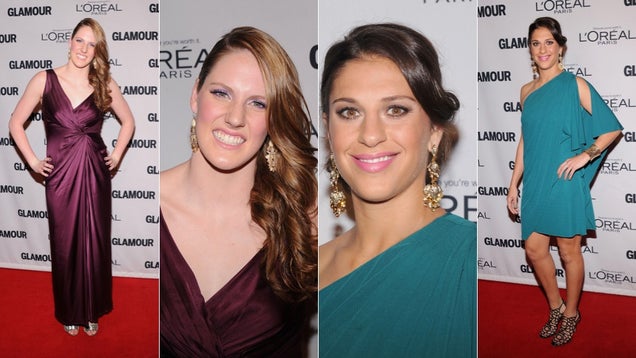 S
Jewel tones: Amethyst on swimmer/four-time Olympic gold medalist Missy Franklin; lapis on soccer star/Olympic gold medalist Carli Lloyd.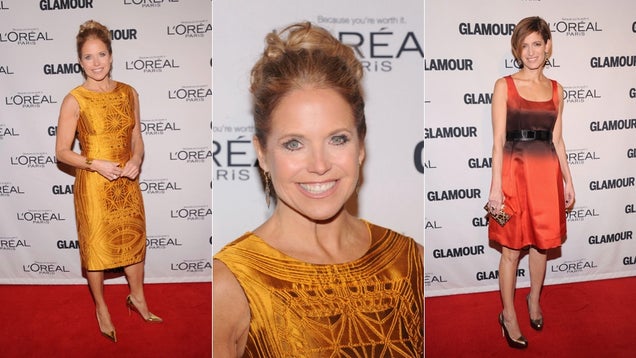 S
Saffron/sunset hues on Katie Couric and Glamour editor-in-chief Cindi Leive.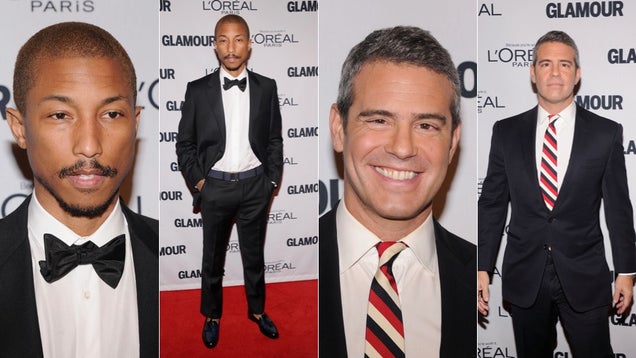 S
Dapper dudes: Pharrell, Andy Cohen.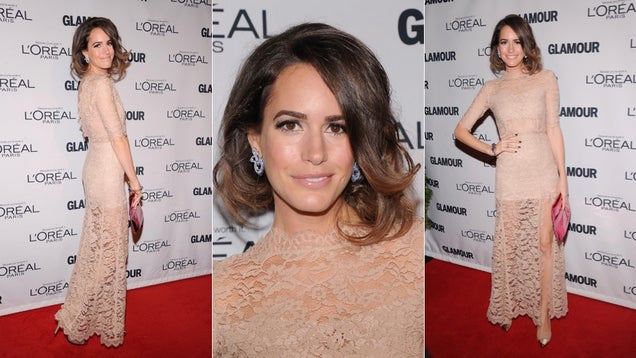 S
Are you sick of the whole see-through/illusion/nude/sheer/flesh-toned/half-naked dress trend yet? Well Louise Roe is not. (And neither is Kristen Stewart.)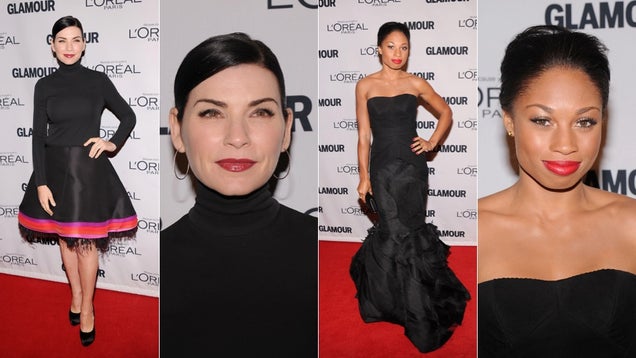 S
Quite a few stars went for basic black: Julianna Margulies' quirky lampshade skirt is kind of fun? And Olympic gold medalist track star Allyson Felix looks very nearly flawless. Kind of want to throw a big crystal necklace around her neck, but that's just because I'm addicted to sparkle.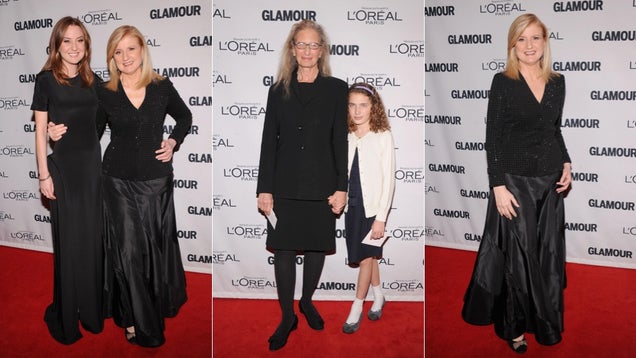 S
More black, mother/daughter style: Christina Huffington and Arianna Huffington, Annie Leibovitz and Sarah Leibovitz.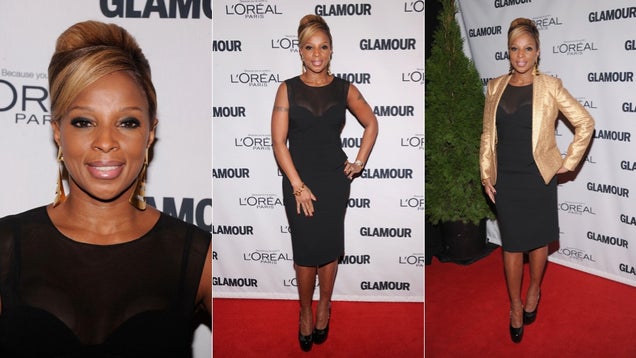 S
Black under shimmery gold: Mary J. Blige.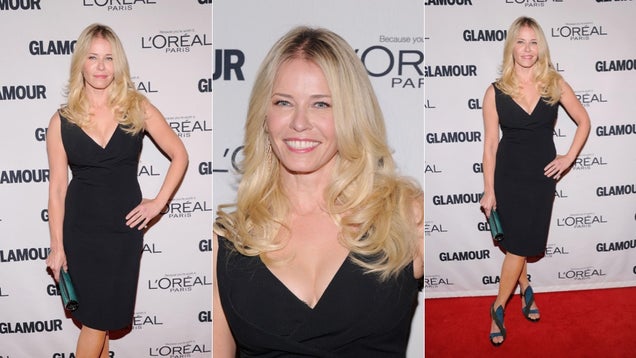 S
Curve-hugging black on Chelsea Handler. Dig the shoes.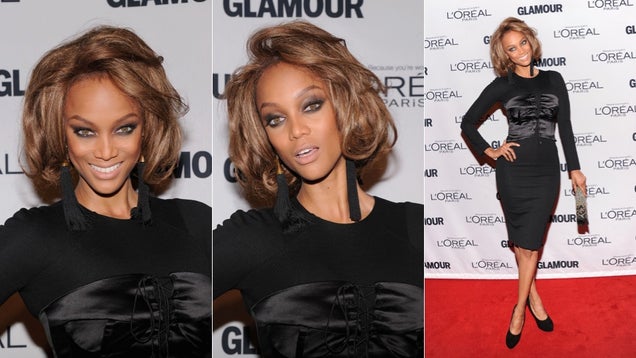 S
A lot going on here, Tyra: Tassel earrings, bodycon dress with satin bustier? If one of the ANTM ladies wore this to panel she would demand that the chick remove the earrings and the satin lace-up deal.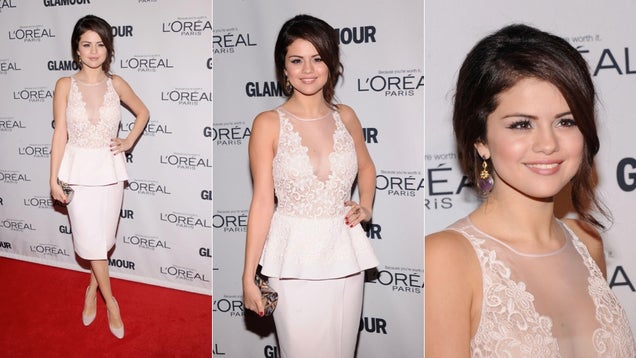 S
Pretty pretty Selena Gomez looks pretty, but this dress? The fit seems off, the length is not right, and the cleavage-baring bodice is unflattering. Is this illusion mesh net nude see-through trend almost over?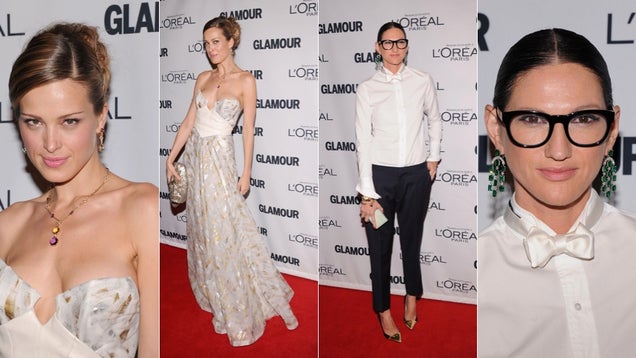 S
Two very different gala outfits, both great: Petra Nemcova in an ethereal, whisper-light gown with a hint of shine; J. Crew's Jenna Lyons in a menswear-inspired pieces, cobbled together as a tux with chandelier earrings, shiny shoes and "srs bznss" glasses.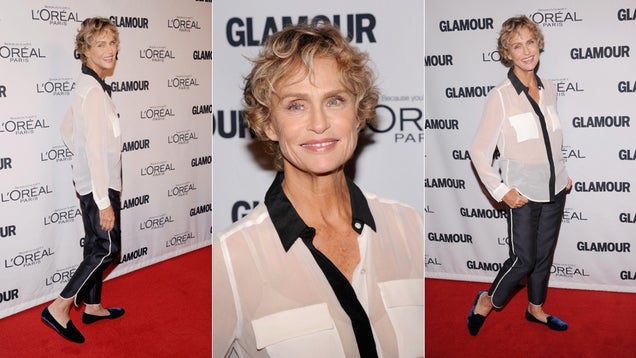 S
My vote for best-dressed? Lauren Hutton! Easy, comfortable, glam, nothing to prove, perfection.
Images via Getty.