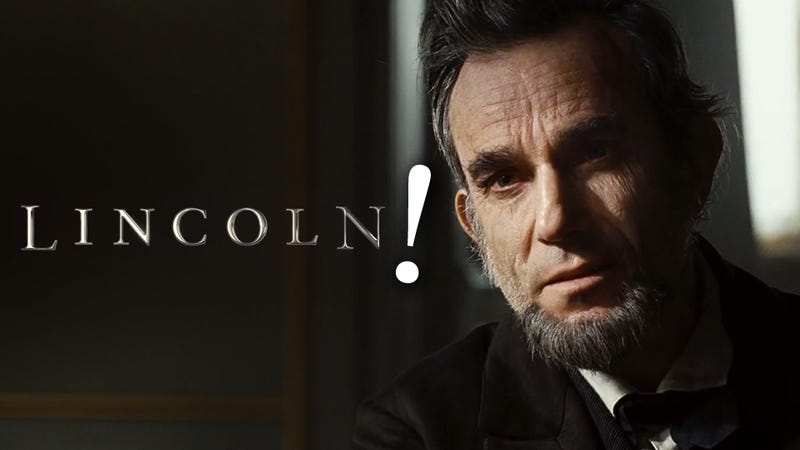 As the opening titles appeared solemnly on the screen—LINCOLN—my friend whispered, "It'd be better if it had an exclamation point at the end." Ha ha, we laughed. Ha ha.
EXCEPT TRUUUUUUUUTH. It's not that Lincoln! (my column, I punctuate HOW I WANT) is the best movie ever, or even a particularly great movie, or even the most enjoyable movie I've ever seen, or even the best movie featuring a fake Abraham Lincoln (Bill and Ted's Excellent Adventure, doy), but it just might be my favorite movie of all time at this exact moment right now—at least until my post-election glow wears off. Lincoln! is democracy porn trussed up in Spielbergian schmaltz. I fucking loved it.
"But Lindy!" you're saying. "Are you mad? What of the schmaltz!? And isn't Lincoln just...Oscar bait???" And then you barf on my shoe. And yes, friend. Yes, it is. But don't you know what "bait" is? Bait is fucking delicious fat worms that fishes love!!! And we are the fishes! THAT'S WHY WE USE IT AS BAIT.
And Lincoln! is actually way less schmaltzy than you'd expect—in fact, for long stretches (the best stretches) it's borderline dry. At its heart, Lincoln! is a wonky political procedural about the mad scramble to pass the 13th Amendment and abolish slavery before the end of the Civil War (because when the war ended, so did Lincoln's leverage). It's basically one of those episodes of the West Wing where Josh and Leo and Toby are running around dropping tasty bon mots in secret meetings with congressmen trying to scrounge up votes for the gun bill or whatever—except everyone is wearing a bonnet and talking about "negroes" like it's totally normal. (Josh is also wearing a daring chemise because he is incorrigible.)
Things I learned about Abraham Hot-Lincs from this movie: Abraham Lincoln was hella chilly all the time and owned 4,000 elegant shawls. Never not shawls. Shawl day, shawl night. 99% of Abraham Lincoln's waking hours were spent walking slowly in silhouette while someone played a bugle. James Spader is the greatest comedic actor of our time. Daniel Day Lewis...is Abraham Lincoln? Mary Todd Lincoln, uhhhh, I'm good. No seconds on MTL over here. (Seriously, I know she had a rough go of it and this is just one movie's interpretation, but every time she started shrieking and melting I wanted to give her a hysteria-bonk and be all, "Quiet, woman! The men are trying to do history!" So thanks for turning me into a sexist nightmare-person, Mary-T.)
In the context of this election week, though, there are some interesting insights to be squeezed out of Lincoln!. For the purposes of historical accuracy, I suppose (the U.S. senate of 1865 wasn't exactly a Benetton ad), Lincoln! is extremely white. Almost everybody in this movie is a white male—the non-white, non-male characters hovering dimly around the edges (literally, sometimes, in the balcony of the senate chamber) with an unspecific goodness that borders on tokenism. But seeing as the 2012 election was very much about white males flailing violently as their monopoly on American politics erodes, it's satisfying and instructive to look back at the moment when they first felt their footing slip. Their horror and unease is palpable—and it's the same current of unease that sours the white elites of the modern GOP. The racist rhetoric isn't much different either.