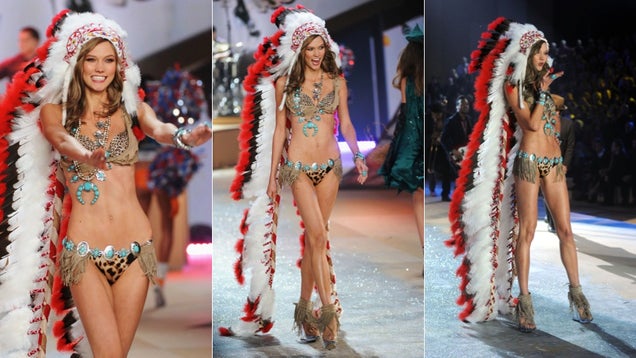 S
Last night, the 2012 Victoria's Secret Fashion Show was held in New York, and it was a delightfully absurd smorgasbord of flesh, wings, and lingerie. One of the most shocking get-ups? Twenty-year-old Karlie Kloss in "Native" garb.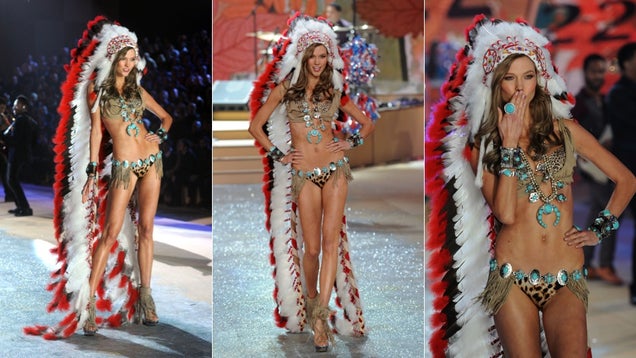 S
Even though it's been said time and time again that this is NOT COOL, even though No Doubt just pulled their video in which Gwen Stefani wears a war bonnet, even though the common consensus is when it doubt, leave it out — Karlie Kloss wore this get up on stage. A culture is not a costume, or a trend, and as Adrienne from Native Appropriations puts it, "playing Indian still relegates Native peoples to stereotypical character tropes… our Nation has created a narrative in which blackface=racist, while redface=normal." And:
Blackface=dressing up in a stereotypical costume of a race that is not your own, drawing upon a history of racism and inequality. Playing Indian=dressing up in a stereotypical costume of a race that is not your own, drawing upon a history of racism and inequality. Clear enough for you?
Bottom line: THIS IS RACIST.
Will Victoria's Secret keep this outfit in the actual fashion show when it airs December 4? We'll see!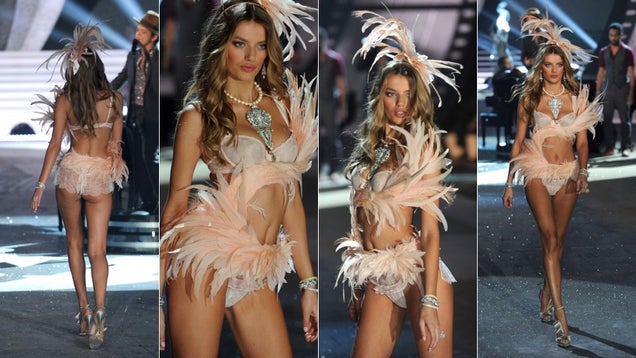 S
Aside from the war bonnet, many of the outfits just seemed to be about feathers. And how pretty they are.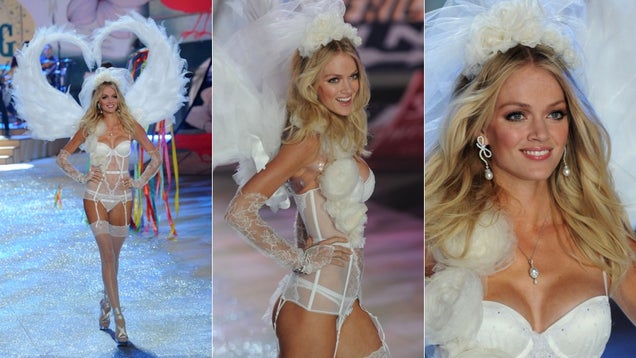 S
White Swan.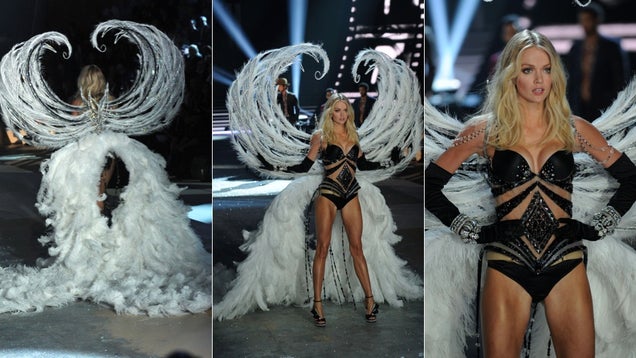 S
Snow Angel of Death.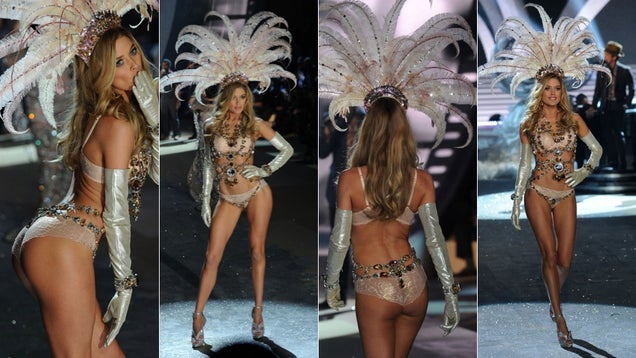 S
Showgirl.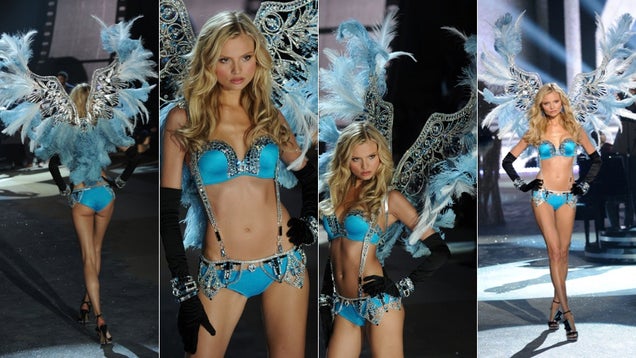 S
Saphhire angel, or something.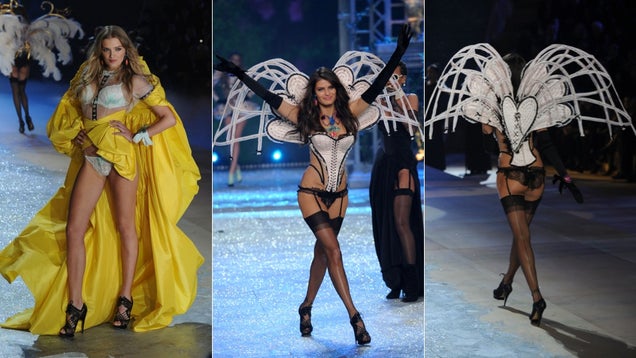 S
There was a rococo/baroque/bustle-and-corset segment of the program.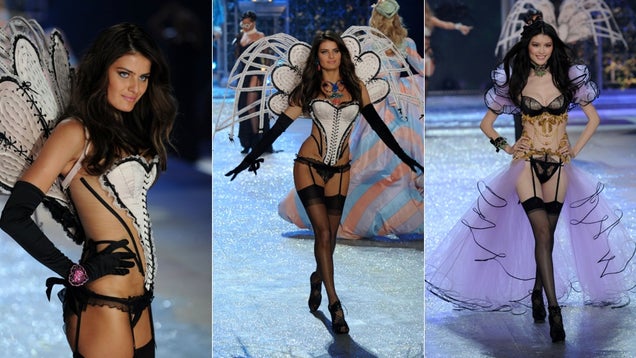 S
The illusion mesh torso stuff is quite hideous.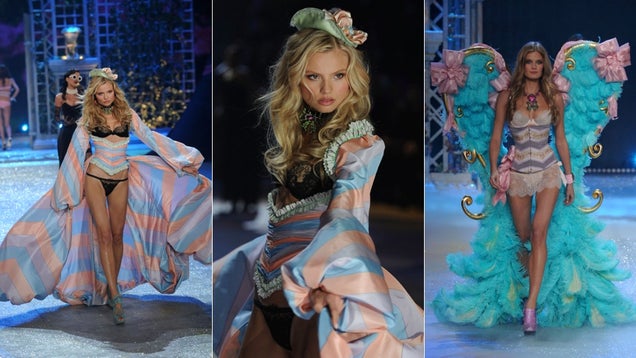 S
More feathers! Never enough feathers.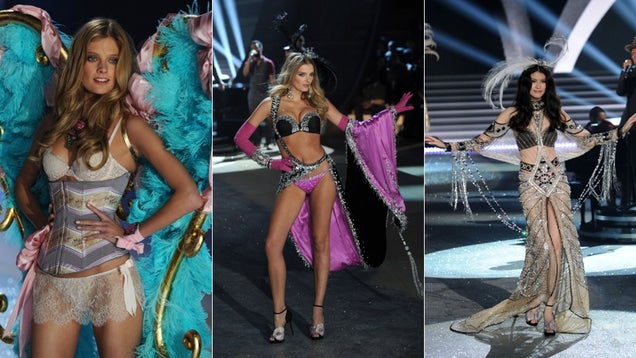 S
That Theda Bara/art deco number on the end needs to teleport itself into my closet ASAP.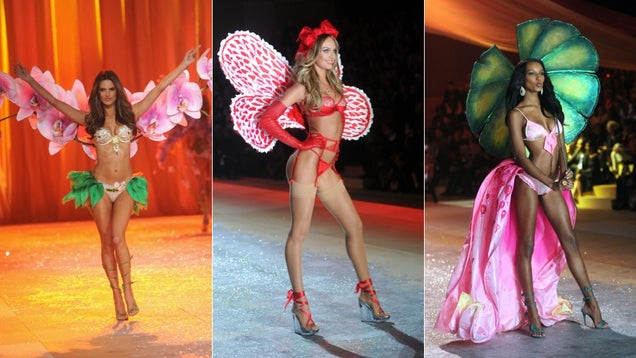 S
One portion of the show featured the models dressed as flowers. But not in a cool, Georgia O'Keefe way. More in a Rose Bowl float way.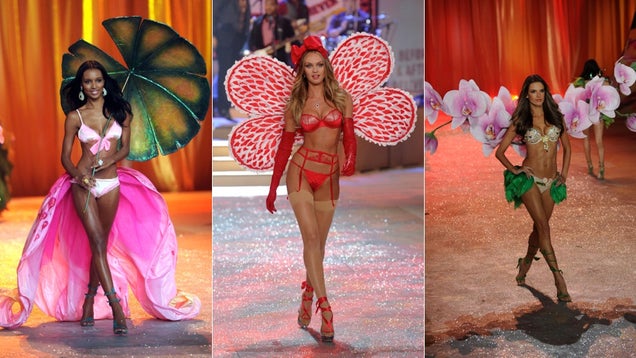 S
Orchids and lilies and poppies and irises and something that looks like a butterfly made from slices of dragonfruit!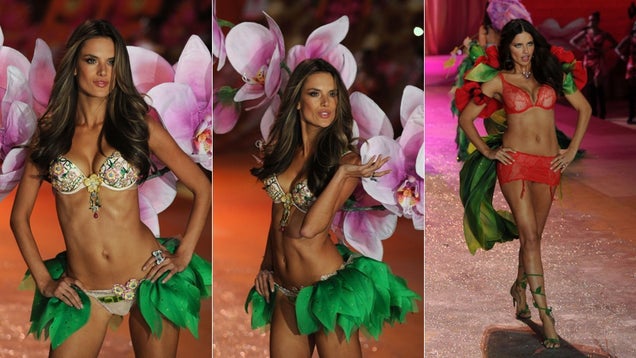 S
Ladyflowers.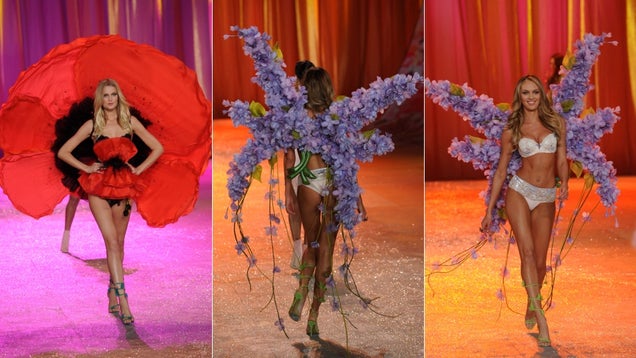 S
Insert your own "secret garden" joke here.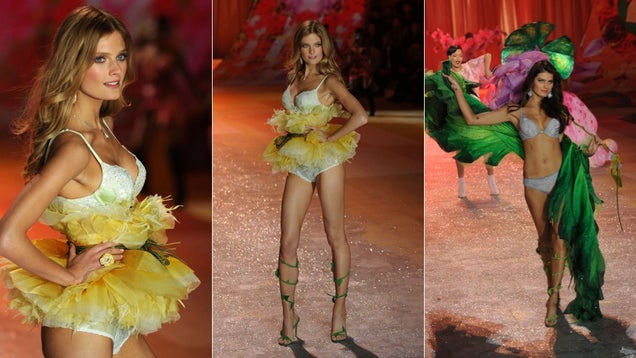 S
How does your garden grow?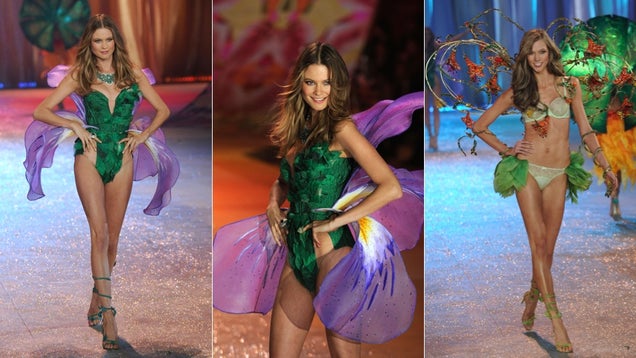 S
It would be great if I had a joke about pruning sheers.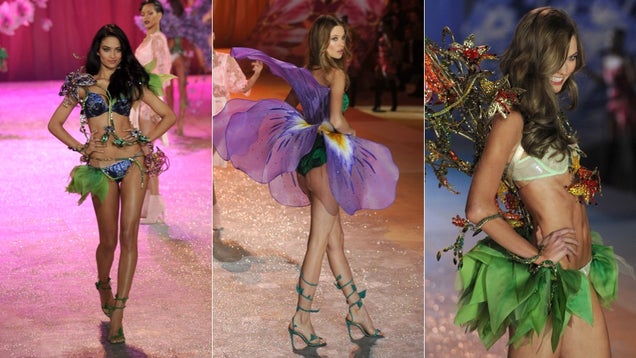 S
But alas, I do not.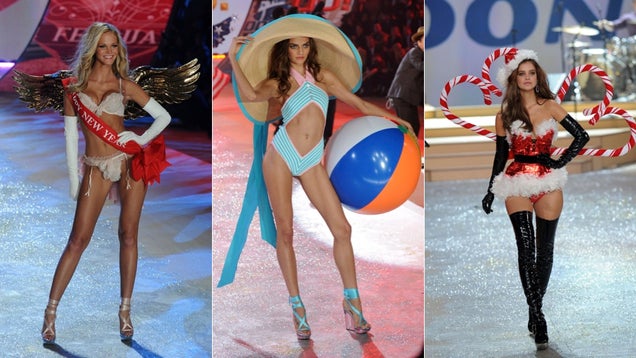 S
Moving on! Then there was a rigamarole where the models were dressed up inspired by months of the year. Examples: January (New Year's), August, and December.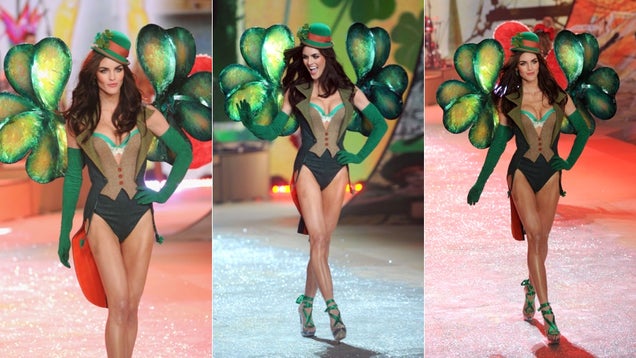 S
March, Leprechaun.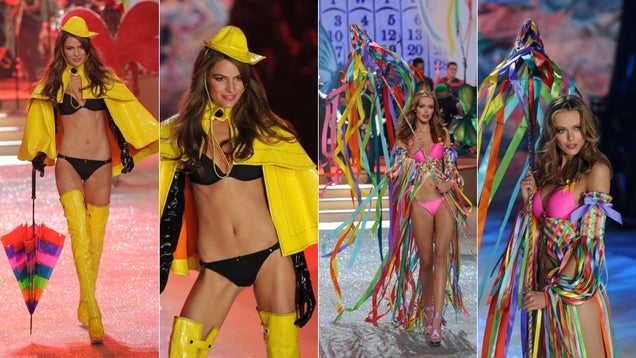 S
April Showers. May Day.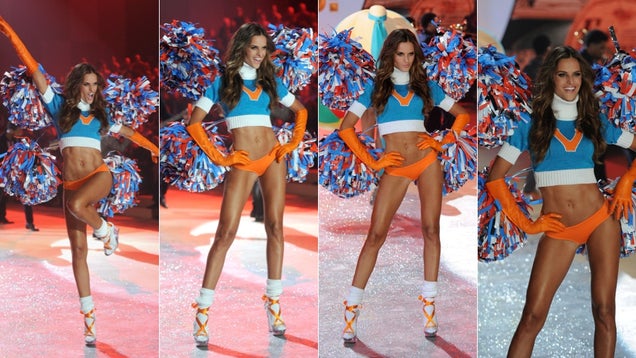 S
September? I think? I mean, that's what September means to me. A cheerleader with pompom wings.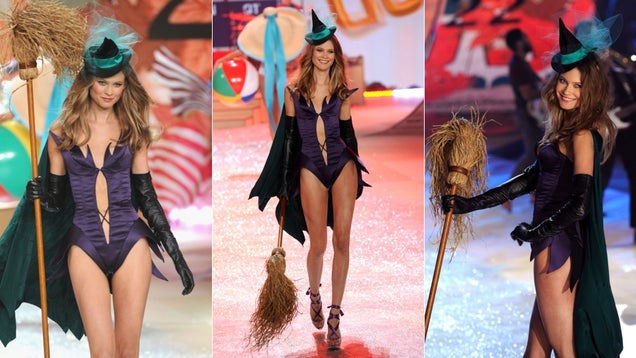 S
October witch.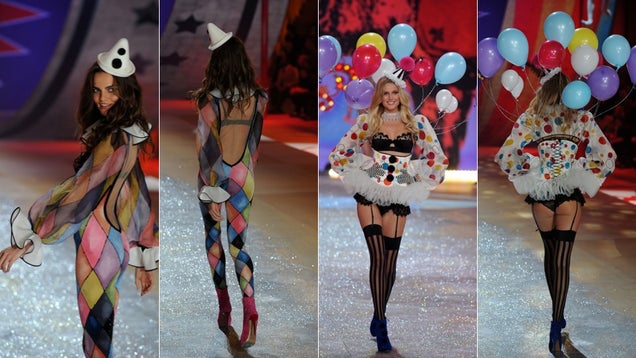 S
Some of the most elaborate costumes were in the Circus part of the show. For instance: Clowns with balloons. Because there's nothing sexier than a clown. With balloons. Next time you see a clown, think lingerie. See what happens.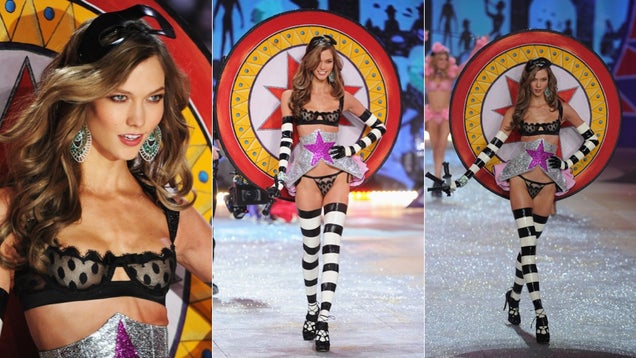 S
Here's Karlie Kloss, as the knife thrower's assistant, who will throw those knives right back at ya.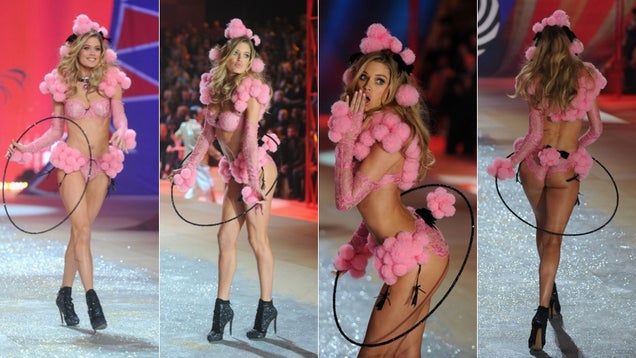 S
What you're looking at right now is a woman dressed as a pink poodle jumping through a hoop. We all make choices!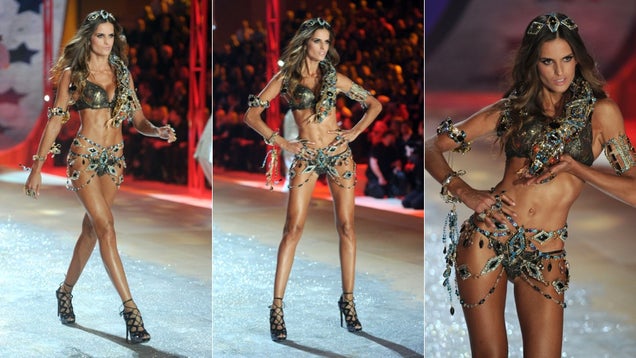 S
They made a big to-do about this a four-foot diamond back python made of colored Swarovski crystals and vintage crystals. It looks like shit.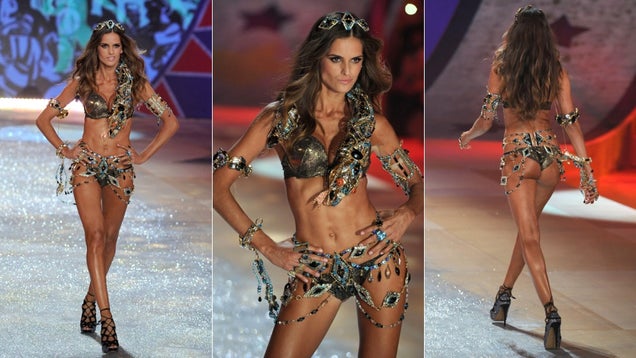 S
Not impressed by your snake, madam. Apologies.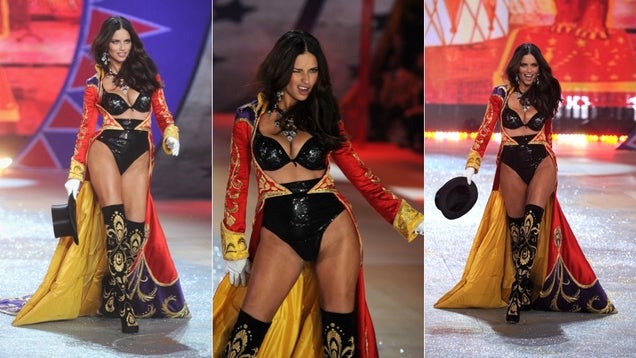 S
Adriana Lima, ringleader.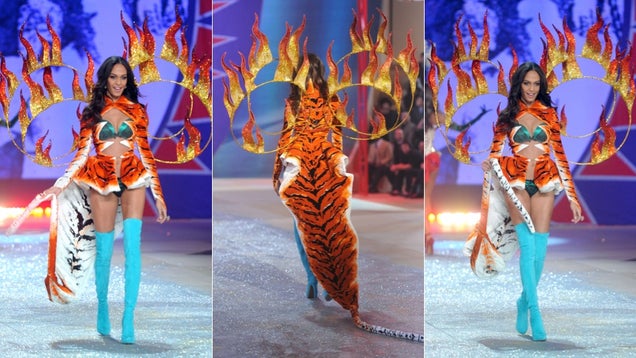 S
Joan Smalls: Tiger, jumping through fiery hoops.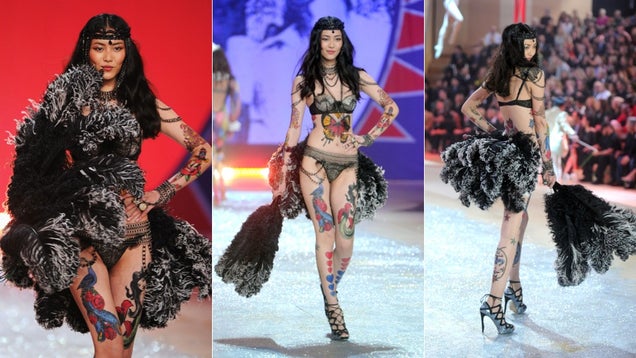 S
I'll admit it, I like this one. Liu Wen as the Illustrated Woman, awesome.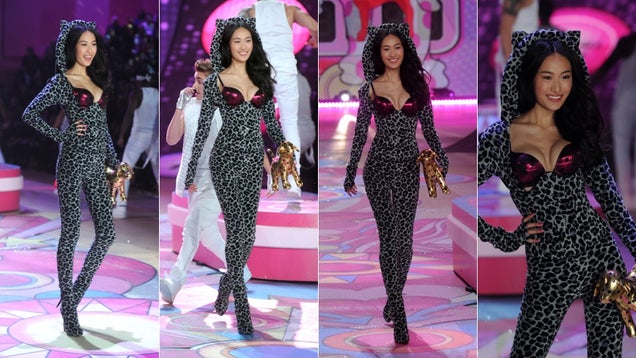 S
Another concept in this fashion show was "toy box." Brace yourself, because this has never happened, in the history of womankind: It's a lady dressed as a sexy cat! Groundbreaking.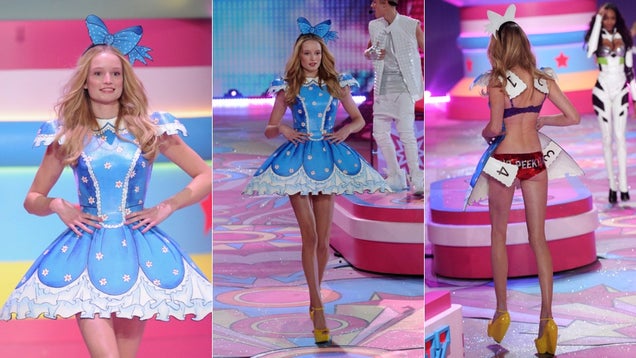 S
Maud Welzen, paper doll.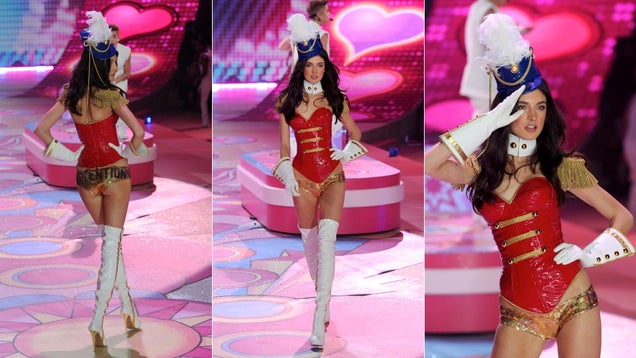 S
Jacquelyn Jablonski as a toy Soldier.
Jourdan Dunn, robot.
S
Tinker toys? Sexy!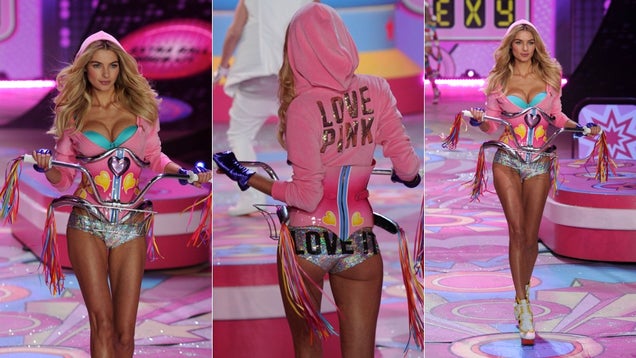 S
A woman needs a velour hoodie like a fish needs a bicycle.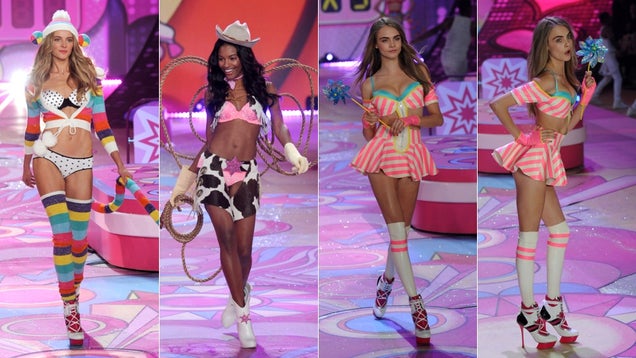 S
Sock monkey, cowgirl, and whatever that other thing is.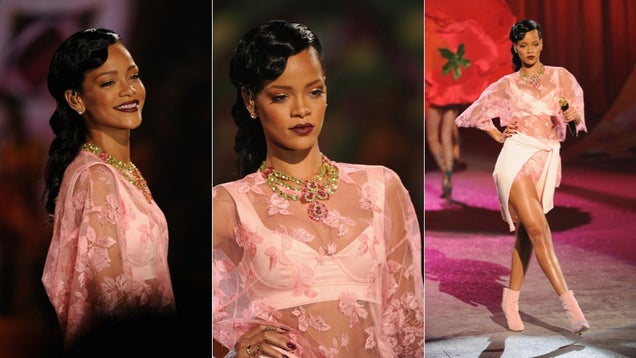 S
Judging by these shots — and the ones on her instagram — Rihanna had a really good time.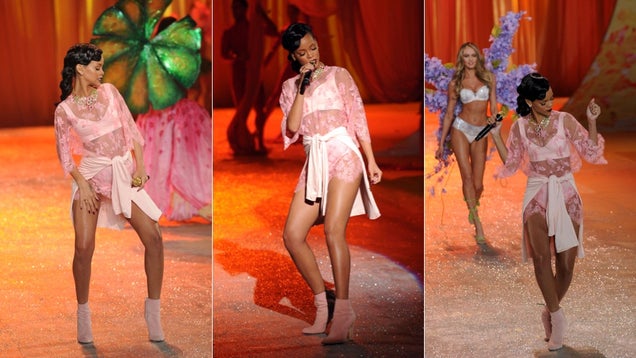 S
Where have you been all my li-aye-aye-aye-aye?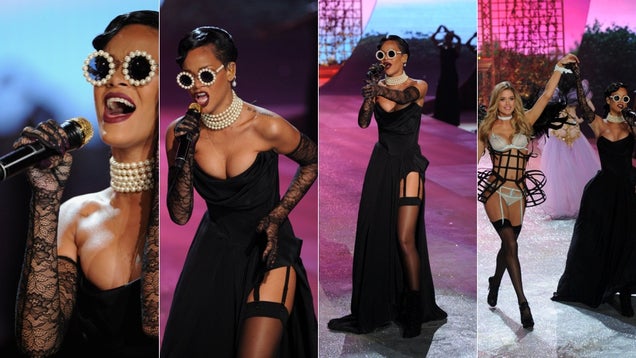 S
Costume change! Pearls, girls.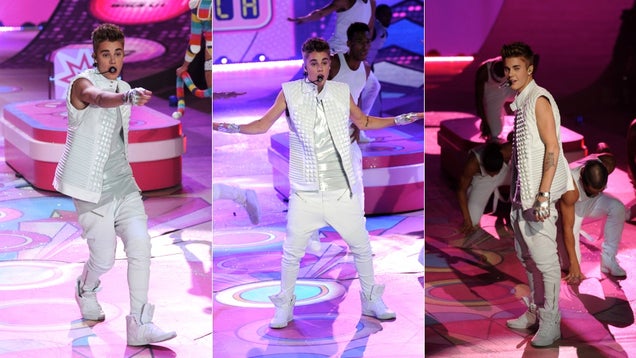 S
Justin Bieber, possibly inside a pinball machine.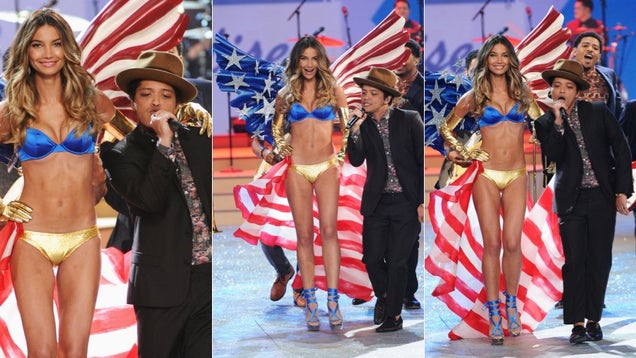 S
I love my boyfriend Bruno Mars, I don't care how short he is.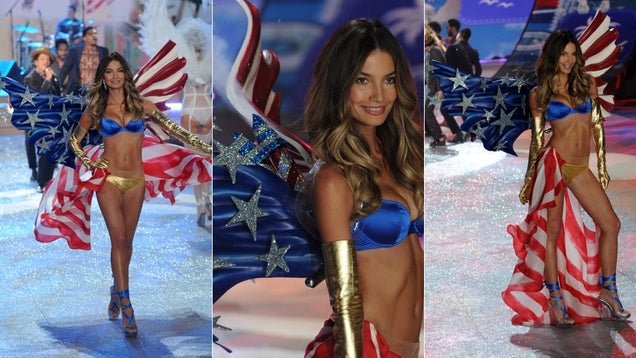 S
Fuck yeah, America. What a glorious use of dollars and ingenuity. USA. USA.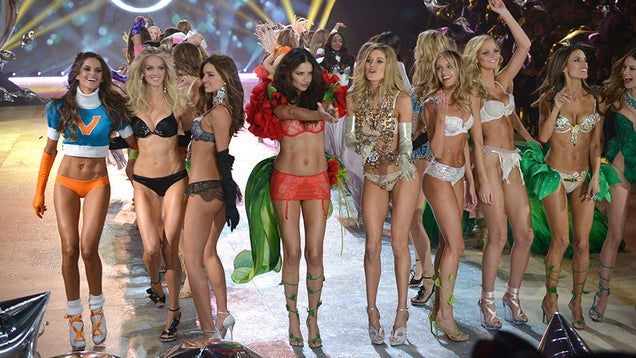 S
Images via Getty.