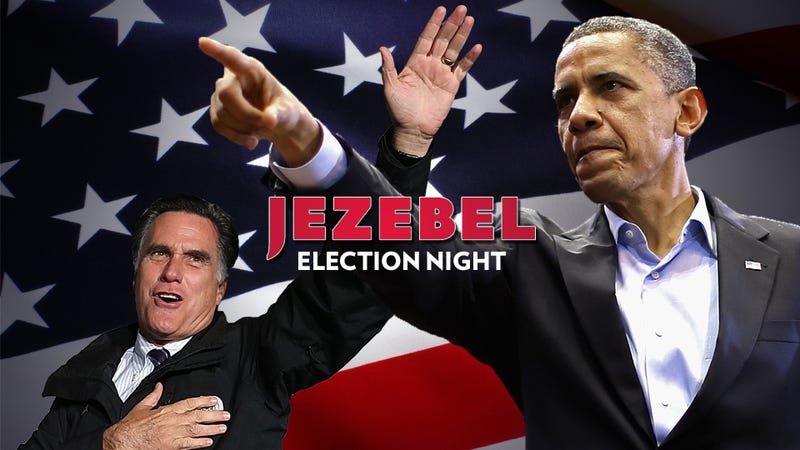 Ladies and gentlemen, it's here. Election night. Hopefully you voted. Hopefully your ballot is being counted. And hopefully, tonight, we'll knew who won the 2012 Presidential Election.
Is your head spinning? Are you in a daze? I'm quivering with anxiety and just five minutes ago typed "erection night" accidentally. I'm hoping my ballot actually got scanned (I didn't see it go into the machine with my own eyes) and I'm worried somewhat that my favorite astrologer Susan Miller is predicting that there may be unexpected results: maybe someone will win the popular vote, and someone else will win the electoral college? (Mercury went retrograde today at 7pm.) But! Nate Silver crunched the numbers and as of right now, he claims there's a 90% chance that Obama will win.
Meanwhile, we're monitoring Twitter (which might crash), blogs, TV networks and phone calls from Mom to bring you the very latest in election night news. Keep checking back, and also let us know how you're spending election night: Are you drinking? Are you watching TV? What channel are you watching? Are you scared? Excited? Exhausted??? I'll be updating and adding news below.
11:25pm
DONE DEAL GUYS. Thanks for hanging out!
11:23pm
This happened because of you. Thank you.

— Barack Obama (@BarackObama) November 7, 2012
OMG OMG HE DID IT ! HE DID IT ! IM CRYING !!!! THANK GOD HE DID IT !!!!!!

— Cher (@cher) November 7, 2012
Nicely done, America.

— Dita Von Teese (@DitaVonTeese) November 7, 2012
11:18
CNN is calling it.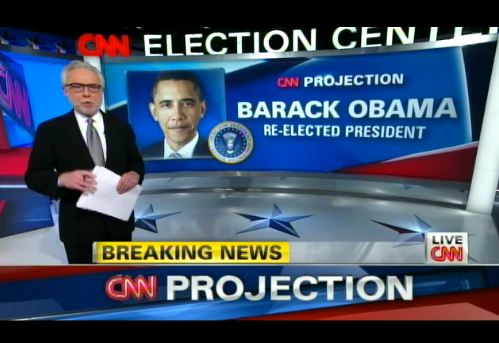 11:16pm
NBC is calling it. Barack Obama has been reelected.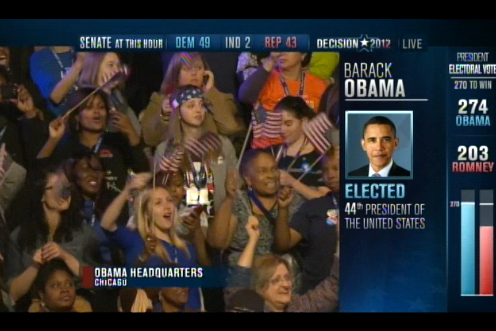 11:13pm
In case you missed it: Mike Huckabee
thinks
Republicans have done a pathetic job of reaching out to people of color. ORLY?
Meanwhile: Obama is projected to win new Mexico, which would put him at 249 electoral votes.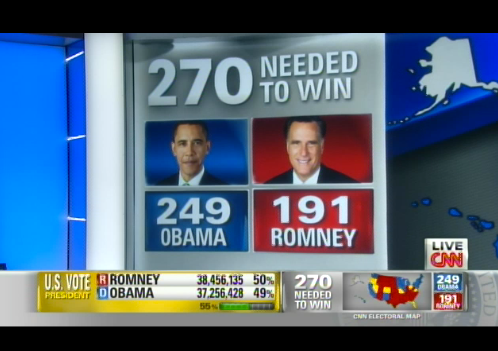 11:09pm
CNN is calling IOWA!!!
11:01pm
CNN is projecting Obama will take California, Washington and Hawaii. And Wisconsin. Romney is projected to win North Carolina.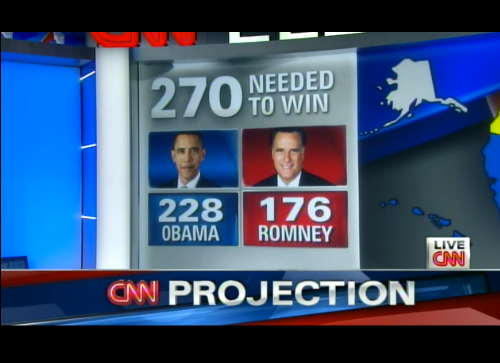 10:54pm
Our editor-in-chief is at the Obama HQ in Chicago. Her EXCLUSIVE report: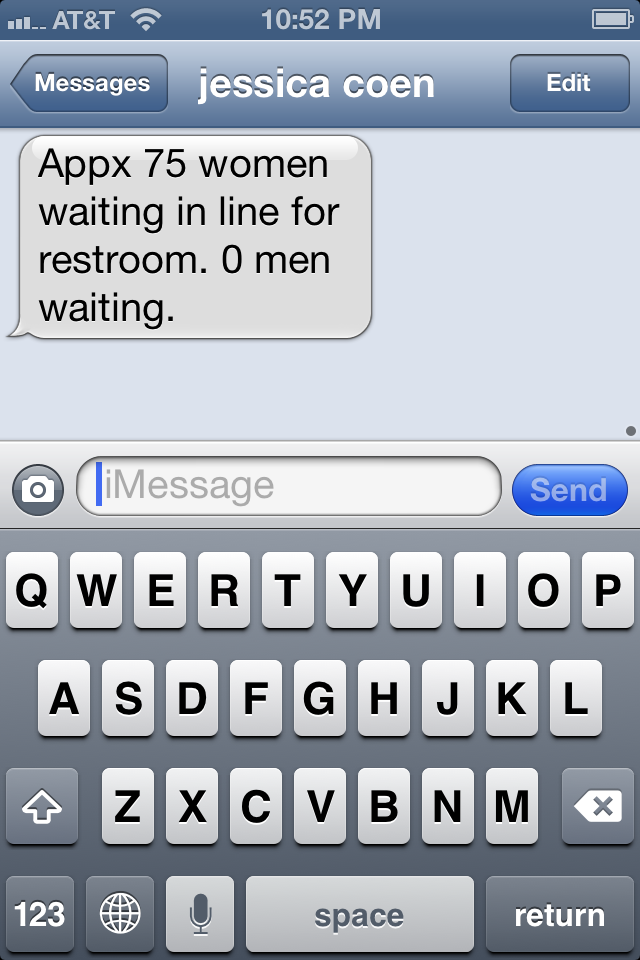 10:44pm
My dog decided I was spending too much time with the laptop and has commandeered my lap. He is watching CNN and yawning.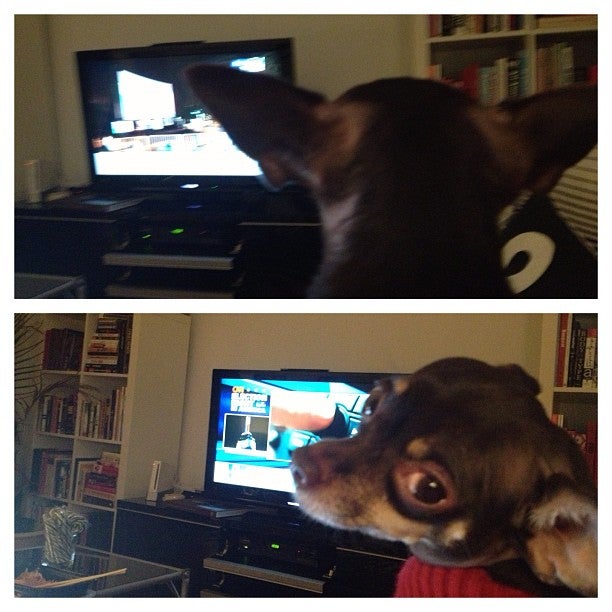 10:30pm
I'm tired. There has to be a better way to do this. I feel like I'm waiting for Santa Claus, or for the New Year's Eve ball to drop. Except so many maps and so much talking. Not enough party.
@toddakin skulk away.I cannot wait to never hear from you again.

— mia farrow (@MiaFarrow) November 7, 2012
10:24pm
Here's what the TV sounds like right now: Florida Florida Florida Florida Florida Florida Florida Florida Florida Florida Florida Florida. James Carville uttered the word Florida about seven times in 30 seconds.
10:16pm
Elspeth Reeve at The Atlantic Wire has put together a gallery of The Sad Faces of Fox News on Election Night!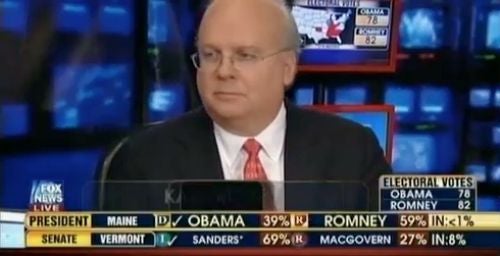 Karl Rove might cry.
10:12pm
The old white dude. RT @davidplotz: I've forgotten which rape senate candidate is which.

— Anna Holmes (@AnnaHolmes) November 7, 2012
STAY IN LINE.STAY IN LINE.STAY IN LINE.IF YOU WERE IN LINE BEFORE YOUR POLL CLOSED YOU STILL HAVE THE RIGHT TO VOTE.WE ARE COUNTING ON YOU.

— Spike Lee (@SpikeLee) November 7, 2012
Claire McCaskill defeated Akin. On her own. LEGITIMATELY.

— Rachel Syme (@rachsyme) November 7, 2012
10:09pm
Nate Silver has North Carolina on his mind:
Almost all of Mr. Romney's advantage can be explained by one county, Wake County, in North Carolina's Research Triangle. President Obama won it by 64,000 votes in 2008. This year, Mr. Romney leads by 2,000 votes so far.
10:07pm
Oh how delicious that Todd Akin and Richard Mourdock lost. Belittling rape isn't a good platform, huh?! #Election2012

— Mona Eltahawy (@monaeltahawy) November 7, 2012
10:04pm
CNN projecting that Obama wins New Hampshire.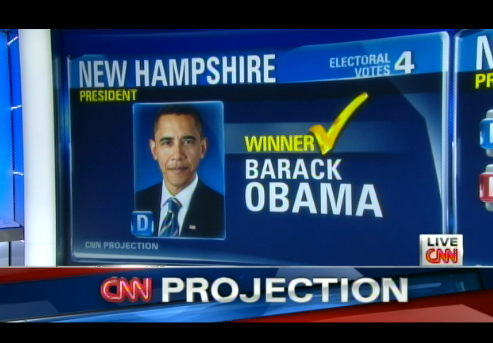 9:59pm
Massachusetts voters approve marijuana for medicinal purposes. Story: on.today.com/RTmFHL #NBCPolitics

— TODAY(@todayshow) November 7, 2012
Don't feel too bad, Richard Mourdock. It's all part of God's plan for you to SHUT THE FUCK UP FOREVER YOU MISOGYNIST PIECE OF SHIT.

— Wil Wheaton (@wilw) November 7, 2012
Shoutout to people standing in line to vote! Stay strong. Play "Guap" or "Slight Work (Remix)" on your phone & go ham to pass the time

— Aziz Ansari (@azizansari) November 7, 2012
In line to vote? Don't budge! As long as you're in line when the polls close, you can still vote. #StayInLine #VOTEREADY

— Donna Brazile (@donnabrazile) November 7, 2012
9:53pm
Like many of us, Martha Stewart has turned to food.
i was so nervous i went into town for a slice of pizza! 3 slices actually- second time i have done that in 12 yearsit was not delivered!

— Martha Stewart (@MarthaStewart) November 7, 2012
Retta is busy being hilarious:
Tonight we finally find out if the adage "Once you go black, you never go back" holds up.

— Retta (@unfoRETTAble) November 7, 2012
9:46pm
BIG NEWS! Warren. Baldwin! Pennsylvania!
Fox calls #WISen for Tammy Baldwin, who will be the first openly gay person to serve in the Senate.

— daveweigel (@daveweigel) November 7, 2012
CNN projects: President Obama takes Pennsylvania. #Election2012

— Reuters Politics (@ReutersPolitics) November 7, 2012
BREAKING: @cbsnews projects that Elizabeth Warren wins MA Senate seat #MAsen

— CBS News (@CBSNews) November 7, 2012
9:42pm
Text from coworker Madeleine: "I am eating whiskey."
Text from friend in California: "I especially want Obama to win in every state where Republicans made efforts to keep poor, minority people from voting."
UPDATE: 100s still standing in line to vote in Miami area, many in places w/o access to restrooms: flpbd.it/UOHwu

— David Beard (@dabeard) November 7, 2012
9:41pm
Friends, I'm calling it: SNACK TIME!
9:36pm

CNN estimates are updated in real time on a rather breathtaking graphic template: The Empire State.. twitter.com/carr2n/status/…

— david carr (@carr2n) November 7, 2012
9:32pm
Guys, I am worried about Nate Silver!
On The Wall, The Writing.

— Nate Silver (@fivethirtyeight) November 7, 2012
9:30pm
Wolf Blitzer is YELLING about how Romney is winning by a mere 636 votes in Florida. It's CLOSE, he is saying. Yes, Wolf. We can see that.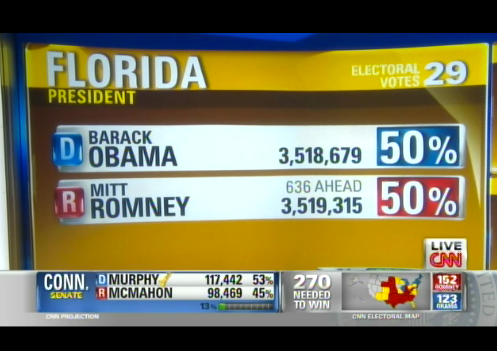 9:24pm
Is it possible to pour this can of Coca-Cola directly into my veins? Or aorta?
Growth in Non-Cuban Hispanics Helps Obama in Florida nyti.ms/PBZTHL

— Nate Silver (@fivethirtyeight) November 7, 2012
9:18pm
Friend on Facebook writes, "I will voMITT."
BTW did you see what Bill O'Reilly has been up to tonight? Basically, poor people want stuff, and Obama will give it to them. Not sure what kind of "stuff" he means, maybe freedom of choice? Equal rights? That kind of stuff?
9:17pm
I miss #TimRussert, too! He always brought the A-game.

— octavia spencer (@octaviaspencer) November 7, 2012
9:12pm
FLORIDA AT 50/50. Raise your hand if you have a stomach ache.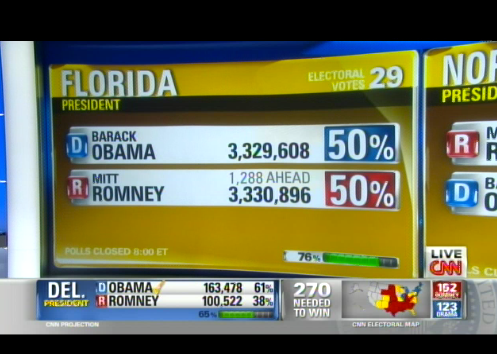 9:09pm
What are reverse coattails? I am picturing a McQueen jacket.
The Republican Party will retain control of the House of Representatives, CNN projects. #CNNelection cnn.com

— CNN Breaking News (@cnnbrk) November 7, 2012
9:05pm
RT @ashleyrparker: Dead silence in Romney ballroom when Fox News announces that he lost Michigan, his native state...

— Brian Stelter (@brianstelter) November 7, 2012
9:01pm
Obama projected to win Michigan, New York, New Jersey. CNN showing Obama headquarters, where there is much cheering, some jumping up and down. Romney still ahead in terms of projected electoral votes.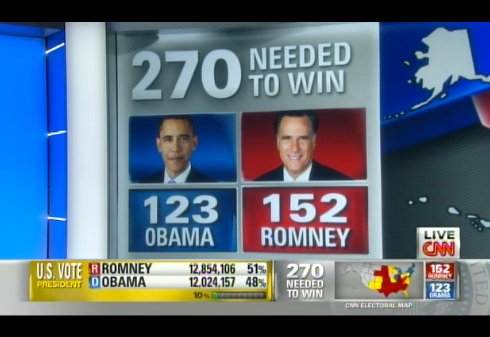 9pm
Romney projected to win Kansas, Louisiana, Nebraska, South Dakota, Texas, Wyoming, Mississippi.
8:54pm
Remote control decided to stop working! Mutiny!
8:50pm
The Politico map has 64-67 Obama-Romney.
8:45pm
Nate Silver says that in Florida, things are exceptionally close. And:
We're tracking the individual counties as they come in from that state, particularly those where there is a decent amount of Election Day votes reported, rather than just absentee ballots. Throughout the state, the vote tallies are coming in about exactly as you would expect in a tied race.
8:42pm
Romney is projected to win Alabama. This means he could now have 82 electoral votes. EIGHTY TWO. Do you have your gynecologist on speed dial?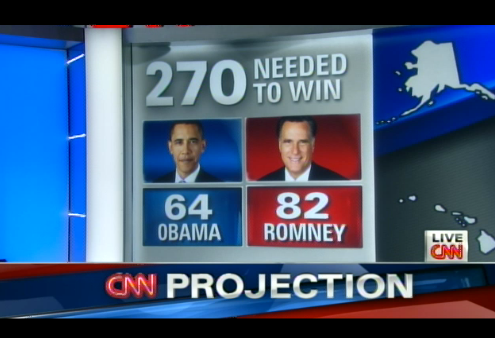 8:31pm
Romney is projected to win Arkansas and Tennessee. This bumps him up, he now has more electoral votes than Obama. Romney has 73, the President has 64. Deep breaths, people. DEEP BREATHS.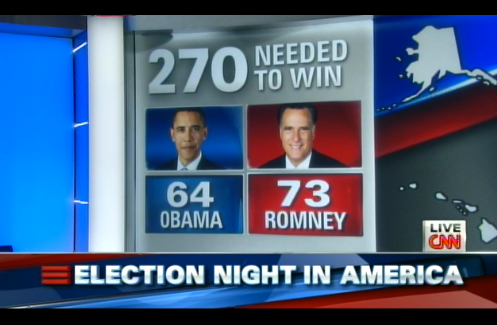 8:24
Just FYI I am putting on a sports bra and ordering Thai food.
8:20pm
Romney will win Georgia's 16 electoral votes, CNN projects. #CNNelection cnn.com

— CNN Breaking News (@cnnbrk) November 7, 2012
8:18pm
Nate Silver has some news for you, and it might make you break out into a clammy sweat:
So far, however, Democrats also have an edge in the party identification numbers in the exit polls. In Ohio, 38 percent of voters identified as Democratic in the exit poll as compared with 31 percent of Republicans. And in Virginia, Democrats had a 37-to-33 advantage in party identification. These numbers are similar to what many pre-election polls showed.

Mitt Romney is not necessarily poised to lose, however: he led President Obama among independents in both the Ohio and Virginia exit polls. It may be that some conservative-leaning voters are identifying as independent rather than Republican in the surveys, but still voting for Mr. Romney.
8:14
Now Wolf says 64-56, Obama/Romney.
8:08pm
I guess I will order some food. In the immortal words of Karen Carpenter, we've only just begun.
I felt so sexy & powerful at the voting booth today

— RuPaul (@RuPaul) November 7, 2012
8:05pm
Romney is ever so slightly ahead in the popular vote, but again, it's early. Now seems like a good time to make a double of whatever you are drinking, however.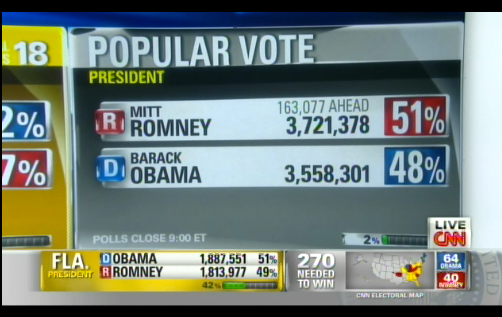 8:02pm
64 to 40 at the moment.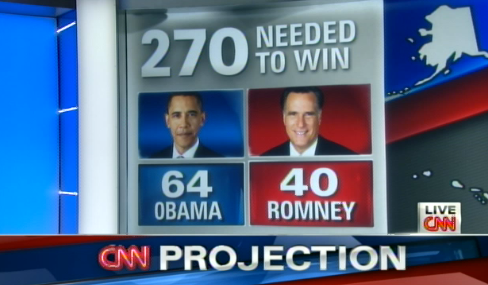 8pm
Obama is projected to win Connecticut, Delaware, Illinois, Maryland, Maine, Massachusetts, Rhode Island, DC. Massachusetts is Romney's state.
Romney is getting Oklahoma.
Obama has the lead in Florida. But it's too early.
7:49pm
Polls are closed in Ohio and the counting begins. #2012Election

— Jon Husted (@JonHusted) November 7, 2012
7:47pm
ugh the 2008 election was way more fun, tina fey was everywhere all the time and i had fewer gray hairs

— Tavi Gevinson (@tavitulle) November 7, 2012
7:58pm
Guys, zombies???
Favorite AOL headline of the evening: Man Dies At Polls, But Comes Back To Life To Finish Voting

— Ms. Magazine (@msmagazine) November 7, 2012
7:46pm
Someone please read this story about unlawful voter purge in Pennsylvania. I can't. I can't with this!
7:45
Um, did the rapper The Game pay voters to vote? TMZ reports:
he's already shelled out $10,000 to 500 voters stranded by the storm ... in order to help them make it to the polls… The money was intended to help voters who were hit hard by last week's disaster to pay for gas or another form of transportation in order to cast their ballot.

And get this — Game says he's so committed to the cause ... he even helped shuttle people to the polls in his own car.
7:40pm
OUR BOYFRIEND CORY BOOKER IS ON NBC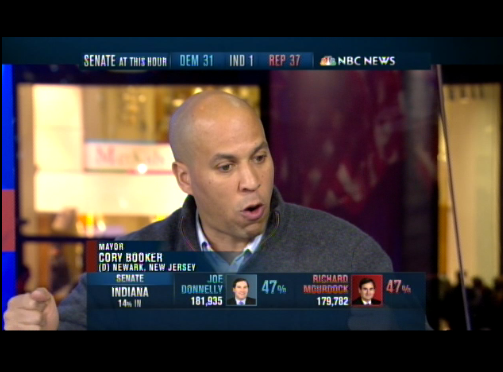 7:37pm
RT @nbcnews NBC News declares Mitt Romney the projected winner in South Carolina. #NBCPolitics

— TODAY(@todayshow) November 7, 2012
7:36pm
Paula Deen just tweeted about how awesome cast iron cookware is.
7:35pm
Whatever happens tonight, I hope Americans will just relax and love the shit out of each other.

— Kristen Schaal (@kristenschaaled) November 7, 2012
7:33pm
Wolf Blitzer says Ohio and North Carolina are very very close.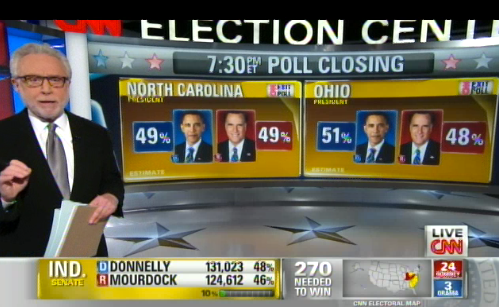 7:30pm
West Virginia: Romney, projected winner.
7:28pm
Switching to CNN — NBC just gave me the weather. I know there's another storm coming but I need projection updates!
7:24pm
Virginia update…
Exit polls are exit polls, but Virginia as of now is showing +6 D in party ID. So the much-criticized skew may hold in actual reality.

— Neil King (@NKingofDC) November 7, 2012
7:17pm
I love Sherman Alexie.
Dear people who think Republicans and Democrats are the same: Stop being so white.

— Sherman Alexie (@Sherman_Alexie) November 7, 2012
7:12pm
Okay, CNN is projecting that Mitt Romney will win Kentucky, while President Obama will win Vermont.
7:06pm
I have CNN on in the picture-in-picture. Maps and graphs and maps and graphs. Mind-numbing.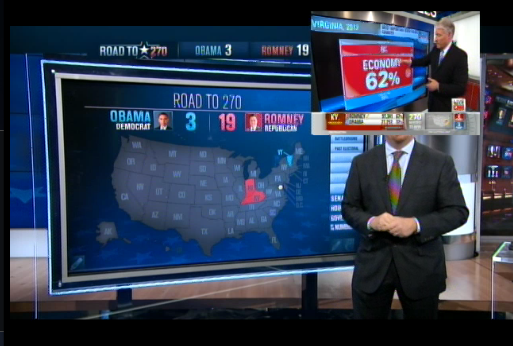 7:00pm
Okay, for now I am watching NBC. The soothing brows of Brian Williams. The first closings! Virginia: Too close to call. BITE YOUR NAILS. Indiana: Romney. Kentucky: Romney. South Carolina: Too early to call. Vermont: Obama is the projected winner. Georgia: Too early to call. These are projections, obviously!
6:44
Breaking news from Extra: President Obama likes Katy Perry's skintight "Forward" dress. Thank you, Extra, for the important update.
6:38pm
Apparently Mitt Romney has not written a concession speech. He has, however, written a victory speech. Interesting. I'm so superstitious, I would think it was bad luck to write either one. Like buying baby furniture before the kid is born.
6:36pm
Don Cheadle has something to say:
Waiting to vote? Stay in line! As long as you're in line before the polls close, you can still vote.

— Don Cheadle (@IamDonCheadle) November 6, 2012
6:32pm
Ooooh, Beyoncé is on Instagram, and put up a pic of herself wearing a "Texans for Obama" T-shirt.
6:28pm
Good news, folks! An ayahuasca-guzzling shaman in the Andes mountains predicts Obama will taste victory tonight. Psychoactive homebrew for the win!
Here's some stuff to check out while you're waiting for results:
And look, LOOK at this adorable picture we saw on Getty: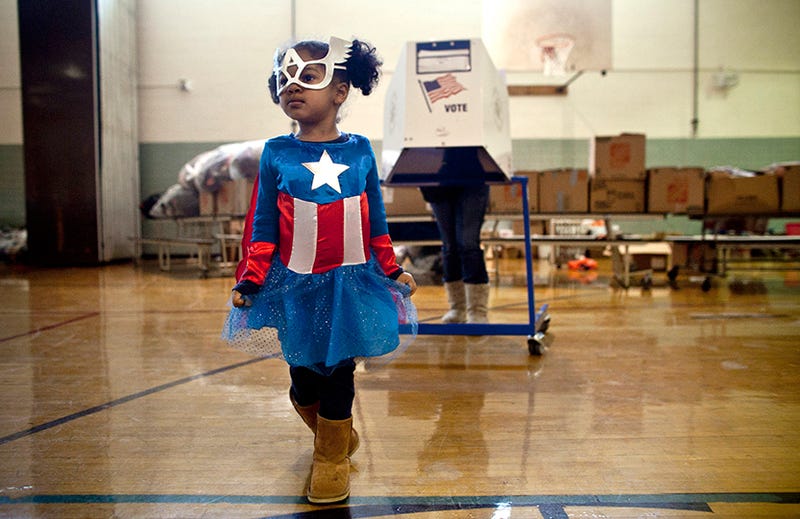 NEW YORK, NY- NOVEMBER 06: Raena Lamont, 3, wears a Captain America at a polling center doubling as a donation site November 6, 2012 in the Staten Island borough of New York City. As Staten Island continues to recover from Superstorm Sandy, a few polling stations have been relocated due to power outages or ongoing use as an evacuation center. (Photo by Allison Joyce/Getty Images)