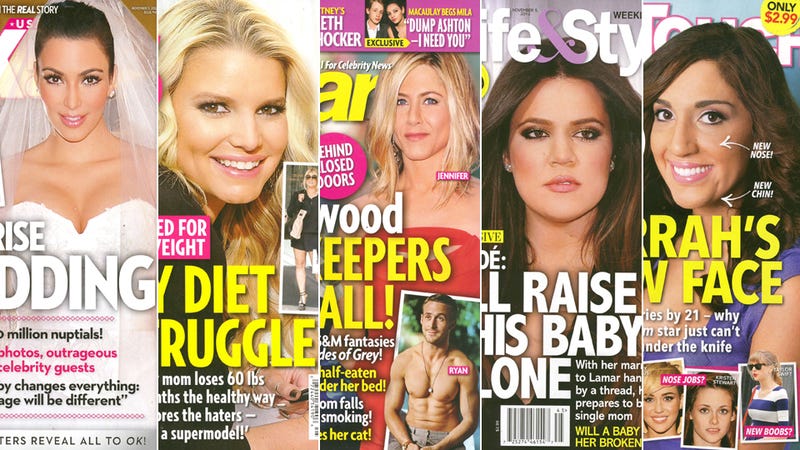 Welcome back to Midweek Madness! Every Wednesday, Intern Tanisha Love Ramirez heads to the newsstand and picks up the hot-off-the-presses issues of In Touch, Us, Ok!, Life & Style, and Star. This week, Kimye's hypothetical wedding would cost $20 million; a Teen Mom got a new face; Mariah Carey got an EIGHT hour massage; and "Hollywood Housekeepers" claim that Britney Spears is a slob and Ryan Gosling pees sitting down.
---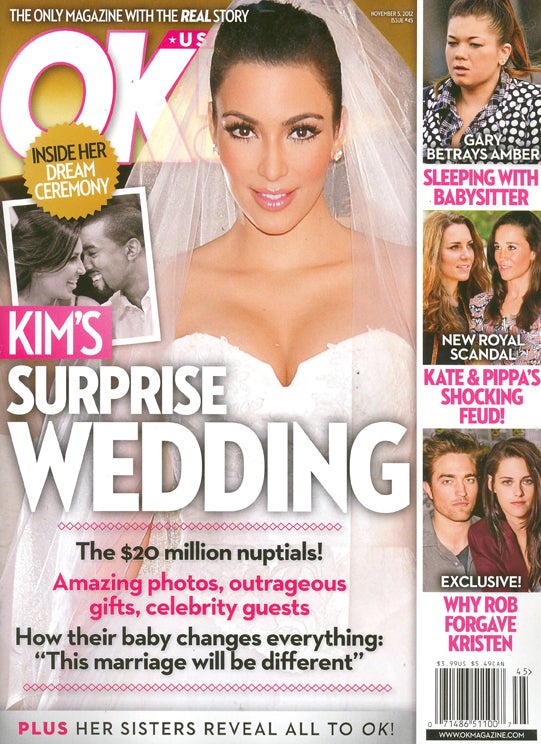 Ok!
"Kim's Surprise Wedding"
Surprise, this story is a dud! The not-yet-divorced-not-yet-engaged Kim Kardashian is not presently executing plans for a surprise wedding. Using a pic of Kim in the dress that she wore to wed Kris Humphries — with the diamond headband Photoshopped away — the mag has dreamed up a fantastical $20 million wedding, including more than $2 million on flowers, an Aston Martin wedding gift for the groom, a $100k emerald choker for the bride, and swanky pre-paid vacations for the wedding party. Also, Kimye are allegedly trying to go half on a baby together, because the couple want "a kid for Kanye to show off when he hangs out with Jay-Z and Beyonce'" and Kim is already "putting on weight really fast", so why not? Priorities. Insiders allege that Kate Middleton and her muggle sister are feuding, stating that Pippa is fuming that Kate's royal in-laws have put the kibosh on Pippa's press tour to promote her new party-planning book, Celebrate, and Kate is all, nobody would care about your stupid book if I didn't marry into royalty, so shut your big fat, whiny mouth! Burn! In other news, Kristen Stewart won Robert Pattinson back by giving up the passwords to all of her accounts, all of her guy friends and all of her insecurities. Snooze. Gary Shirley of Teen Mom fame has made his onetime booty-call, Kelsi, into a mother figure for his daughter Leah. And Finally, Demi Moore was spotted looking less waif-like and the mag has dubbed her to be hot, once again.
Grade: F (shitting yourself)
---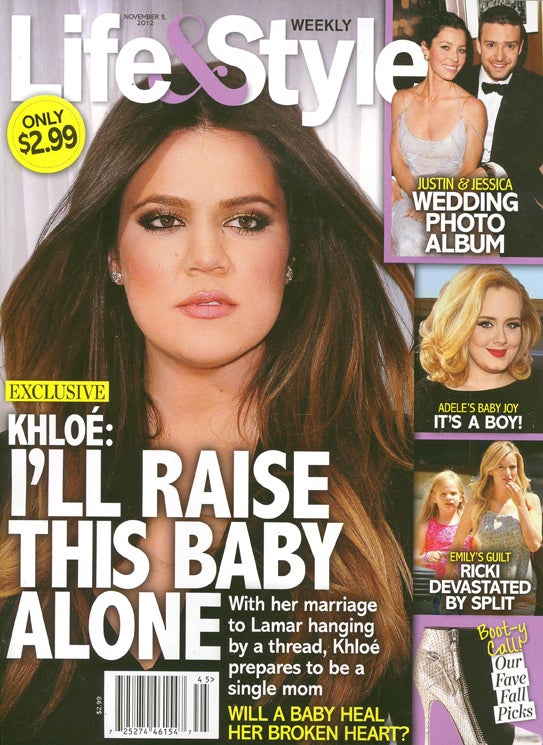 Life & Style
"I'll Raise This Baby Alone"
Move right along. Nothing to see here. "This Baby" is as fictitious as Kim's
Ok!
wedding.
Khloe Kardashian is not preggers
and never exclaimed that she would raise this baby, that baby, or dem babies, alone. The mag alleges that Lamar thinks getting Khloe knocked up is so five minutes ago, and has moved on to just being a dad to the two children that he already has from a previous relationship. Meanwhile, Khloe has given her ovaries an ultimatum, giving herself until Christmas to get pregnant, or she's going to adopt. Meanwhile,
Heidi Klum's friends think she's slumming by dating her bodyguard
, but Heidi doesn't give a fuck, says a friend who isn't Heidi. Tori Spelling's high-risk pregnancy and traumatic post-baby womb explosion has caused Tori and her husband, Dean McDermott, to become butterfly-stitched together in solidarity and love!
Sofia Vergara is putting down the sweets and picking up the weights
in order to fit her already-perfect ass into an itty-bitty wedding dress-sans wardrobe malfunction. The mag gathers quotes that alternate between praising the starlette's "voluptuous" figure, and calling her a little heavy in her pre-engagement days. Let us pour out a Pepsi for our homie Sofia. And lastly, here is some real "news": a sidebar pictorial of celeb moms proving that women can parent in heels. (Fig. 1)
Grade: F (vomiting in your mouth and swallowing it)
---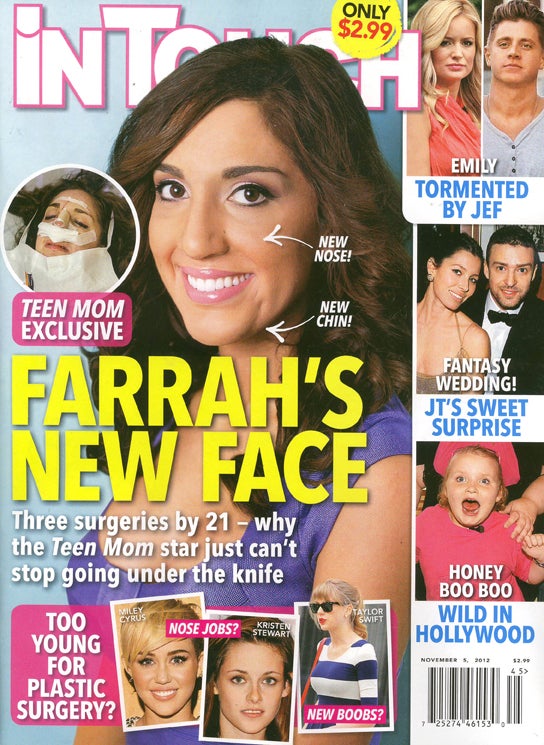 In Touch
"Farrah's New Face"
Surgeries, diets and starvations, oh my! Teen Mom's Farrah Abraham denies ever having insecurities about her body or face, but "finally feels gorgeous" now that she's had her face opened up and installed a new nose and face to match her two-year-old boobies. (Fig. 2) When asked what she told her daughter, Sophia, about the surgery, Farrah said, "I've told her that mommy just wants to be a beautiful butterfly." In a piece to compliment Farrah's new face, there's a four-page spread of female celebrities' bodies and faces being picked apart by surgeons who have never treated them, alleging that they've had cosmetic surgery too young. (Fig. 3) In the same issue featuring a young reality star opting to crack her face open, and build it from scratch, the mag presents readers with "Kanye and Kim Get Ugly", in which the stars are treated the iPhone UglyBooth treatment, peppering them with pimples, pinching their eyes together and enlarging their noses. (Fig. 4) Meanwhile, Johan Hill fell off the diet-wagon and the mag was there to document it, sharing that he sampled from no less than 22 dishes served at his table during a recent night out with friends. From body-shaming to double standards, the mag calls Justin Timberlake a Groomzilla for lovingly participating in every aspect of wedding preparation, planning elaborate pre-wedding fetes for his family and friends, and helping his wife-to-be pick out a wedding dress. So, Groomzillas are charming and Bridezillas are epic bitches? Got it. Finally, the mag announces the new Price Is Right model, 24 year old Rob Wilson, with a pic of dude in nothing but his skivvies. (Fig. 5)
Grade: D+ (pissing yourself while wearing jeans)
---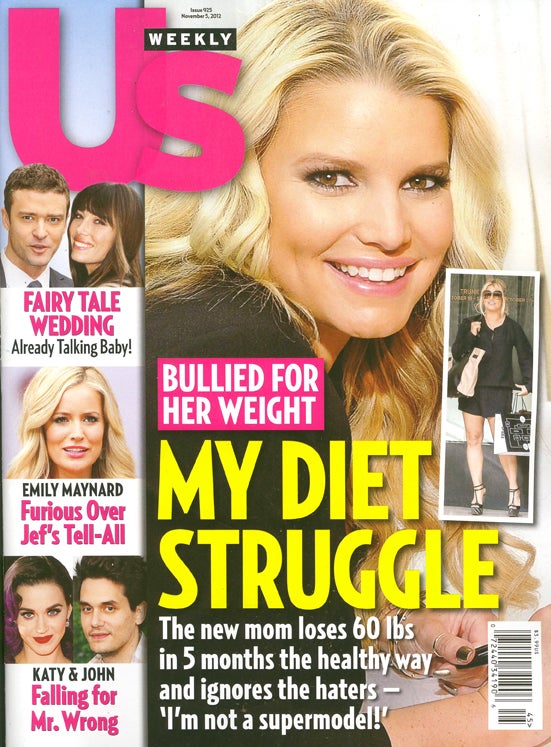 Us
"My Diet Struggle."
Wow. Apparently 109 headlines about Jessica Simson's weight were not enough. In this story, we learn that Jessica Simpson is losing weight "like a mere mortal: pound by pound." There are quotes from her trainer, quotes from her Weight Watchers leader, pictures of her at her many different weights since 2001, old tweets, new tweets, the words "lean proteins" and so on. Jessica and her pals — including mom Tina — get weighed every Wednesday, and Jessica says,"It's really encouraging to know you're all going through the same thing. Our meetings are also a great time to celebrate victories." This narcoleptic cat gif sums up our emotions here. Moving on! Britney's court battle is getting nasty, with supercreep Sam Lutfi claiming she was on amphetamines, and Team Spears basically saying, yeah, that Lutfi gave her. In "25 Things You Didn't Know About Me" by Ryan Lochte, he a reveals scintillating secret: "I love movies." (Fig. 6) Les enfants Jolie-Pitt were spotted eating at the Counter in Los Angeles last week, where Maddox ordered a rare, adult-sized burger and the other kids had mini-burgers. The bill was paid by a manny. Mariah Carey had an eight hour massage in late September. The masseuse was paid $1500 and Mimi had the DVD of Bruno on repeat during the rubdown. (?!??!? infinity) On page 46 there's a story that didn't even make the cover: "Ask The President," in which Barack Obama answers reader questions. Advice for someone who wants to be president? "Be careful what you post on Facebook! And most of all, take your education seriously." Wise words. Lastly, in news from 2001, black frames are chic! (Fig. 7)
Grade: B- (belly-ache-relieving fart)
---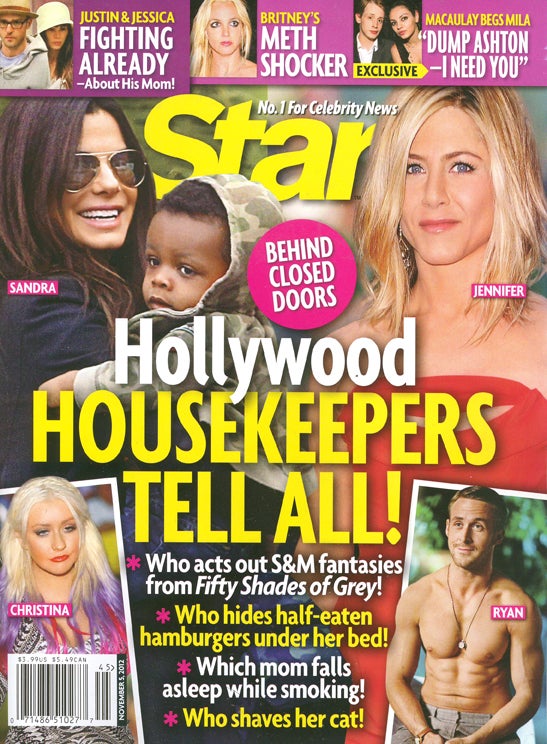 Star
"Hollywood Housekeepers Tell All!"
This is a pretty hilarious cover story, full of ridiculous "news" like: Mariah Carey's "glam squad" once dressed her and did her makeup while she was passed out drunk on the bathroom floor. Lindsay Lohan has a locked trunk of sex toys in her bedroom, but once lost the key and had to call a locksmith. Britney leaves clothes and half-eaten fast food all over the house. Christina Aguilera drinks champagne all day long. Reese Witherspoon is sweet and generous, duh. Ryan Gosling pees sitting down and waxes his chest and back every couple of weeks. Jessica Simpson leaves so many hair extensions lying around it looks like an animal's been shedding. Angelina smokes in bed. (The cover says something about falling asleep while smoking, but that is NOT in the story.) Kate Middleton has a home management book from the 1920s and has her staff do weird money-saving things like scrub the kitchen with tea bags. Jennifer Aniston and Justin Theroux have been acting out scenes from Fifty Shades of Grey, which means "blindfolds and dirty talk." And so on! Also inside: Robert Pattinson and Kristen Stewart might just be back together because they will each make $14 million if the new Twilight movie does as well as the last one. Maddox and Pax are "girl crazy" "players" and this is illustrated with little pink hearts! (Fig. 8) Rihanna called Karruche Tran, Chris Brown's girlfriend, and hatched a plan in which the two of them would confront him about being a two-timer. Somewhere in Brooklyn, Macaulay Culkin was spotted telling Mila Kunis that his life is falling apart without her and he wants her back. Daniel Craig and Rachel Wiesz are trying to have a baby. Gavin Rossdale and Gwen Stefani might adopt a third kid, and Angelina is encouraging this. Neighbors in West Hollywood report that Katy Perry and John Mayer have "very loud sex." Speaking of sex, finally, there's another story all about how Jennifer Aniston and Justin Theroux are "going at it like rabbits" and Jen says Justin is "way better in bed than Brad." A step up from the desperate lonely old hag headlines, that's for sure.
Grade: B (upscale toilet paper)
---
Addendum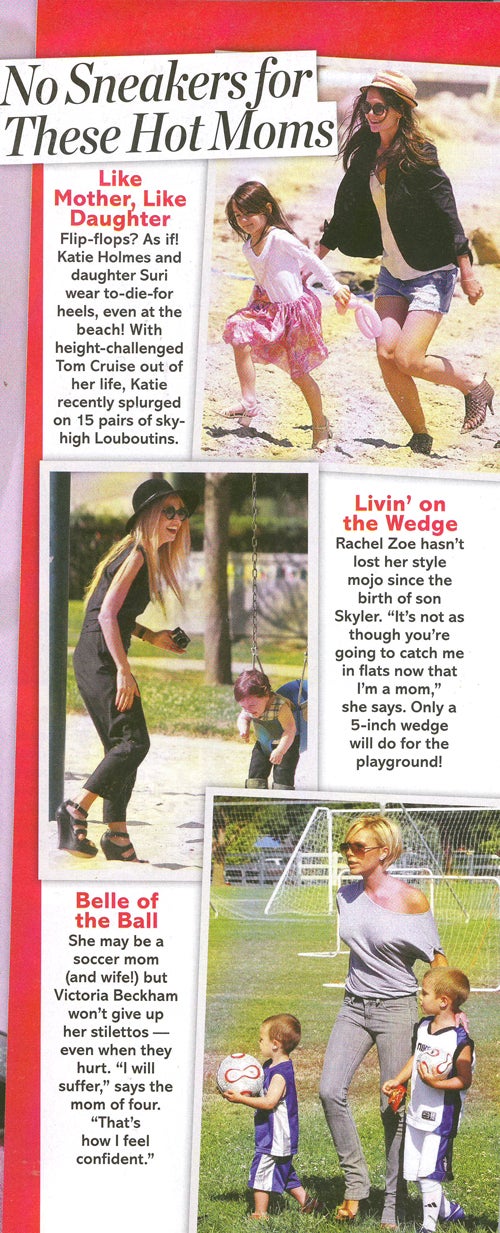 Fig. 1, from Life & Style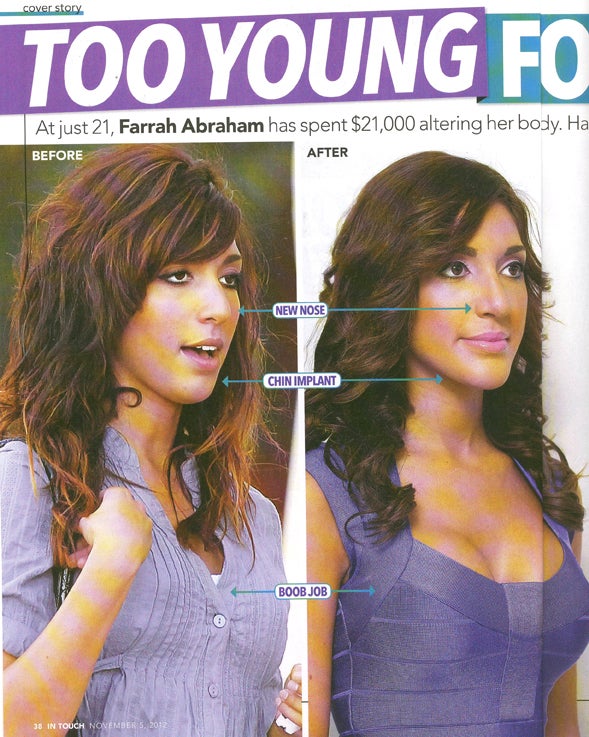 Fig. 2, from In Touch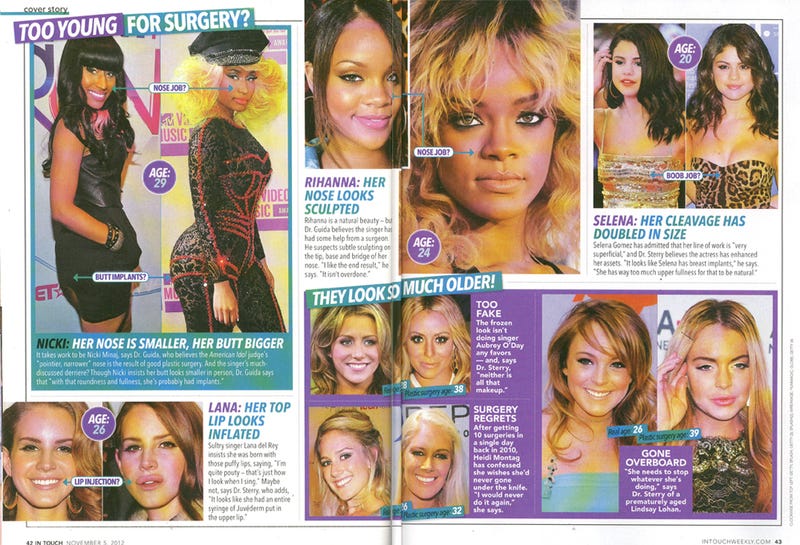 Fig. 3, from In Touch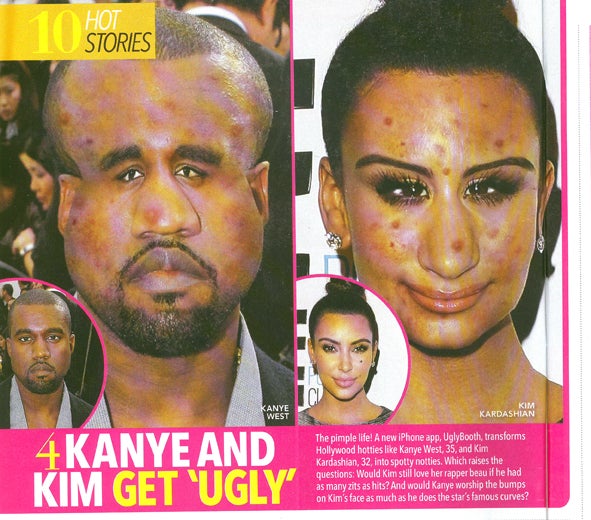 Fig. 4, from In Touch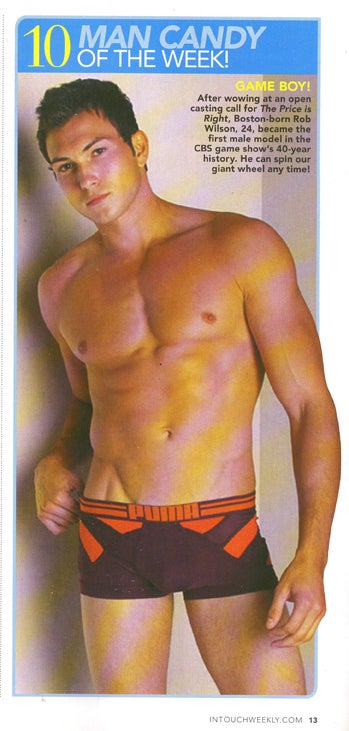 Fig. 5, from In Touch

Fig. 6, from Us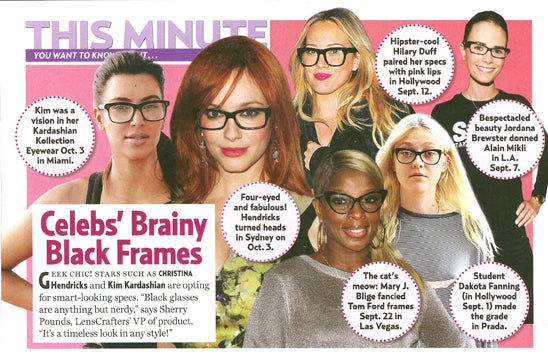 Fig. 7, from Us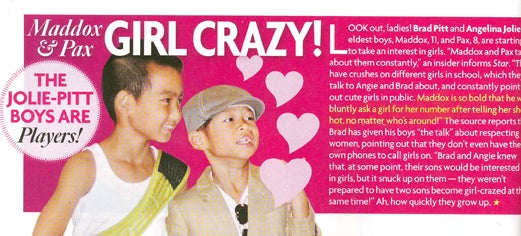 Fig. 8, from Star