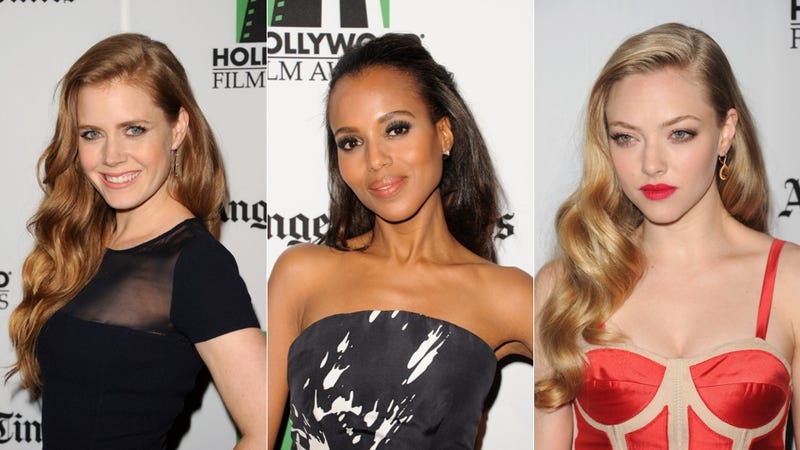 Last night at the 16th Annual Hollywood Film Awards Gala presented by The Los Angeles Times — held at The Beverly Hilton Hotel — most of the stars looked great. Glam hair, dreamy dresses. Although a few folks made some bad decisions. Hey, it's not a celebrity red carpet without some ugly ensembles! Let's take a look, shall we?
Nancy O'Dell has the California Girl thing down. This is what people in other countries imagine when you say "Hollywood" or "L.A." Bronze skin, tight dress, megawatt smile.
Kerry Bishe, who was Lucy on Scrubs and is in Argo, looks beautiful in a pretty drapey dress ever so slightly reminiscent of drapes. Curtains. In a good way.
Smooth operators: Ben Affleck, John Magaro, Ray Liotta. PSA: If you have never seen Ray Liotta in Jonathan Demme's Something Wild, do yourself a favor and put that shit in your Netflix queue ASAP.
John Hawkes has been in a zillion things but right now he's getting Oscar buzz for Sessions. And he looks ready for the Academy Awards in that tux. Richard Gere's still got it, whatever it is. As for Ezra Miller, my crush on him is so strong and heavy I can barely form words. Remember when he dated Zoe Kravitz? Hot.
Ladies and gentlemen, Bryan Cranston.
John Goodman and Kelly Reilly: Not a couple. But they are both in that Denzel Washington movie Flight.
Dude. DUDE. Bradley Cooper. WTF are you doing dude, you're hot. This wrinkled, ill-fitting silvery suit is beneath you. And you realize that your hair has wings, right? Remember when you charmed the pants off of us by speaking flawless French? We just put our pants back on.