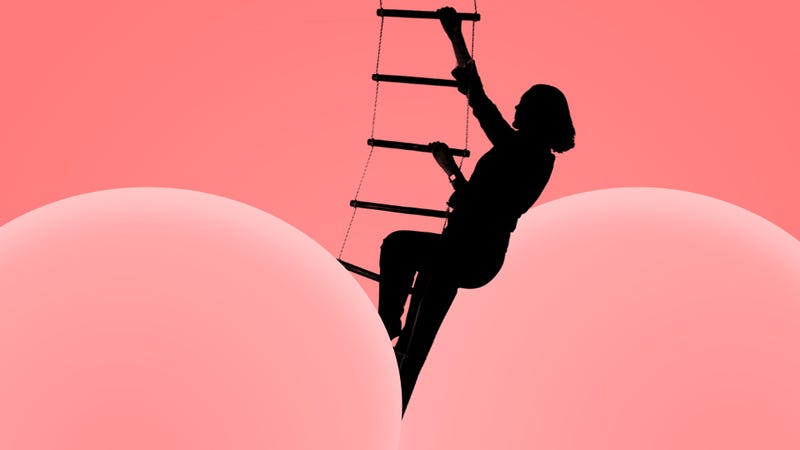 Men notice boobs no matter where they are — under your shirt, in the written word, and, apparently, on my Facebook wall. All I had to do was post link with the headline-"No More 'Save the Ta-Tas,' Please"-and before long, a couple of put-upon guys from my Midwestern roots swooped onto my Facebook page to tell me to get grip. They didn't want to see incorrigible feminist like myself post a sharp critique of boob-centric Breast Cancer Awareness campaigns. I need to stop "whining," dial it back, and accept that sexism makes the world go around. Guys, seriously. The last thing I need is for you to explain breast cancer to me.
Their arguments went something like this: "Hey hey, now, calm down there, Missy. Don't be a party pooper ruining everyone's good time. Straight men love boobs; that's a fact. They love to look at them and, when they can, feel them. And sex sells! That's a fact of economics. All this good ol' boob-ogling is making money hand over fist for breast-cancer research-isn't that all that matters?"
And I get it. On the surface, it does seem churlish to complain about a proven money-making formula, especially when that money could be saving lives. For example, Libby's Legacy provides low-income women in South Florida with free mammograms, thanks in part to cheeky slogans like "Save the Jugs" and "Scooters 4 Hooters," and I can't dismiss its measurable impact. I'm sure there are myriad programs like it across the U.S.
Breast cancer has been on my mind lately-and not because of all the inane pink marketing scams for Breast Cancer Awareness month. An old friend just revealed on Facebook that his wife has breast cancer to request prayers and support. In that moment, the abstract became jarringly real, picturing life as a young mother facing a disease that can kill you.