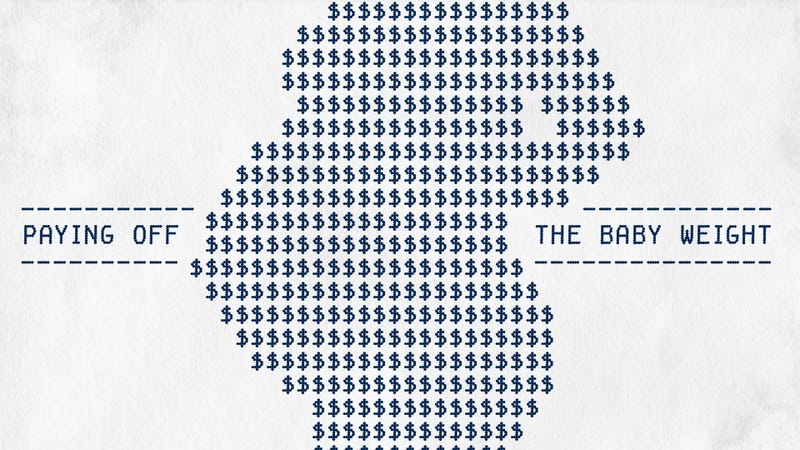 I gained 80 pounds during my pregnancy. Yes, I know, that's excessive for a single birth. Whatever. Let's not dwell on it. The point is, for the past 13 months, I've been barreling down the long road back to my pre-baby size, like a truck wearing one of those big, yellow "wide-load" banners. But I've finally arrived (basically)! And while I knew it would be a difficult journey, I hadn't realized it would be such an expensive one. I've spent $7800 on weight-loss methods that I've read about in celebrity tabloids. That's nearly $100 per pound. Yes, I know. I know.
I have been stressing out about losing the baby weight since the day that I found out I was pregnant. Judging by the experiences of my mother and the other women in my family, I just knew that I wouldn't be one of those "you can really only tell from side!" kind of pregnant ladies. And I didn't do much to control it. I kind of let go. I had a laissez-faire attitude about eating in that it was "lazy-fare." You know, the kind of stuff that couch potatoes consume. It was kind of fun.
Me on my due date; miraculously no stretch marks after 80 extra pounds
But as the months passed, I was very aware that I was going to have to answer for every Butterfinger that crossed my lips. It didn't help that in the 85 weeks between when I discovered I was pregnant and my daughter's first birthday—the entire span of when I was packing on and peeling off the weight—30 supermarket checkout tabloids featured post-pregnancy body stories. Seventeen of those were published after Jessica Simpson had her baby on May 1, 2012. That figure, of course, only reflects print: Us Weekly, Star, Life & Style, In Touch, and OK!. (In the four months following Simpson's delivery, there were 109 headlines from very widely-read websites about her weight.) Additionally, in that time, at least one tabloid featured a story about weight loss or body shaming every week. Star dedicated a whopping 12 covers to body shaming/body ranking. So you could say that I got knocked up right when the media's post-baby body obsession was hitting a fever pitch.