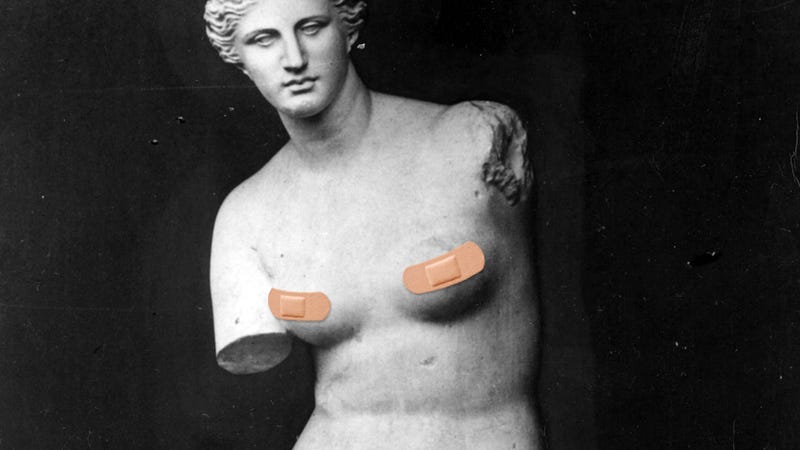 I assume, if you're reading this, that you are most likely a human being with eyeballs in a head on top of a torso with nipples on it sitting on a butt attached to some genitals and legs and feet. Or some approximation thereof, give or take a few limbs/eyeballs/genitals as needed. In that case, congratulations! You have a body. And your body is—truth!—naked under your clothes right now. Look to your left. Look to your right. Literally 100% of the people within your line of sight are also naked under their clothes! And if, for some reason, some of those clothes happened to come off, or go invisible, or get burned off by acid rain or the erotic ray-gun of a lecherous sex-doctor, you might accidentally behold your neighbors' nakedness. And do you know what would happen then? Literally nothing. Nothing would happen to anyone. (Except for that sex-doctor. We gotta get that dude off the streets.)
And that's why our culture's nudity taboo is STUPID. And it's not stupid because I'm some latent nudist who wants to go out and run around flapping my bunz all over town. I profoundly don't. Nor do I particularly want to drink in the sight of grampa's freshly buffed testes while standing in line at Starbucks or whatever. I'm fine with people keeping their clothes on in public 99% of the time. But the issue here is twofold: 1) When people's clothes come off—in public or private, whether by accident (Janet Jackson) or on purpose (Kate Middleton)—we react like fucking maniacs; and 2) This taboo is gendered and unfair, and women bear the brunt of it.
In the wake of Amanda Todd's suicide (after schoolmates distributed photos of her naked chest), Conor Friedersdorf has a super-smart take-down of the English-speaking world's nudity taboo over at the Atlantic today.
The stigma against female nudity is nevertheless something that costs women the world over very dearly. And it benefits none of the places where it prevails. Think of earth as a great natural experiment, where certain parts of Scandinavia think nothing of co-ed naked saunas, and certain parts of the Middle East require women to cover themselves in head-to-toe burkas on the street. How many Americans, Canadians, or Brits believe societies that enforce female modesty are better off? Or that countries where immodesty is most stigmatized are more moral or functional?

Yet we stigmatize the human body.
The idea that free speech—abstract notions that we create with our bodies, our brains and mouths and fingers— is protected, but accidentally letting people see those same bodies is stigmatized and criminalized, is so counterintuitive it's a joke. Our bodies exist. You can tell, just by looking at almost any human being, what they probably look like under their clothes. But when our suspicions are confirmed (there ARE boobz under there!) we lose our shit.
The boobs taboo is completely insane. You can tell it's insane because it's insane. You can show 90% of a breast and everyone's fine—I could go on Fox & Friends right now with just band-aids over the middle part (AND MAYBE I WILL) and the FCC would be all, "No big! Now show me some more surprising household chores I can do with lemons, Gretchen Carlson!!" It's cool. Put Ice Loves Coco on in primetime. But if you reveal the remaining 10% of your breast (or 5% or 20%, depending on aereola-size—another perfectly sensical distinction, obv), you transform, suddenly, into some sort of creeping cultural blight who must be shamed 4 life and fined a one-million-billion-dollar Scarlet Woman Tax. This fact is unacceptable. And it hurts women in the following ways:
1. The topless taboo only applies to women. Downstairs-genitals, fine. Whatever. Cover 'em up. I mean, it's not the most logical thing in the world (kids also have genitals! NOT THAT I'VE CHECKED), but at least penises are just as stigmatized as crimson lady-orchids, so there's no double-standard. But when it comes to chests, this is a woman's burden. Women's chests are so stigmatized that even women without breasts have to cover up in the pool. A dude, meanwhile, could probably get fucking breast implants and still go swimming topless (as long as he otherwise presented as masculine). As the great Caitlin Moran says: