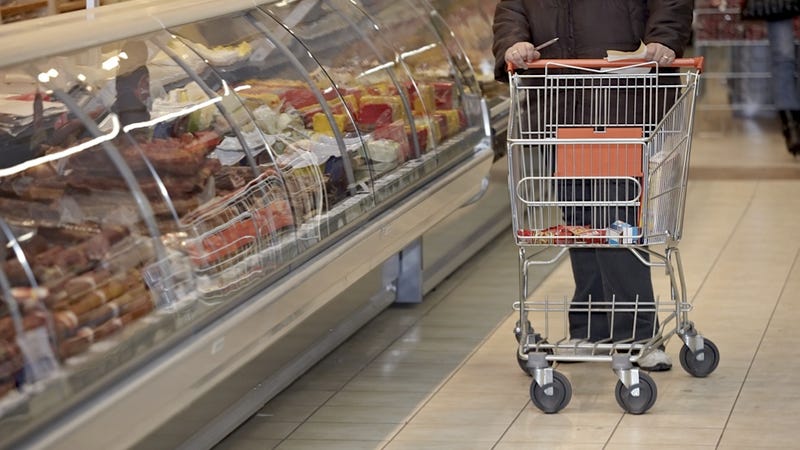 The grocery store is one of those public spaces that should be judgmentally sacred, where people can feel absolutely free to show up appearing harried, underdressed, or angrier than a bee trapped in some asshole's bonnet without fear that the saucer-eyed fellow comparing brands of smoked salmon is taking mental notes about his fellow shoppers' general slovenliness and drawing a big conclusion about what this means for society. Unfortunately, author and observer of humanity Stephen J. Betchen, Ph.D. thank you very much, violated the grocery store's sacredness last week when he wrote about how the ladies in his grocery store are getting way too obese and wearing far too many "loosely fitted, designer track suits." It's fine, though, because it's not their fault, according to Betchen — if only their menfolk would flirt with them a little more often, Stephen J. Betchen, Ph.D., buyer of perfectly symmetrical, unmarred, vegetarian eggs could shop in aesthetic peace.
Betchen does a masterful job of transcribing a conversation he must have had with himself in his car on the way home from the grocery store, beginning with this harrowing anecdote about how his shopping experience was positively curdled by all the unconscionably obese women — never you trouble yourself about the men — prowling around the aisles:
I paid a visit to my local supermarket last evening and I was astounded by the shapes and sizes of some of my fellow female shoppers. I'm usually in a rush and have little time to gaze at others but this time was different. Given my early start I was afforded a leisurely shopping experience during which time I noticed that several of the women were obese by any standards. Even more disturbing, many appeared to range in age from their late twenties to early forties-and most with beautiful faces. I'm sure many of the men were overweight, but I'll deal with them another time.
Gah! Not only does Betchen's grocery store contain too many obese women, it contains too many obese young women, and that's a shame because Betchen sounds like something of a lurker. Here he thought he could take his time at the store and leer at all the pretty young women, but, wouldn't you know, the store was nothing but a sea of disturbingly obese faces. Even though Betchen is up on all the latest obesity epidemic news, his evening trip to the store was punch-in-the-stomach shocking: