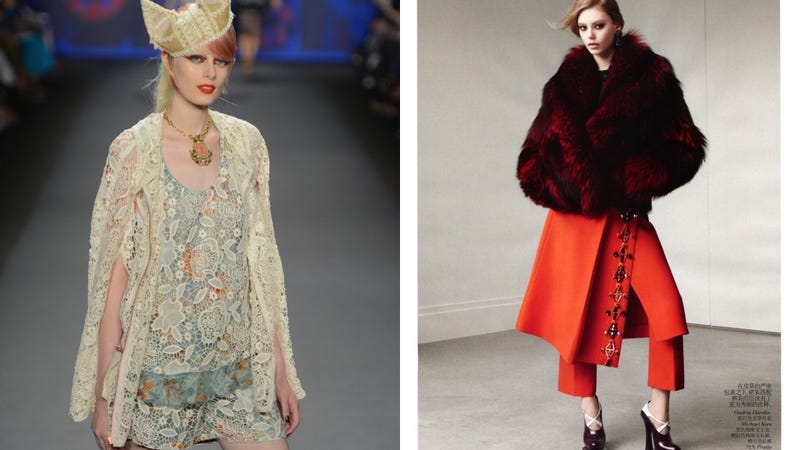 In May, the 19 editions of Vogue magazine pledged to abide by a new set of rules governing their hiring of models. To promote fairer labor standards in the modeling industry and a healthier image of beauty and fashion, Vogue announced it would no longer hire models under the age of 16. All 19 Vogue editors-in-chief posed together for a photo and heavily promoted the news on their Web sites and in their magazines, and Vogue got a lot of good press. The June issue was the date of the changeover to the new, underaged-model-free Vogue.
The magazine kept its word for precisely two months. Vogue China broke its word by casting a 15-year-old model named Ondria Hardin in an editorial spread in the August issue (above right). In September, we reported exclusively that a second Vogue — Vogue Japan — had shot the 14-year-old model Thairine Garcia for a spread destined for the December issue. (Garcia is seen above at left walking in the Anna Sui show this season in New York. The Council of Fashion Designers of America has a long-standing policy against hiring models under the age of 16 for runway work; Sui is a member and a recipient of the organization's lifetime achievement award.) Both Garcia and Hardin have been working internationally since the age of 13. It is not known if either is regularly accompanied by parents or guardians or what impact their work has had on their schooling.
Now, Condé Nast International — which publishes all of the international editions of Vogue — is very, very sorry. Jonathan Newhouse, the head of Condé Nast International who announced the six-point "Health Initiative" manifesto alongside the 19 editors, says:
"The Health Initiative banning underage models is very serious, and we will reinforce it. I apologize for the error that took place in China. We will do everything possible to prevent future errors."
Vogue China editor Angelica Cheung has also apologized.
Meanwhile, Vogue Japan claims that it cast Garcia "unwittingly" — which seems unlikely given that she is one of the best-known underaged models working today, with covers of V and Vogue Italia (shot before the age pledge was announced) under her belt, and also given that one of the promises in the age pledge was that Vogue would card models to verify age. Vogue Japan says it will not publish Garcia's photographs. That gesture unfortunately could be interpreted as a punishment to the child — Vogue would do better to punish the adults who hired her in violation of the company policy. [WWD]
---
The billion-dollar
Calvin Klein
underwear brand, which is owned by Warnaco Group, turns 30 this year. Here's to
Marky Mark
. [
WWD
]
---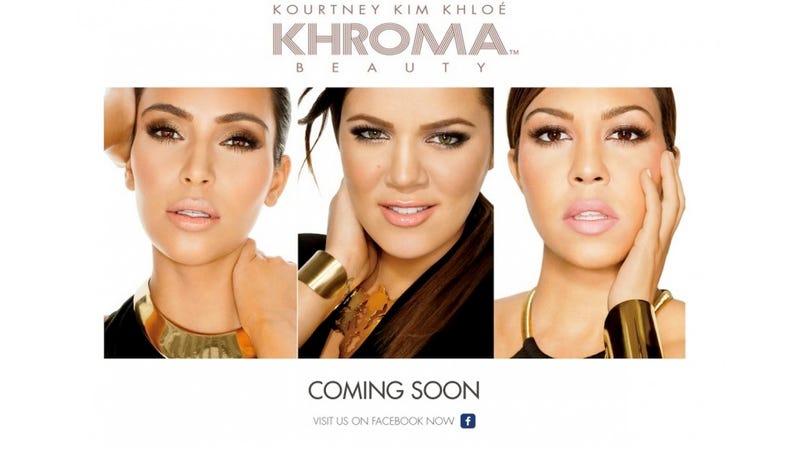 Kim Kardashian
released some promotional shots for the beauty line she and her sisters are lending their name to,
Khroma
. [
Kim Kardashian
]
---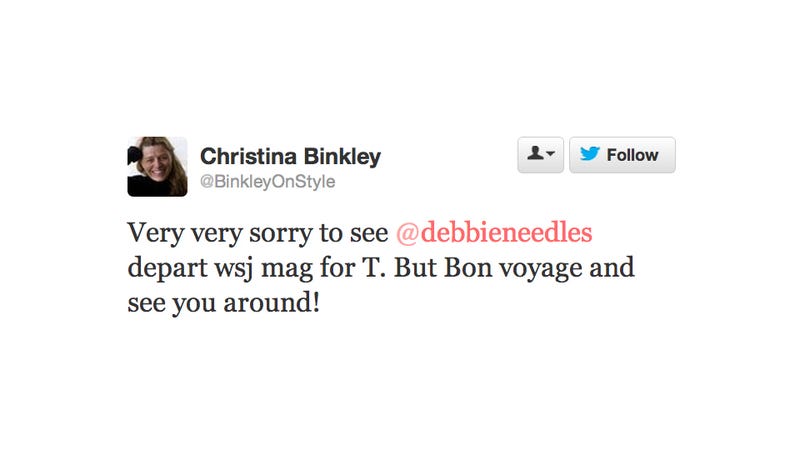 And that's that: according to longtime
Wall Street Journal
fashion writer
Christina Binkley
,
WSJ.
editor
Deborah Needleman
has accepted the top job at the
New York Times
' luxury magazine,
T
. Needleman replaces
Sally Singer
, who left the magazine after failing to increase ad sales — something Needleman did handily at
WSJ.
Binkley further reports that
WSJ.
will next year increase its publishing frequency and become
"a global digital glossy in a dazzling array of languages,"
in the words of
Journal
managing editor Robert Thomson. [@
BinkleyOnStyle
]
---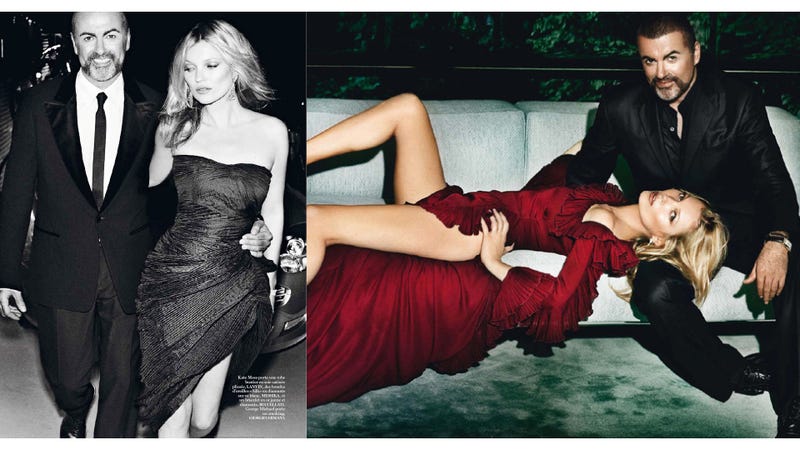 Here is
Kate Moss
and
George Michael
's full cover editorial from
Vogue
Paris. [
DS
]
---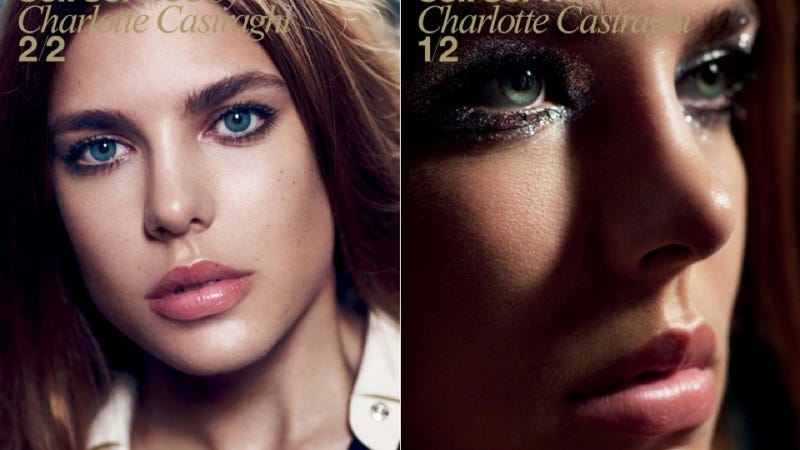 Charlotte Casiraghi
is on two covers of
Self Service
. [
DS
]
---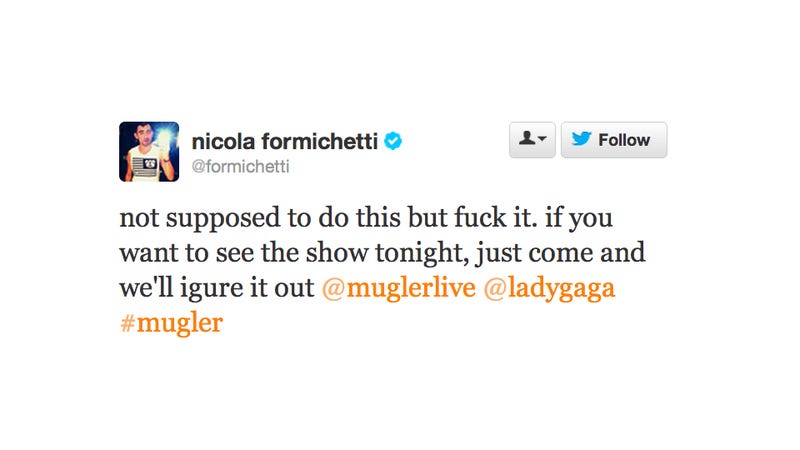 Nicola Formichetti
says if you're in Paris and you want to come to the
Mugler
show just turn up "and we'll igure [sic] it out." [@
NicolaFormichetti
]
---