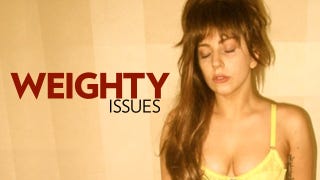 Every so often, a celebrity will "come out" about her past struggle with an eating disorder. These stars are almost always women, and they are almost always "better" by the time they make a public statement. They are also almost always slender. Just this week, Katie Couric admitted that she had "wrestled with bulimia all through college, and for two years after that." Kelly Clarkson has also talked about her struggle with bulimia: "One of my guy friends caught on to [my eating disorder], and I just felt so ashamed and embarrassed," she said. "I literally went cold turkey and snapped out of it." Ashlee Simpson and Snooki have both said their parents helped them quit starving themselves. Brandy said she was miserable as a teenage popstar and was "not eating properly, not eating at all, diet pills, regurgitating, and all of these things that girls do."
Subtext: that was bad, it's all in the past, they're okay now, and you'll be okay (and look awesome) someday, too. But Lady Gaga is different. She's not okay right now. It's not all in her past. And she's turning the celebrity looking glass inside-out by asking us to see the dark side — but it's impossible to do so without sending mixed messages.
Gaga's new Body Revolution campaign, inspired by the inane media "controversy" over her recent weight gain, kicked off yesterday with half-naked pictures of the singer and the confession that she's been struggling with anorexia and bulimia for a decade. And her choice of words — "bulimia and anorexia since I was 15" — makes it clear that she's still dealing with it. But we also know she's still struggling because of how she's trying to cope: by asking for support and validation from her millions of ardent fans. Gaga wants to empower others, clearly, but she's also letting us watch the narrative of her eating disorder play out.
The Body Revolution campaign is inarguably inspiring — it's heartwarming to see dozens of posts from women and men who are insecure about features ranging from love handles to missing limbs proudly post photos of their half-naked bodies. As Dodai pointed out yesterday, Gaga proves she really is just like her fans by "showing the world that it's not okay to critique her body" instead of suing the publications that called her fat or claiming she's "dehydrated" or something.