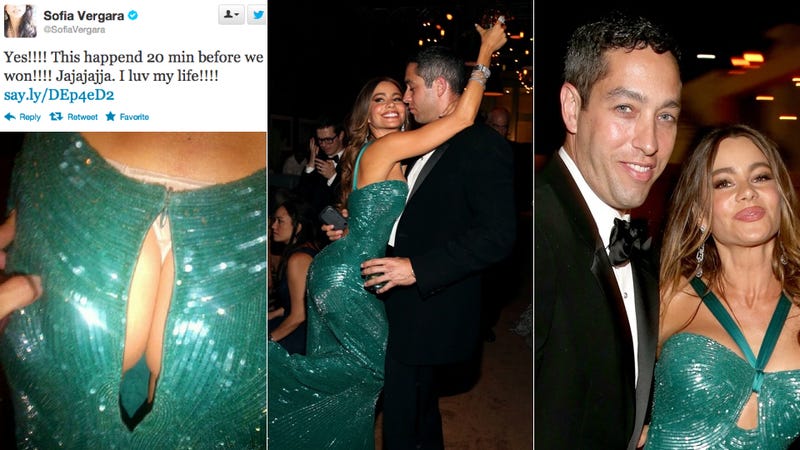 Sofia Vergara had an Emmy Awards wardrobe malfunction, which she later Tweeted about. Vergara's heavily beaded backless gown caused the invisible zipper to split minutes before she was to go on stage. But apparently her fiancé Nick Loeb acted like the whole thing was, like, such a drag and generally behaved like an asshole:
According to a source, a frantic Vergara came storming through the halls with an entourage as she covered herself in Loeb's jacket. "Someone in the front was screaming 'Wardrobe! Wardrobe!' and she was frantic and in tears," says the spy. "Nick was trailing in the back looking annoyed."
So what did Nick Loeb do? Did he comfort his tearful fiancée? Or help her find someone to fix the dress? Nope. He allegedly complained that he needed a cigarette, and kind of implied the whole thing was her fault, saying, "Her dress got stuck on the seat and made a huge rip. Her whole fucking ass was sticking out." While an assistant (where was her stylist?) used a needle and thread to sew the zipper closed as a temporary fix, Loeb said helpful things like, "Let's go Sofia!!" [P6]
---
This is
Beth Ditto
performing live at the
Versus
show in Milan. This video
almost
gets across how weird it is to watch live music at a seated fashion show: the awkward placement of the stage off to one side, so as not to obstruct anyone's view of the clothes, the dead vibe of the crowd, and the truncated, too-short set. The music rarely seems integrated into the rest of the production, just tacked on. [
YouTube
]
---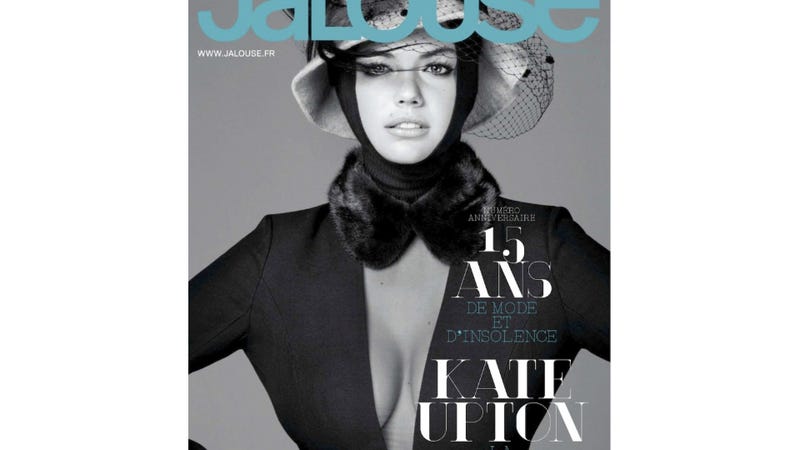 Kate Upton
and her cleavage are on the new cover of
Jalouse
. [
TLF
]
---
Upton
also appears in this weird behind-the-scenes video, shot by Bruce Weber, for her
CR Fashion Book
cover. There are...goats. And a man dressed as a unicorn. Never change,
Carine
. [
YouTube
]
---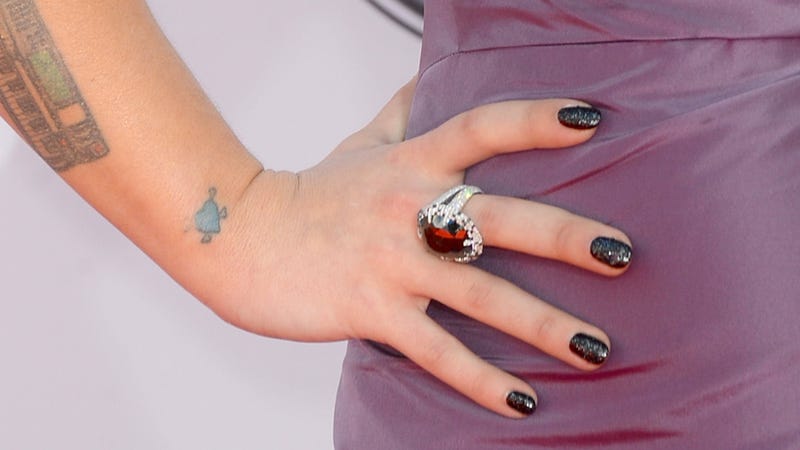 Because somewhere along the line we went very, very wrong as a society, Kelly Osbourne's manicure for the Emmys cost $250,000 and was made of diamonds. [
Yahoo!
]
---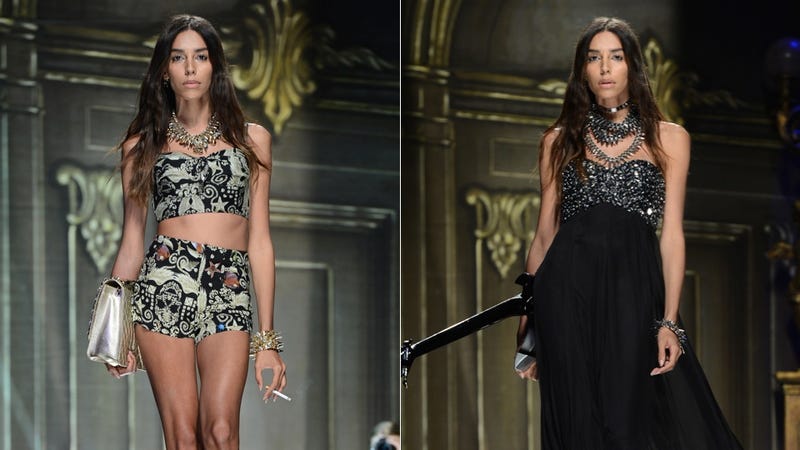 Lea T.
, the Brazilian transsexual model and longtime friend of
Riccardo Tisci
, opened and closed the
Philipp Plein
show in Milan. T. had her sex reassignment surgery last year. She looks gorgeous, but frankly, she could do a little better than Philipp Plein — he's a designer best known for stunt-casting
Lindsay Lohan
, and Lea T. has been in
Givenchy
campaigns,
Vogue
Paris, and on the cover of
LOVE
. Apparently it was a runway exclusive. [
Vogue.It
]
---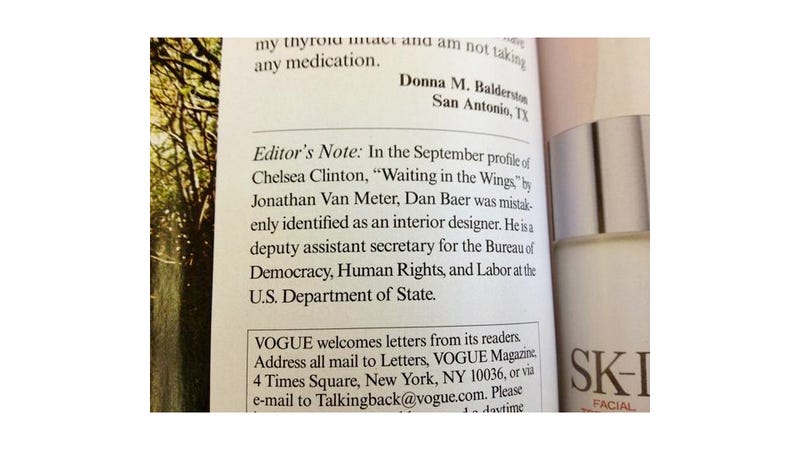 Whoops. In its profile of
Chelsea Clinton
,
Vogue
mistook a deputy assistant secretary in the U.S. State Department for an interior designer. [@
RebeccaKatz
]
---
Vivienne Westwood has some harsh words for working mothers:

"I've got people here in this company who pay as much to the baby minder as they earn at work. Because they'd rather work than look after their child. But I think they have to really think about what they're doing."

Westwood herself worked when her children were young — first at a stand where she sold her own jewelry, then at her legendary boutique SEX, and then, you know, when she was building her clothing line into perhaps the largest female-owned independent global brand in the world today. "I know. I was a terrible mother," says the designer. "I didn't put my children first." [Independent]

Nicki Minaj made an appearance at Macy's New York flagship to promote her first perfume. Three hundred people bought $155 gift sets of the fragrance to gain entrance. Industry analysts expect the perfume, produced under license by Elizabeth Arden, will do around $40 million at retail in its first year. [WWD]
New York jeweler Jennifer Gandia says that marriage equality has made her job more fun:

"It's been really fun since the marriage equality laws have changed, working with same-sex couples, since you see a ton of creativity. We had a couple who had waited 24 years for the law to change, and they had a design in mind for I don't know how many years."

[Racked]

Some moderately good news on the unemployment front: seasonal retail hiring may reach 700,000 jobs this holiday season, better than the 660,000 seasonal hires made by retailers last year. [WWD]
Analysts worry that a growing taste in China for less conspicuous (and logo-laden) luxury goods will hurt the performance of brands like Gucci and Louis Vuitton in Asia. [Bloomberg]
Yay! Véronique Branquinho showed this season for the first time in over three years. [WWD]
Karlie Kloss says her childhood ballet training has both helped and hurt her since she began modeling at age 13. The help is that she can jump in heels with no trouble because it's no worse than jumping en pointe. The hurt is, well:

"I was cancelled for my first show in my first season because I walked like a duck with my feet turned out. I was devastated, of course."

[Vogue UK]

Uniqlo's latest U.S. store — its first store in a mall, and a prototype for its long-planned North American expansion — is set to open Friday in Paramus, New Jersey. Uniqlo had a couple stores in New Jersey malls a few years back but closed them to regroup and refocus, and this 43,000 square feet of merchandise is the result of the Japanese-owned chain's soul-searching. [WWD]
Patrizio Bertelli told analysts and the press on an earnings call that we all need to calm down about the European debt crisis and the economy. "I'm here because I think we need to be more serene and less hysterical," said the Prada C.E.O. "I want to reassure you, with a minimum of caution, that I don't see the market as so disastrous...We are all too aware of political troubles on the southern shores of the Mediterranean, but this has been going on for years and we must be proactive. Brands that have always had a serious way of working have always seen their business increase." Said the guy who just announced a 59.5% year-on-year jump in net profits for the first six months. [WWD]
Is Condé Nast's announcement that it will be launching a French edition of Vanity Fair just a long, involved way of stealing the new-magazine spotlight from fired Vogue Paris editor Carine Roitfeld, who herself is launching CR Fashion Book? Reports the New York Times:

[I]t is unusual for a magazine to be introduced many months before it appears, without a fixed date for the first edition. It is especially unusual for that to happen in the midst of an economic crisis, with a soft advertising market.

One French journalist with close ties to the magazine business said the early announcement might have been aimed at stealing the limelight from Carine Roitfeld, former editor of another Condé Nast publication, the French edition of Vogue, who left that magazine two years ago.

[NYTimes]

Buyers say they mostly liked the spring collections in Milan. So what are we in for next spring? "Asian" themes (thanks, Prada), tunics over pants, and something called "summer leathers." [WWD]
The Times critically shops the new Proenza Schouler boutique and lays the smack down on the super-popular PS1 bag:

Personally, I think the thing looks like something a midlevel male account manager might use to lug his Dell laptop on a commuter flight to Buffalo.

There's more:

[T]he whole place, tucked into a frilly brownstone but with interiors designed by the architect David Adjaye, is kind of "Star Trek." Glass doors at the entrance slide open automatically. Cactuses rear up, an alien life form in humid New York. Reached by a flight of stairs behind a triangle-patterned screen, the second floor has a pockmarked look, as if brutalized by a recent meteor shower.

And many of the current clothes, like the jagged miniskirts in techno fabrics, suggest something Lieutenant Uhura might don to seduce or confuse Captain Kirk into another clinch. A white sweater with black sleeves and gold zippers at the shoulders was a basic but brilliant feat of optical illusion ($700) that would go nicely with basic black skinny jeans ($255). One Tribble, a gray alpaca clutch, folded out cleverly at angles, like a piece of origami ($1,500).

Automatic sliding glass doors. That technology has been around for what, 50 years now? [NYTimes]

Kenneth Cole's plan to take the company private by buyout outstanding shares for $15.25 a pop has been approved by a majority of shareholders and will go forward, likely today. That values the company at around $245 million. [WWD]
Wet Seal, which has performed exceptionally poorly in recent years and is currently defending a racial-discrimination lawsuit, is fighting an attempt by activist shareholders to replace several members of its board. [WWD]
Entertainment Weekly is launching a new online fashion vertical called Style & Design. Women's Wear Daily notes that its logo resembles that of Time's style supplement. [WWD]