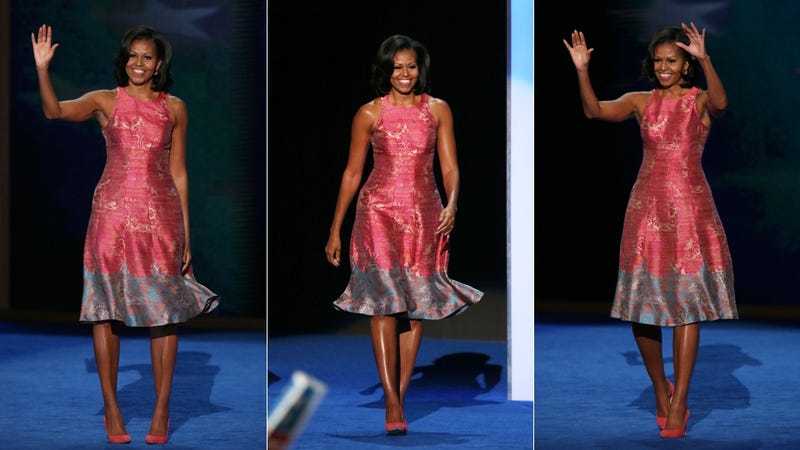 Last night, Michelle Obama gave what's been called a "history-changing" speech. People didn't just notice her eloquence; they noticed her nails, her hair, and that gorgeous dress. A dress that's not just a dress.
The garment in question was made by Tracy Reese, a Detroit-born, New York-based designer. She is one of the few black designers to show consistently at New York Fashion Week; some seasons, she's the only black designer presenting a collection under the tents. Mrs. Obama's support obviously boosts Reese's visibility. But in addition, the Democratic party has been positioning itself as the younger, more ethnically diverse party, and Reese, as a 48-year-old black woman, fits right in. Plus, Reese's dresses retail around $350. When you consider the fact that Ann Romney wore a silk gown in "Nancy Reagan red" by 80-year-old Oscar de la Renta — with a price tag of $1,990 — it's clear that each party's message has seeped into — and is telegraphed by — the fashion choices. The Democrats have been talking about the American Dream — working hard without being an heir, achieving greatness and helping others — and Reese, who is often involved with charities like Fashion Fights Cancer and The America Legacy Foundation, personifies that dream.
When President Obama was inaugurated, some black designers were disappointed that the First Lady didn't wear an ensemble by an African-American on that big night. But since then, Mrs. Obama has worn a bunch of Tracy Reese dresses, as well as other designers of color: Stephen Burrows, Rachel Roy, Duru Olowu, Jason Wu and Prabal Gurung.