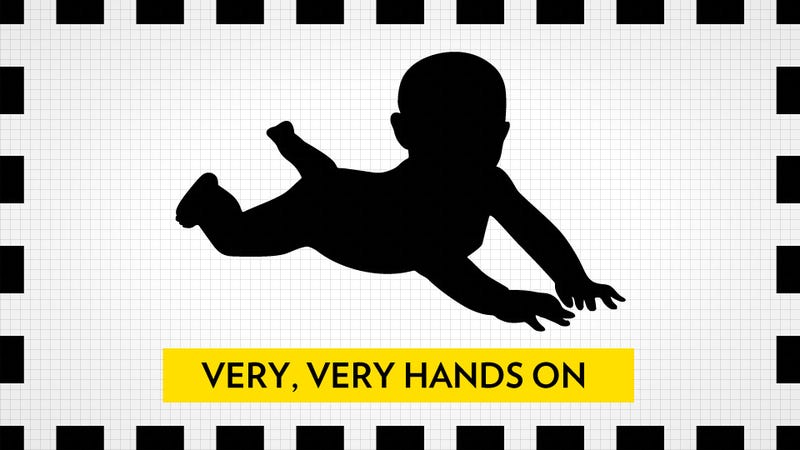 Do you want to raise the most emotionally secure, mentally healthy, highest-potential achieving children the human race has ever seen? Sure, why not. Enter progressive parenting. Progressive parenting is a relatively new phenomenon that involves different (and often contrasting) philosophies, but from an outside perspective, the endgame is all the same: a culture of helicopter parenting and unconventional choices like, say, breastfeeding a kid for half a decade. How far can this go? Very. Herewith, a look at the child-rearing fads du jour.
Elimination Communication
Elimination communication—sometimes referred to as natural infant hygiene—is a practice in which parents forgo the use of diapers. Instead, they employ a combination of timing, nonverbal signals, and "intuition" to anticipate and address an infant's need to pee or poop, typically holding the child over a toilet or other receptacle. The term was coined by Ingrid Bauer in her 2001 book Diaper Free: The Gentle Wisdom of Natural Infant Hygiene, but it actually stems from a widely-held, age-old convention of many Eastern civilizations. (In China, baby pants are actually produced with a split or a window, for easy access and less of a mess.) It was first introduced to Westerners by Laurie Boucke, an early proponent who began writing about the practice in 1979, but EC never really took off until the millennium. Since then, a slew of books have been written on the subject, including one by former Blossom star Mayim Bialik, who began EC with her second son when he was just two days old.
Pros: The obvious benefit of a diaper-free life is a diaper-free budget. EC is also very green, minimizing a person's carbon footprint. Additionally, no diaper means no diaper rash and a reduced risk of urinary tract infections. EC advocates claim that it creates a "unique and wonderful bond" between babies and parents, accelerates a child's learning process, and encourages a positive body image.
Cons: While EC might save the Earth, it will probably ruin your carpet and furniture. It's often described anecdotally as "messy," with Blossom referring to shit smears on her hardwood floor as "misses" instead of "accidents," because "that implies some sort of right or wrongness to the body." Another drawback — beyond the inconvenience and filth — is that it is a very time-consuming process. Two parents working outside of the home is considered "an obstacle" to EC. Because most parents that practice EC tend to also breastfeed, it's more logical for mothers to stay home instead of fathers.
Attachment Parenting
Based heavily on the continuum concept—which posits that humans have "an innate set of expectations that our evolutionary process has designed us to meet in order to achieve optimal physical, mental, and emotional development and adaptability"—there are three major tenets to attachment parenting: Breastfeeding on demand into toddlerhood and beyond, co-sleeping, and "baby wearing," meaning the infant is attached to the mother throughout the day in a baby sling. The term was coined by Dr. William Sears and Martha Sears, the husband and wife team who wrote the attachment parenting "bible" The Baby Book in 1992.
The momentum of the attachment parenting philosophy reached its crescendo 20 years later on the cover Time—featuring a photo of a thin, attractive young mother breastfeeding a little boy who looked as though he were old enough to procure his beverages at a vending machine—that screamed, "ARE YOU MOM ENOUGH?"