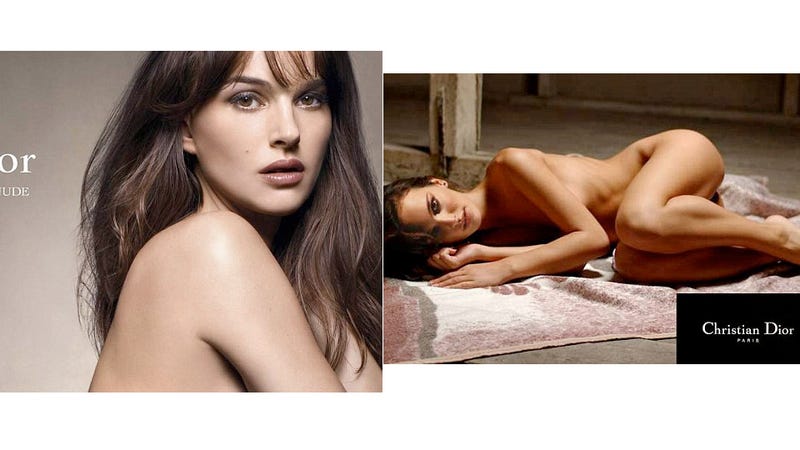 Natalie Portman is nude — again — in her latest ads for Dior. Or at least she's technically "nude": all you can really see on the left there is a tasteful glimpse of shoulder, but we suppose Dior knows that the chance to put "Natalie Portman Nude" in a headline virtually guarantees the world media will take an interest in an otherwise mundane ad for overpriced makeup. The actress has also gone tastefully topless in several ads for Miss Dior Cherie perfume.
But there's also a fake Natalie Portman nude Dior ad going around that is not part of the new campaign: it's a photo of the actress lying naked on a rug (either an old picture or a Photoshop hackjob), with a Christian Dior logo kind of half-assedly superimposed on one corner. That's the fake ad on the right. Even though it is not really convincing as a Dior ad, the Daily Mail was apparently taken in by it and ran the fake. [Fashionista]
---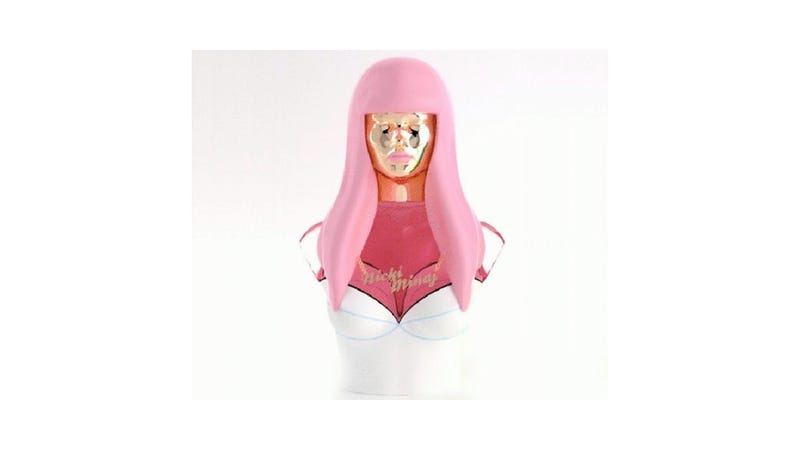 This is
Nicki Minaj
's perfume bottle. Well, that sure is...
different
. [
VH1
]
---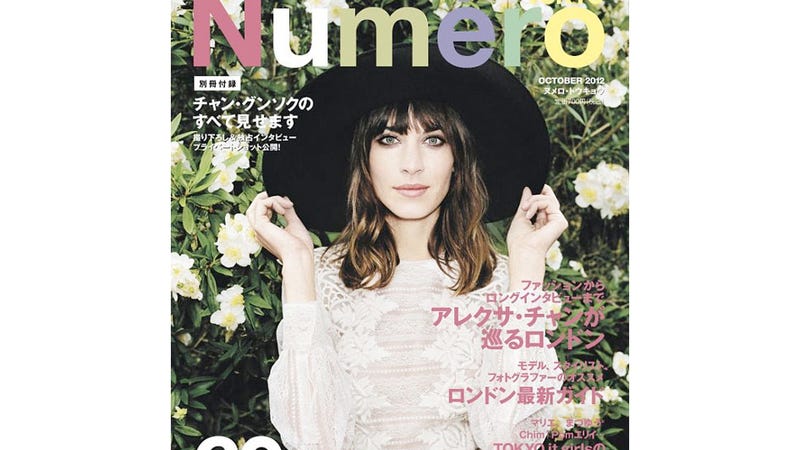 Alexa Chung
is on the cover of Japanese
Numéro
. She tells the magazine that she's working on
a clothing line
:
"Yes, I'm definitely going to do that. I'm looking into it right now. I've got nothing to lose, it's a bit of fun. In this current era of celebrity no one believes you actually design the stuff anyway, even though I sketch everything myself. So if it sucks I can say I had nothing to do with it, and if it's really good I can say 'Here are the drawings, it's all my own work!'"
---
Vogue
got
Justin Bieber
to star in this ad for Fashion's Night out — but apparently it couldn't get him to learn the event name. The Bieberator flubs it, calling it "Fashion Night Out." And in a corner office on the 12th floor,
Anna Wintour
plots revenge. [
YouTube
]
For good measure, there's also a Fashion's Night Out ad starring
Karlie Kloss, Victoria Beckham, Francisco Costa, Darren Criss, Carolina Herrera, Chanel Iman, Marc Jacobs, Liya Kebede, Solange Knowles, Michael Kors, Doutzen Kroes, Arizona Muse, Jessica Paré, Coco Rocha, Hailee Steinfeld, Alexander Wang, Kristen Wiig, Olivia Wilde and Jason Wu
. [
Fashionista
]
---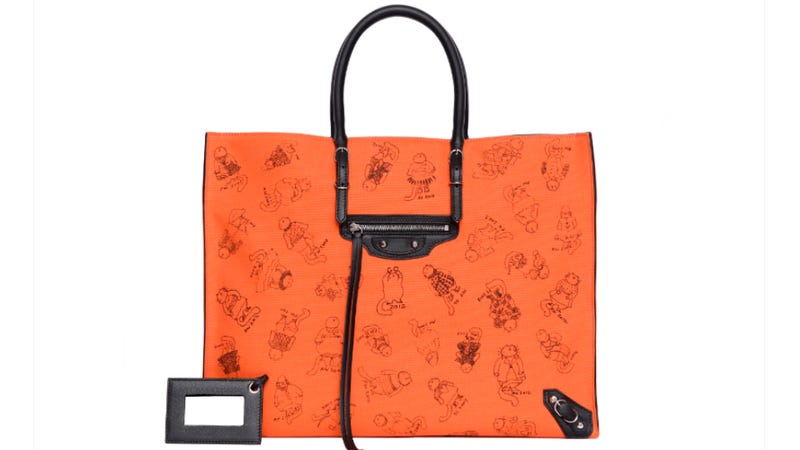 This is one of the pieces from
Grace Coddington
's collaboration with
Balenciaga
. The collection features prints based on Coddington's own drawings of cats, and is named for the editor's cat,
Pumpkin
. [
The Cut
]
---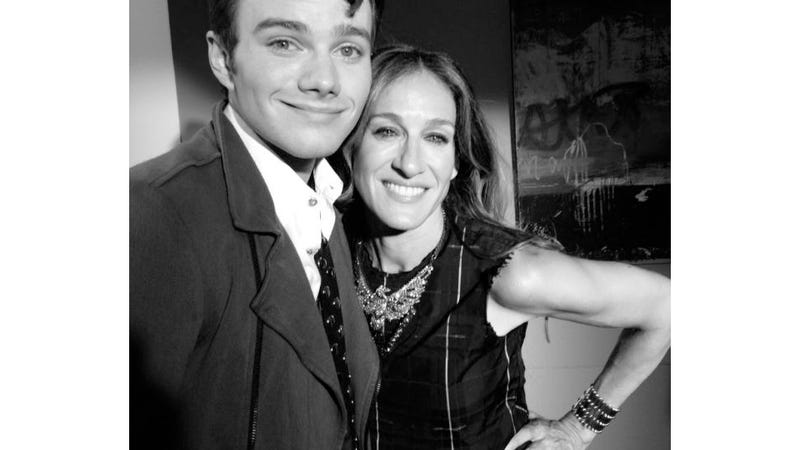 Here's a photo of
Sarah Jessica Parker
on the
Glee
set in character as Isabelle, the editor of Vogue.com.
Anna Wintour
styled the actress's costume. [
Styleite
]
---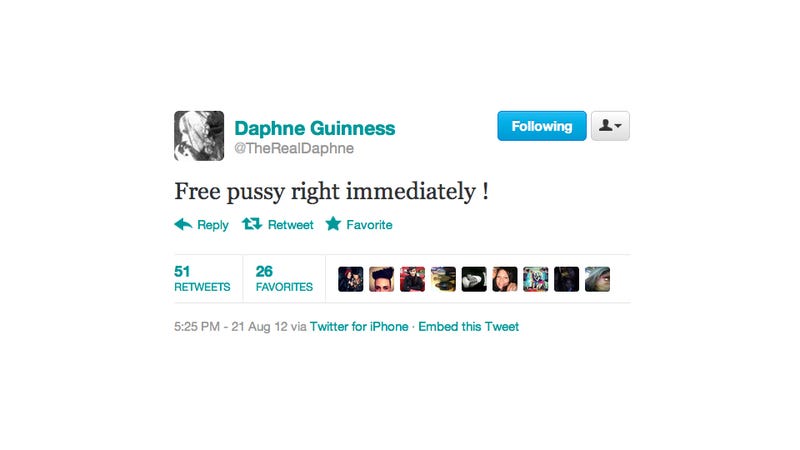 Whatever you say, Daphne Guinness. [@
TheRealDaphne
]
---
Lady Gaga explains the origins of the Meat Dress, and its reappearance on her current tour:

"We were talking about putting the show together, and I said, OK, what if I was someone's grandma and I was going to a concert tonight. How would I know that it was a Gaga show? And we all just sort of looked at each other and said, 'The meat dress.' We talked a lot about the original intention, which was to create an outfit that is indicative of the fact that underneath all of our different skin colors and religions and beliefs, we are all made of flesh and bone. And then this instant image came to my mind, which was from the late seventies, of the woman being put into a meat grinder on the cover of Hustler magazine, which really terrified me when I was a child. So I tried to spin all that into a space of humor and politics and sexuality onstage."

[Vogue via Racked]

Costume designer Catherine Martin worked with Miuccia Prada to produce many of the 1920s-style dresses worn in the forthcoming Baz Luhrmann Great Gatsby adaptation. [Fashionista]
Fashion journalist Justine Picardie has been named the new editor of Harper's Bazaar U.K. Picardie replaces Lucy Yeomans, who took a job at Net-A-Porter in January. Last year, Picardie published a rather glowing biography of Coco Chanel (and had words in public with the authors of two other contemporary Chanel biographies, Hal Vaughan and Lisa Chaney). [WWD]
17-year-old model Kelly Gale says that all of her high school teachers are flexible when it comes to her work schedule. Except for one:

"The only teacher that gives me a tough time is my gym teacher. She doesn't like that I'm away working. She says I don't exercise and eat right and that I'm probably starving myself. She's really weird."

[WWD]

Another perspective on modeling and education, from 18-year-old Polish new face Julia Suszfalak:

"School is, for me, the most important thing. This will be my last year of high school, and then I have to take important exams to get into the university. But my teachers said I could take a month off for the last set of fashion weeks. When I came back, I worked really hard, and they said I had good marks — that I had better marks than my friends [who] go to school all the time. I'm going to walk this season, but I don't think that I'm going to do the fashion weeks in the [spring], because I don't think I would be able to pass the exams. But after the exams, I'm thinking about taking a two-year break to travel and work … I hear a lot about models who don't want to go to high school because they want to make this their career. I think that's stupid, because finishing school is so important. Modeling is a great job, but when it winds down, you can come back to your country and start working, or studying something at the university. I'm really upset that a lot of really young models don't think about this."

[The Cut]

U.K. designer Louise Goldin recently moved to New York and will now be showing at New York fashion week. [WWD]
Meanwhile, NAHM (the label designed by Nary Manivong and Ally Hilfiger, daughter of Tommy) has canceled its New York show. [Elle]
Wet Seal had one hell of a shitty quarter: losses increased to $12.4 million, and same-store sales fell year-on-year by a whopping 11.1%. [WWD]
And now, a moment with Matthew McConaughey. Matthew, how do you feel about fashion? You know, in general?

"I like fashion. I'm interested in it. But I would say this: You see some people with fashion and they try too hard and the clothes look like an accoutrement on them. The body, the movement and the fashion don't seem to be one...It's almost like food. You have to have the product but you also have to have the presentation. You've eaten at restaurants where the presentation is there but the food isn't. The two have to fit and feel like they're a pair."

[People]